Glove One: Wear Your Cellphone Like a Glove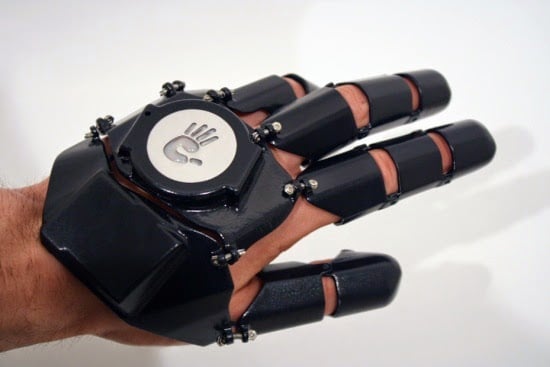 Recently the world has witnessed many crazy inventions. Researches have become so advanced that the ideas which were once a mere concept are being materialized and along with it new concept are being generated which, no doubt, one day become reality. Among these new budding ideas, there is a constant increase in concepts regarding wearable technology. It is certainly an approach to make devices fashionable acceptable in addition to being smarter. We are moving on to the age of perfection where we want a device to fulfill all such requirement and the demands are ever increasing. One such conceptual phone has emerged promising to fit right in your hand, and I mean literally right in the hand. A phone that can be worn as a glove.
The Glove One
.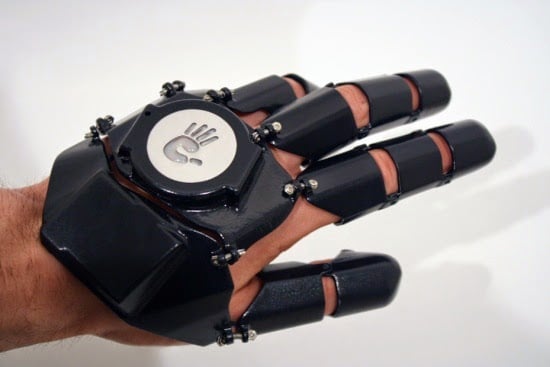 The universal hand signal for talking on the phone is generally the index finger pointing toward the ear and the last toward the mouth, with the middle and ring fingers folded. Though we know most cellphones (and even home phones) don't abide by this design anymore, one artist has adapted a glove-like phone that requires the user to hold that motion to use it. Using recycled electronic parts and custom-made circuits, Milwaukee-based artist Brian Cera developed the Glove One design as a wearable mobile communication device. In Cera's mind, using a cellphone sacrifices the hand to hold it — so why not wear the phone so you can keep both hands usable? Maybe he's never heard of Bluetooth ear pieces. But it would be quite cool to have such a phone for a change. Bryan Cera, a Master's student at the Peck School of the Arts in Milwaukee, crafted Glove One, a glove-like contraption that doubles as a phone. The "wearable mobile communication device" is also art; Bryan says it represents the sacrifices we might make for social media and technology.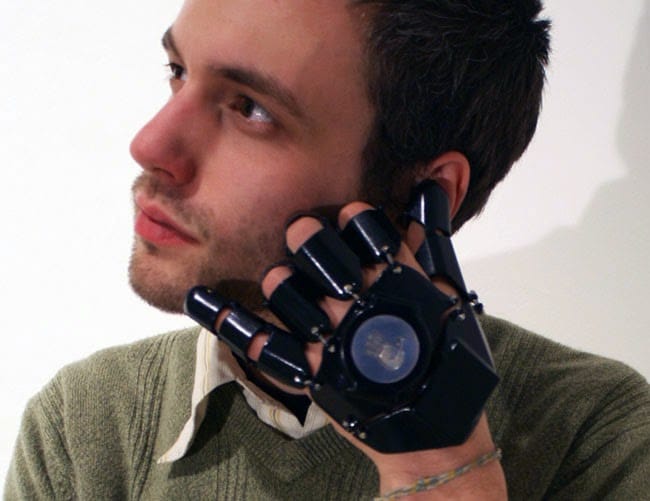 Glove One is a perfect example of the lengths we're willing to go to stay plugged-in. Cera says his glove is not meant to be used by everyone on the planet, rather makes a statement that the creation represents a future where smartphones have become an actual part of our bodies, and our hands become a vestigial limb replaced by a handset. It sounds very Star Trek-like, but according to Cera, It presents a futile and fragile technology with which to augment ourselves. A cell phone which, in order to use, one must sacrifice their hand. It is both the literalization of Sherry Turkle's notion of technology as a "phantom limb", in how we augment ourselves as well as a celebration of the freedom we seek in our devices. All of the One Glove's parts are 3D printed, and the SIM card slots into the glowing center of the gadget. Each joint on the fingers hosts a button to represent the different keys on a normal phone, and holding a button on the pinkie finger switches it on. Simply dial the number you wish to call on your fingers (the glove will read back the number you pressed), and it will place your call