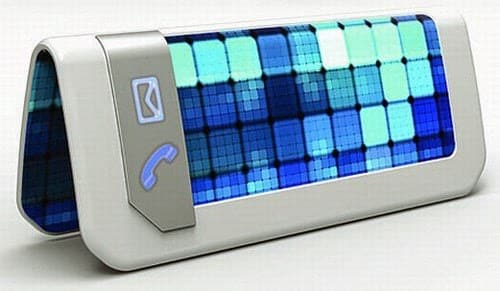 The look of mobile technology is constantly changing. Nobody wishes to carry heavily designed bulky mobile phones. That trend is way over now. The modern demand is sleek design and lightweight body. We have witnessed a lot of classic phone models which agreeably fulfills these criteria but the hunger for technological advancements and improvement in smartness of the so called smartphones is not going to stop that easily. And so to satisfy this, researchers our working round the clock to develop flexible screens to give an entirely new shape to the smartphones. Though the flexible screen have come into existences but to mold them into a working device is still a plan on paper only. Many concepts have been put forward to achieve this mark, one such concept is Flexible Modile.
There is an increase in the use of flexible displays and with new technology coming along all of the time, so is the amount of new devices using it, such as this device which is a sort of netbook or a fold out tablet. Flexible Modile is a revolutionary mobile device concept that takes technology with fabric/mesh material into the fusion. The designer said that the device is touch sensitive, foldable, flexible and could be turned into a tablet once fold out. The "Flexible Modile" is a conceptual mobile device that utilizes emerging technology to be created around a soft surface, ideally a fabric and or mesh, which would house the main components and mount the screen. Featuring the touch sensitive, flexible screen to allow the device fold out and become a tablet. These are not all the wonders this device has to offer. The new mobile device also utilizes the outside screen to display the graphic treatment/background, picked by the user, to allow quick and easy customization and unlimited CFM options.
The Flexible Modile has one remarkable feature that sets itself apart from other conceptual devices of its category: it can attain a new look every day. The external screen displays the background picked by the user and the unit is ruled by customizability, as its main aspect. Along with these, it does not lack any kind of functionality that we have used till now. Additional features include a video call camera in. Plus it has the ability to turn the conceptual gadget into a photo frame or a media player. Also, considering that the display basically covers the entire device, you can change its looks in any way you want. This device basically makes your entire phone a graphic display panel. Its folding ability provides the exact compact nature that people look forward to in a smartphone. But definitely such a device will not come easy on pockets. We don't have to take that factor into consideration for the time being as this technology will take immense amount of time before hitting the market and we hope it will be launched with a moderate price tag.