Smartphones, as considered by many is a marking stone in the advancement of the technology, the current trends that we are witnessing. It has been ages since the idea of a smartphone was conceived and at that instance of time was considered nearly impossible. Now, we have witnessed enough to believe that nothing can be considered impossible to achieve because since then we have come a long way and have seen some of the most remarkable gadgets known to mankind. And still we thrive for perfection, in constructing new gadgets and enhancing the versions of devices that we own. To further take up the species of smartphones, up on a new level, Sharp's AQUOS screen has been produced, to ensemble the entire smartphone into one single entity.
The impressive-looking Sharp Aquos Crystal was announced for Japan, and back then we heard that it would be headed to Sprint in the USA, because that particular carrier is now owned by Japan's SoftBank. It's sure been a long time since Sharp shipped a smartphone to American consumers but the company is hoping its AQUOS Crystal will have better fortunes. The almost bezel-less device offers high-end looks with decidedly mid-range internals. The 1.2GHz chip inside isn't going to set land-speed records, but it should be enough for most folks. The most important feature, though, is the edge-to-edge 5-inch display. While Sharp's description of it as a "groundbreaking" device might be a little over the top, we must admit it's quite a stunning panel — especially for being five inches and only 720p. The Sharp Aquos Crystal will cost $239.99 at Sprint sans contract. On the other hand, both of Sprint's prepaid brands will sell the handset too, at some point in the future. Virgin Mobile will have it in black, while Boost Mobile will offer the white version. In both cases, the device will be priced at $149.99.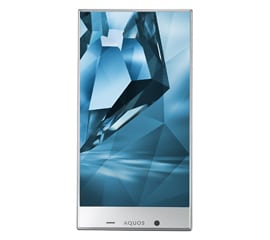 As you can see, the main feature of the Aquos Crystal is how compact it is, and especially how virtually inexistent three of its screen's bezels seem to be. Otherwise, this is a mid-ranger through and through. It seems quite elusive with the promising features:  an 8 MP rear camera with LED flash, a 1.2 MP front snapper for selfies, 8GB of expandable storage, and a 2,040 mAh battery. Running the elegant beast is a Qualcomm Snapdragon 400 chipset with a 1.2 GHz quad-core CPU, aided by 1.5GB of RAM. The Aquos Crystal also has a Harman Kardon branded sound experience, and it runs Android 4.4.2 KitKat, quite a package to take away.
While we've seen plenty of devices before that claim to be free of bezel, the AQUOS Crystal comes the closest to actually fulfilling that claim. There's only the tiniest sliver of silver around the edges. In fact, it felt much smaller in the hand than many 4.7-inch phones. Sharp's expertise in building LCDs is obvious when you look at the phone. The screen is bright; the blacks are deep; colors are vibrant; and the viewing angles are solid. Really the only complaint is that the high-gloss coating produced a ton of reflection and glare in even moderately lit environments. But that is not a condition any one would find difficulty in compromising for.