Moving out of the usual domestic electronics, Sony has build quite an approach in the market of telecommunication with its Xperia series. Sony smartphones have shocked the telecommunication sector with its new specification. Recently , it has launched Sony Xperia C3 that has a specification no other smartphone claims to have yet. The Xperia C Android smartphone makes it easy to take self-portraits with the high quality main camera. Just switch on the self-portrait function and the intelligent voice-guide puts you in the right place for that perfect shot.
Taking selfie craze to a whole new level!
Xperia C3 is no doubt a new wonder in the gadgets-dome. Combined with the guaranty and assurance of Sony, its 8 MP camera features an Exmor R for mobile image sensor and HDR. It also comes with all you need to snap photos you'll want to share with the world. Another mode is "Portrait retouch", which gives your portrait a nice complexion by smoothing the picture. We expect this mode to be revisited with the soon-to-be-released Xperia T2 Ultra, which will allow you to apply different styles to your portrait. Further detail on both of these camera modes can be found below. Portrait retouch will be revamped in 2014 as a camera app for Sony's smart social camera ecosystem. The camera app has been announced for the Xperia T2 Ultra so far, but we would expect it to hit other handsets in due course.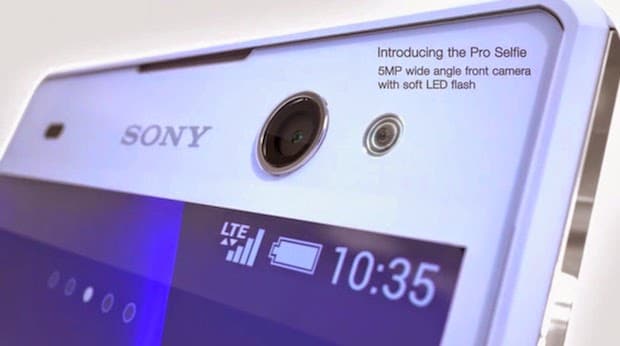 No matter what you intend to capture, may it be hilarious blockbusters or sweet holiday memories or mind-boggling games. Whatever's on-screen, the beautiful 5" qHD display turns into an adventure. Along with these Sony provides it the very best, for which it is famous, an outstanding sound quality. Fierce hip-hop. Smooth jazz. Twee pop. Whatever tickles your musical taste buds, enjoy it with the "WALKMAN" app. Create playlists and treat your ears to crisp, clear sound. Sony seems to be following a consistent design strategy across the new Xperia range – the Xperia C boasts Sony's OmniBalance design, first seen in its flagship phone, Xperia Z, but misses out the rear glass panel and aluminium frames. The front and back of the Xperia C have a smooth finish, though the display is fingerprint magnet. Xperia is also accompanied by various accessories that Sony provides, if you wish to choose any. Definetly a set of earphones providing quality audio and a smart, tangle-free cable is an obvious. In addition A discreet Android-compatible watch is also launched bringing incoming messages, notifications and more directly on your wrist.
Rounding out the specs, the C3 runs Android 4.4 KitKat with a quad-core 1.2 GHz Qualcomm Snapdragon processor under the hood. The C3's screen is one key area where it reveals its mid-range status, with 720p resolution spread across 5.5 inches (that's just 267 pixels per inch).No word yet on pricing, but we know that the Xperia C3 will launch this August, starting with China. Even with all these amazing features, Xperia C3 is not so pricey. It is easy on your pocket with mid-range. The world is definitely going to witness a rise in selfie fever with this smartphone in the market.