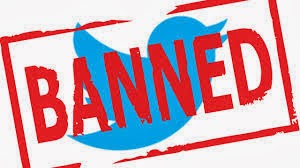 Twitter Users in Turkey did not follow the orders of the Turkey`s Government to not to use Twitter.Twitter was originally banned Twitter last week. Now Government has forced the Local Internet Service Providers(ISPs) to block Twitter. The users used back doors to get past and use twitter despite the ban.
On March 21 Turkey`s Government banned twitter but users momentarily shifted to using Domain Name System(DNS), Such as Google`s Public DNS to Get past the block. Some users even spray-painted Google`s DNS addresses on election placard from Erdogan`s party.
Now, according to the reports that way has been blocked from access but users can still use Twitter by Virtual Private Networks(VPNs) to give the impression to government as if they are using Twitter from outside the Country.
This Twitter ban has became a main topic to talk about these days for the upcoming Elections in the Country which is due on March 30. The main point of this contradict was when audio recordings of Erdogan was talking talking about bribery and fraud started transmitting on the social networking giant.
Turkish President Abdullah Gul who was a forgone partner of Erdogan has mocked the block , he himself tweeted that "banning the entire social networking website is just pointless".
Only 15 percent of the population of Turkey use Twitter and this interdict is being broadly criticized around the world.
The USA on Monday was surprised to know that after the ban there were more tweets than ever before from the citizens of Turkey.
This ban has allured the wrath of the International Communities, with Washington on Monday castigate the blow to " The Right to free speech".
The USA Spokeswoman Marie Harf stated when the people of Turkey tweeted more than ever after this ban , is a signal to those people who try to prevent freedom of expression that this will not work and it is not the right thing to do.
The Spokeswoman also said that they are in contact with twitter but it is not clear whether they will go to the court against the Turkey and try to pressurize Turkey in restoring the service.
Source- The Hollywood Reporter