Discord Music bots offer a way to listen to the same music simultaneously for numerous Server members. The Music Bots may search and play songs in a discord voice channel available on YouTube, Spotify, or other services.
You can listen to the song on Discord if you join the voice channel. This is an excellent method to share new music with friends, organize parties and offer background music. So here I've listed the Top 5 Discord Music bots, which are totally free, and you can opt for their Premium features with some cost fee, too.
Note: Some of the top Discord bots are now discontinued including groovy and rythm, please check our new article about the updated top 10 discord music bots for better alternatives of rythm and groovy bot 
Top 5 Discord Music Bots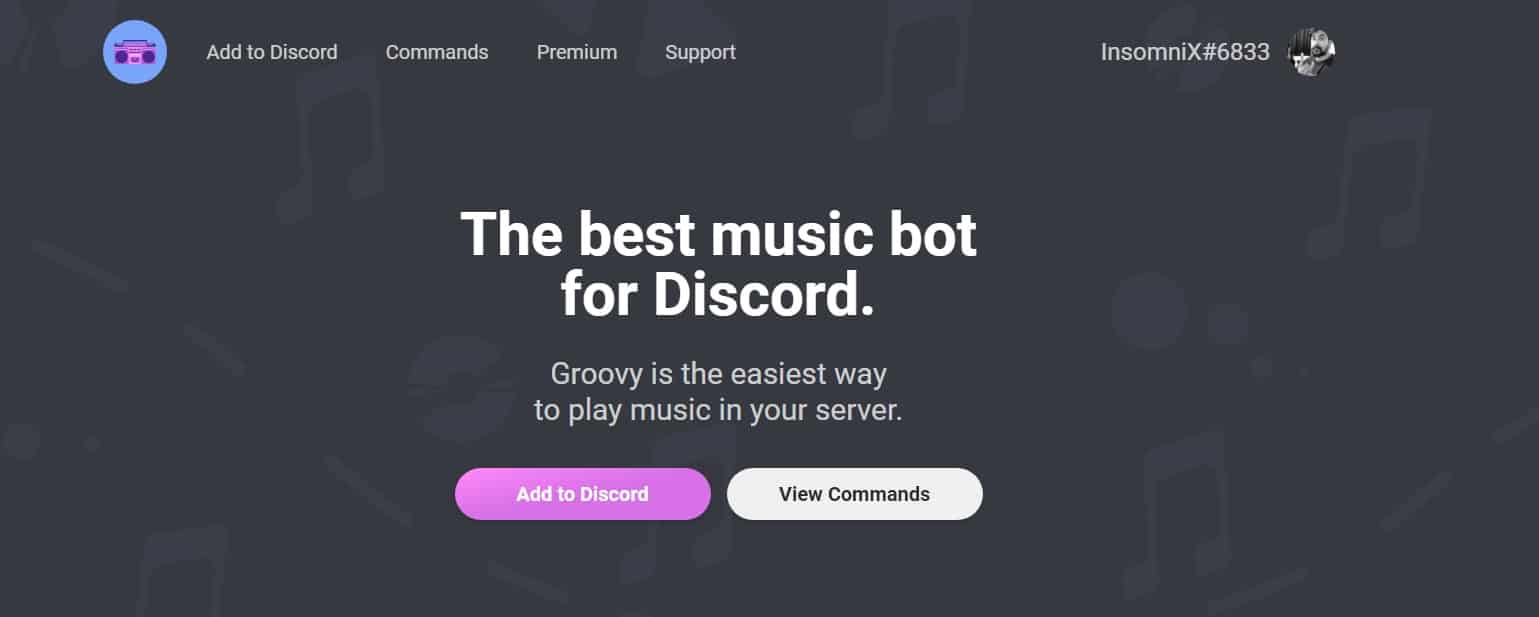 This is one of my favorite discord music bots. Groovy is one of the most Discord music bots that are most popular. Several bot commands are available for Groovy. You may play songs via website links or upload your file using the Groovy music bot or look for certain songs or tunes. You may also build a queue of songs. In the queue of your list, you may save songs, return to previous songs played, jump to a certain song, clear the queue, shuffle the queue or repeat a certain song. You can finally check up on the lyrics of a song on Discord using Groovy.
Pricing of Groovy Music Bot Premium
Discord Groovy bot Premium access is also available for additional features like volume control, audio, saved queue, and 24/7 playback. The Discord Groovy premium bot charges a server for $3.99/month.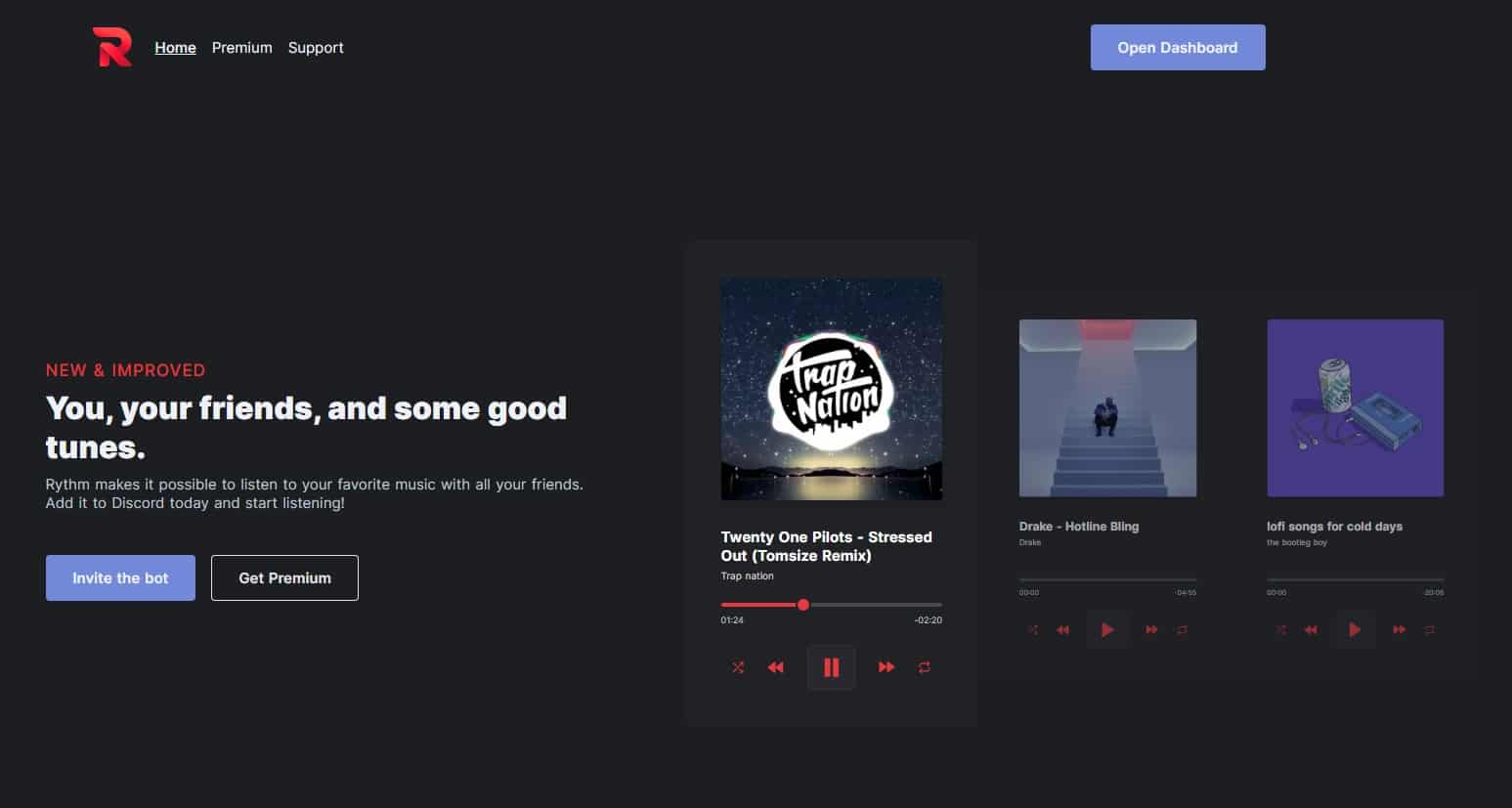 With Rythm, you may play music in your discord server with a wide and simple range of features. Rythm delivers great streaming, including YouTube, Soundcloud, Spotify, and many more from the most popular sources! Rythm also offers Premium Features in exchange for some charge from users, which provides features like better audio quality, volume control, audio effects, ability to play songs over 3 hours, ability to change auto-play and default volume settings, etc.
Pricing of Rythm Music Bot Premium
Rythm provides 3 premium packs for its users, and they are independent of choosing any of them.
Personal Server: It charges $4.99/month
Multiple Servers: It charges $6.99/month
Community Servers: It charges $9.99/month
3. Octave Music Bot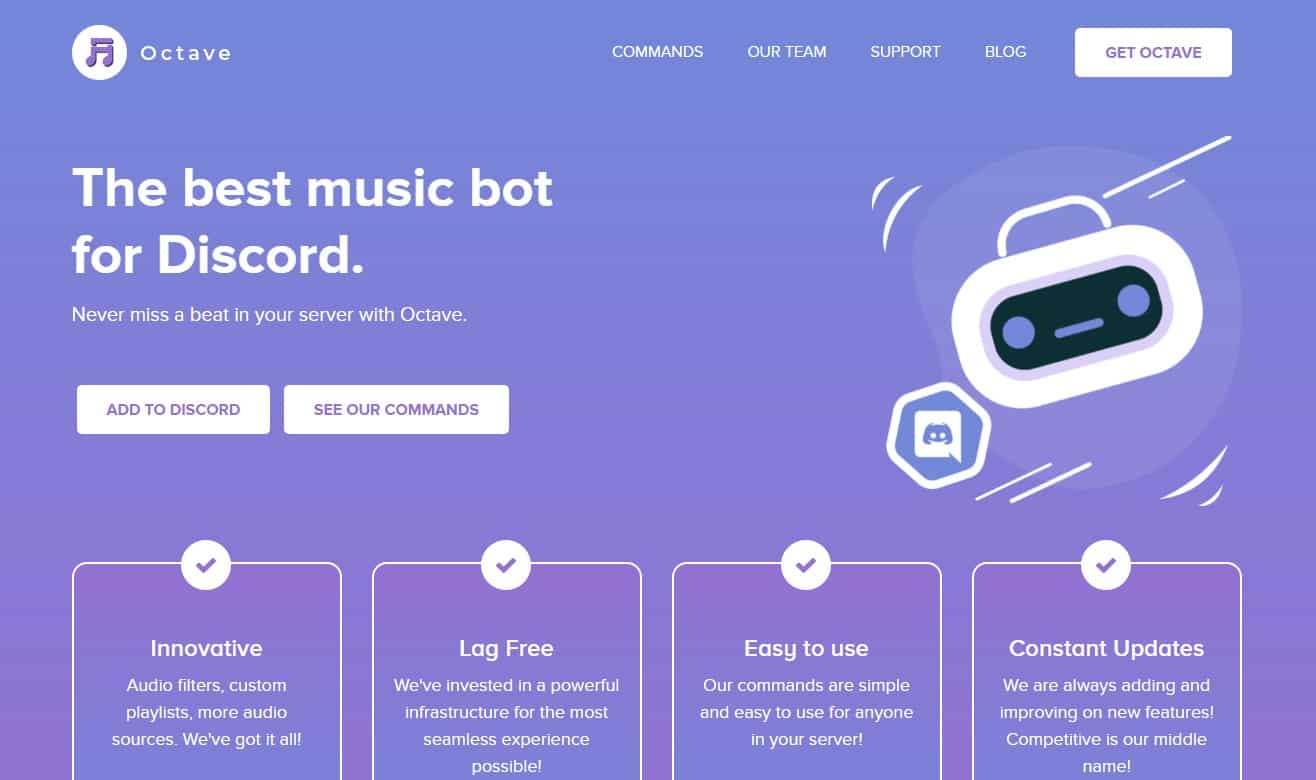 Octave is just another popular Discord music bot with free and paid (premium) features Discord music. The Octave Discord bot can play YouTube and Soundcloud songs, create queues and even generate playlists to be heard later on. You may skip songs, vote as a server or not to skip a song, skip to a song, and shuffle within queues and playlists. You may also create, remove, edit, list your playlists or upload a playlist on a different site with instructions unique to the playlist. The lyrics for your music can also be looked up.
Pricing of Octave Music Bot Premium
Octave premium bot enables the size, filters, bass boost, custom unlimited playlists, durations, and queue size. For $5 per month, you may add 6-hour track lengths and 500 queue capacity to one server.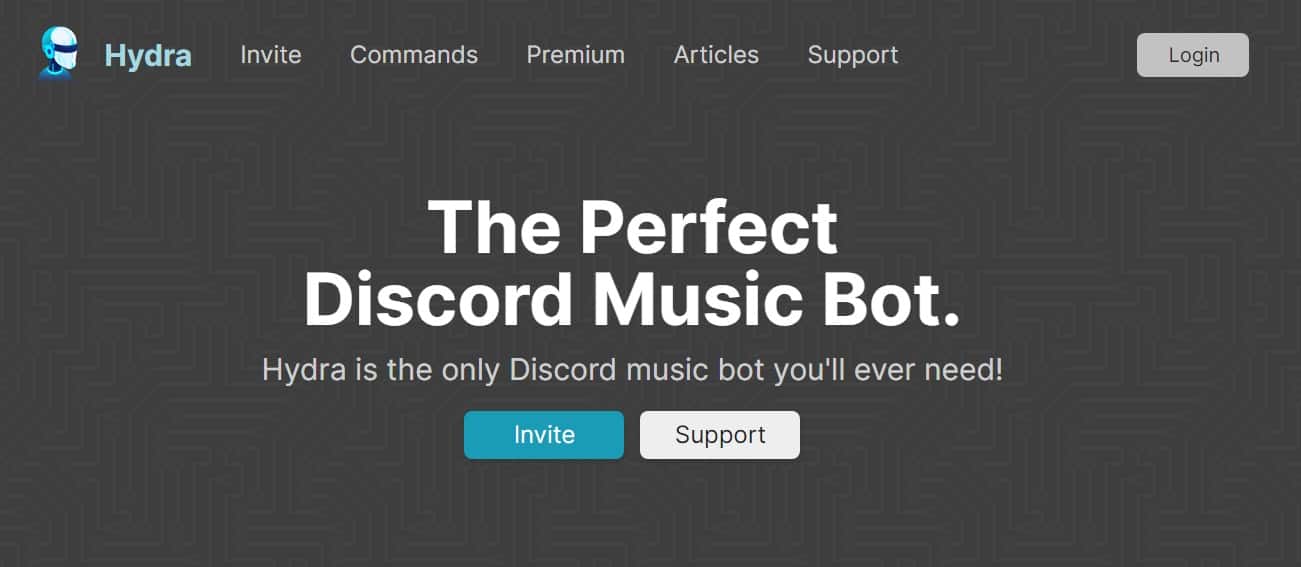 A huge number of platforms are available for streaming via the new Hydra Discord bot. You may stream music via YouTube, Soundcloud, Spotify, Deezer, or Band camp with the Hydra bot. Hydra is actually the finest bot to integrate Discord with Spotify. You may also play or stream online radio by uploading audio files.
You can build queues, playlists, skip, vote, loop, move a song in a queue or at the top of the queue, shuffle, or repeat songs. Lyrics or music details can also be looked up. Finally, the Hydra bot contains administrator commands to help you declare which one of the songs is broadcasting, change the set language, prohibit particular users from the bot, restrict the number of times a song can be played, configure which DJs the bot is playing and regulate the queue.
Pricing of Hydra Music Bot Premium
Hydra premium bot includes controls for loudness, audio effect, and 24/7 playback. For users or servers, you may purchase Hydra premium. User premium allows you to utilize premium Hydra bot features on a server costing $1.99 per month or $19.99 per year.
The Premium Hydra Server contains the same functions as the user premium and unlocking all of the Premium Bot functions for a certain server. The fees for one server are $2.99/month or $29.99/year.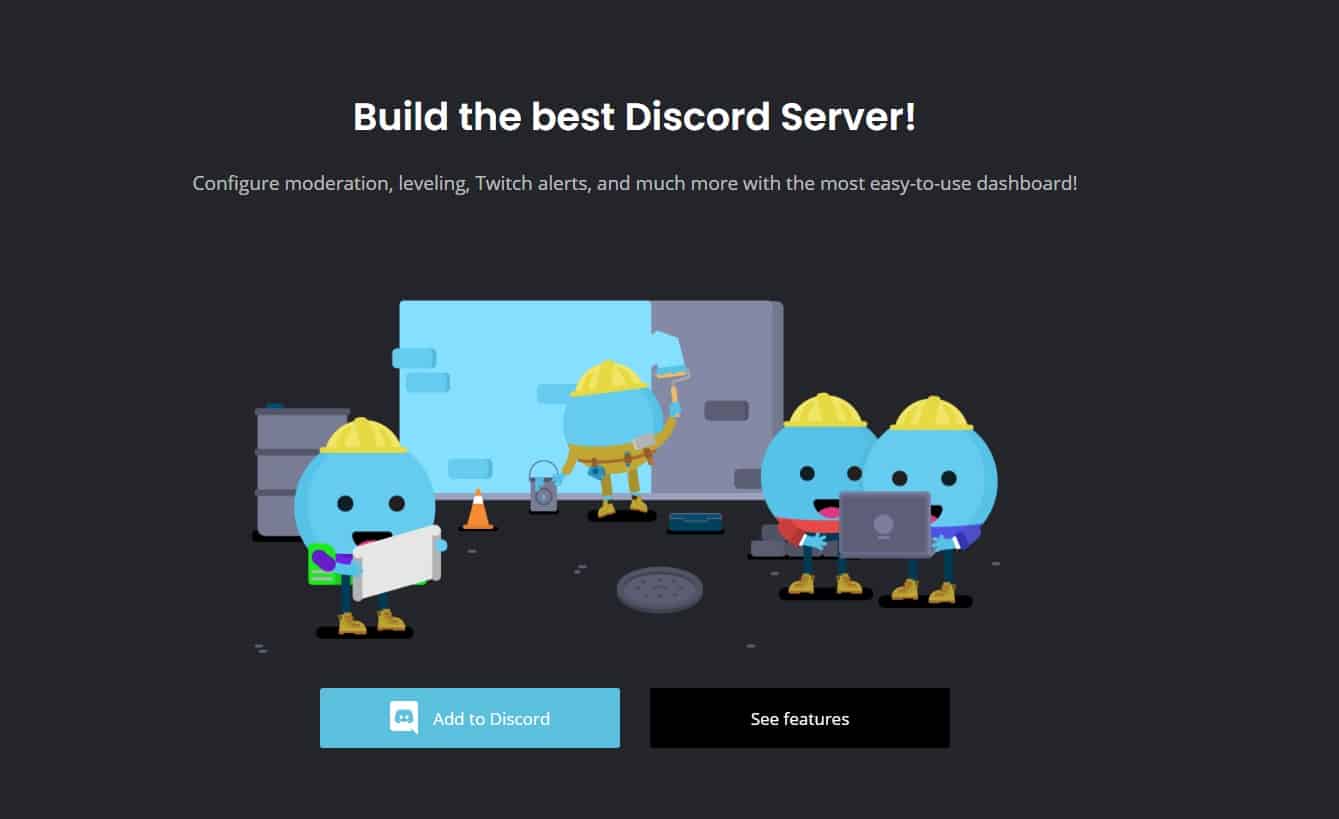 MEE6 is a multi-tasking Discord bot, which is well-known for its moderation functionality. Also, you can play music or do the stuff of the music bot with MEE6. The MEE6 music bot is unique because you can control your music using a visual player on your dashboard. You can easily jump in your online dashboard, monitor your queue, manage playlists and find, play and repeat songs instead of inserting MEE6 Music Commands in your server.
The MEE6′ commands also provide volume controls, voice recording, and 24/7 playback music features. MEE6 supports YouTube, SoundCloud music, and Twitch music. The bot also contains a fun music contest to show your friends who can predict the song and who can imagine the artist most rapidly from a clip.
Pricing of MEE6 Bot Premium
However, only MEE6 premium is available with the following features. For a single server, it costs around $79.90; you may buy a lifetime plan on one server. Or you may purchase an $11.95/month monthly subscription instead. Every month, you may save by buying a MEE6 plan of six or one year. Regular discord users might be interested to know what discord nitro is?
Conclusion
Which Music bot is best for you? It totally depends on what you need and how you want your music bot to be? It may meet features of MEE6, or you may get attracted to a simple music bot like Groovy; ultimately, the choice is yours.