An Indian Political leader Ninong Ering wrote a letter to the Indian Prime Minister Shri Narendra Modi and asked him to intervene in the next game and ban Battlegrounds Mobile India (also known as BGMI). Ering tweeted and shared the letter's picture as well.
Ering is a politician in Lok Sabha, representing Arunachal East. He also fulfilled his duties as a Minister of the Union, responsible for State for Minority Affairs.
Ninong Ering, former Member of Parliament, Arunachal East Constituency, and current Pasighat West MLA, has submitted an official letter to Prime Minister Narendra Modi, alleging the links between Krafton and Tencent and China. He has demanded that Battlegrounds Mobile India be prohibited because this is a "great danger to the security of India and the privacy of our people and a means to bypass and ignore our rules."
Requested @PMOIndia @narendramodi ji to not allow Chinese deception #BattlegroundsMobileIndia. It is a big threat to security of India & privacy of our citizens and a way to circumvent & disregard our laws.@AmitShah #IndiaBanBattlegrounds #NationFirst #AatmaNirbharBharat @ANI pic.twitter.com/H8nzUJ4aRk

— Ninong Ering 🇮🇳 (@ninong_erring) May 22, 2021
The new battle-royal title Battlegrounds Mobile India is revealed by Krafton in India and began with PUBG Mobile India's social media front reforms to Battlegrounds Mobile India. Any of the articles from its social media pocket show that the game resembles the flagship name of Krafton, PUBG Mobile.
Ninong Ering tweeted "Chinese discontent" triggered by the release of Battlegrounds Mobile India and added a three-page report on several issues linking Battlegrounds Mobile India to PUBG Mobile and Tencent.
He claimed that many PUBG-linked enterprises, including Krafton, Tencent, and PUBG India Pvt. Ltd., attempt to ward off Indian laws by relaunching their name and trying to cheat the Indian people and Government.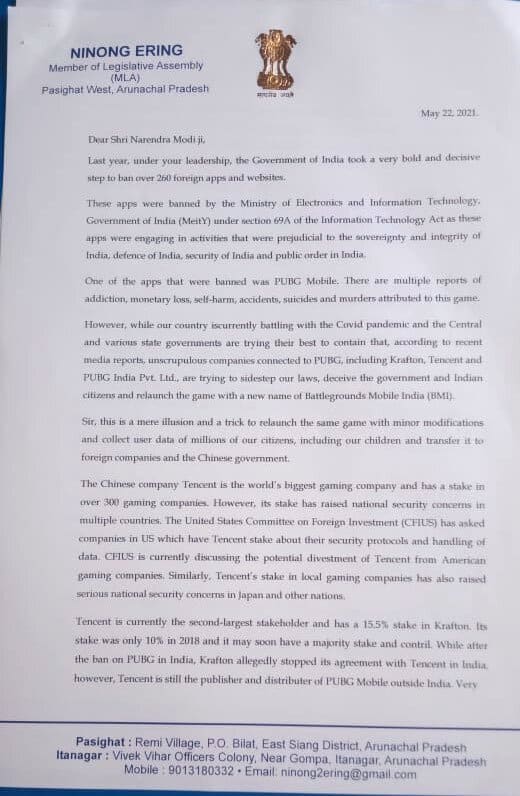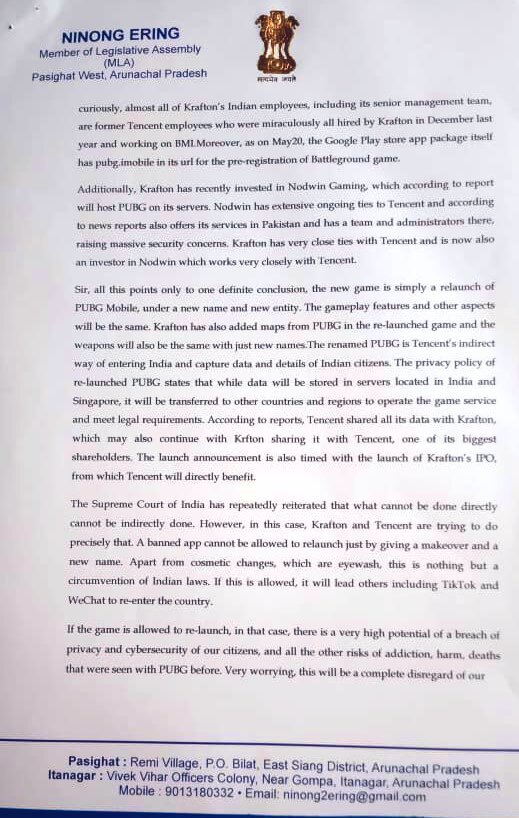 He added it is "a mere illusion and a trick in starting a game with slight changes to gather consumer data from millions of people and to pass the information to foreign corporations and the Chinese government."
In the light of the connection of Krafton to Tencent, Tencent was the second-largest stakeholder of Krafton Inc., and former Tencent staff were also the high management engaged by Krafton for their Indian offices. Tencent Games are often marked with security issues by many nations. This letter also discussed the inclusion of PUBG Mobile in the Battlegrounds Mobile India URL kit.
Nodwin Gaming was hosting a PUBG server wherein Krafton was recently invested in Nodwin Gaming which is "very similar" to Tencent. It has also been listed.
There have already been concerns over this latest title's privacy policies. These details have been combined to show that Krafton and Nodwin Gaming are connected to Tencent. According to this message, Battlegrounds Mobile India is simply a renamed PUBG Mobile, and small tweaks are being made to evade the ban hammer. Ering urged PM Modi, based on all of the above considerations, to impose Ban on the launch of Battlegrounds Mobile India in the country.