69G Gaming Beast at Your Service
Razer Products are popular for its Gaming Beast Mice across the Globe. Razer Viper is among the most trending topic of the year in the Gaming World. Razer Viper is an ultralight ambidextrous wired gaming mouse that is available on Amazon and various other Shopping Sites as well.
This mouse has a smooth, ambidextrous form factor (for both hands Right as well as Left) with no drilled holes in its chassis, allowing for maximum movement speed. A rubberized side grip helps make long gaming sessions more comfortable, while light beam-based actuation allows for fast-tracking and button presses. Programmable buttons on both sides and customizable Chroma RGB color profiles (allowing for nearly 17 million color combinations!) deliver a personalized experience and a drag-free cord helps keep your gaming experience smooth. It is a dream eSports Mice for many people and Razer Claims it is the Most Satisfying Gaming Beast in the world.
Razer's Viper even Competes with the Benq Zowie S2 which is a Symmetrical Shape Mouse. The Size is similar to Zowie S2 wherein the front shape of both differs from the other. The Razer Viper has 8 Programmable Buttons with Chroma RGB Features. It is Plug and Plays Mouse from Razer, which doesn't require any software to use. Of course, to set up Profiles and RGB you'll need the Razer Official Software – Synapse 3. It comes with Razer's Optical Switches which makes the lifespan of keys to 80 Million Clicks claims Razer.
What is the Difference Between Optical and Mechanical Switches?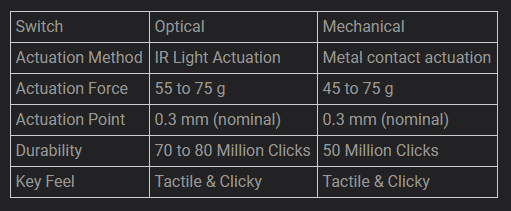 Razer's Viper has a 5G Optical Sensor and Razer claims it is engineered with 99.4% tracking accuracy and up to 16,000 DPI, the Razer 5G Optical Sensor offers deadly precision. When combined with your physical dexterity and skill, the Razer Viper represents a mouse that achieves a true extension of yourself in the game. During the competition, even the tiniest advantage can make a difference. The Razer Viper weighs in at just 69g without any compromise on its build strength. A lighter mouse allows swifter, more controlled swipes, augmenting the speed of your reaction in battle.
Razer has used Speedflex Cable and accordingly they claim it as a flexible cable. They've designed the mouse cable that enables smoother swipes. The Razer Viper features the highly flexible Razer™ Speedflex Cable, bringing you unhindered control with minimal drag.
Taco from MIBR, Counter-Strike Global Offensive, a well-known Competitive gamer says, " As soon as I laid my eyes on this mouse, I already liked it because the shape is perfect for me. The click of the switches feels a lot better, and the cable is really nice and flexible; which is awesome for CS: GO."
It even has Onboard DPI Storage wherein you can pre-set up to 5 custom DPI stages via Razer Synapse 3 and bring your settings anywhere so you're always ready to compete at your best.
Here's the Size of Razer's Viper: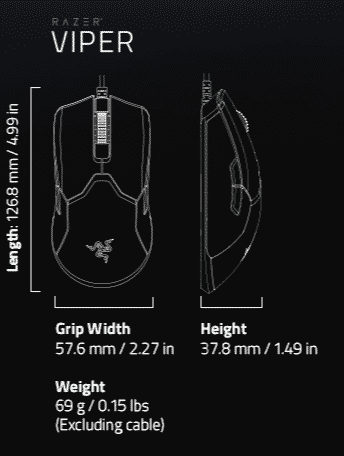 You can Purchase Razer Viper from the Official Razer Site or from Amazon.in as well. On Amazon, Razer Viper is around Rs.5,700 ($77). Razer Viper even available in other variants such as Razer Viper Mini and Razer Viper Ultimate