Indian Government banned PUBG Mobile in September 2020 along with other 117 Chinese Apps stating that the app is a threat to national sovereignty and integrity. The Company even broke ties with Tencent Games to spread its territory to India Back Again.
PUBG Mobile coming back to India
https://www.youtube.com/watch?v=WtMHB-XUADU
Recently, PUBG Mobile India uploaded Official Video on YouTube stating that the game will be back soon in India. They featured and advertised through some Popular PUBGM Streamers like Dynamo, Kronten, and Jonathan.
PUBG Mobile India release is just around the edge and PUBG Corporation is already taking pre-registrations on the Tap Tap platform. The company is preparing a new version or can be called as "Indian Version" of the game especially for India with gameplay improvements, less bloodshed, fully clothed characters, and few other changes. But still, the PUBG Mobile India Launch Date remains a Mystery.
PUBG India Pvt. Ltd has been reportedly registered as a company in India on the MCA India website. The registered address is in Bangalore and is listed as a subsidiary of a foreign country. In Short, the Government of India has approved the PUBG India Pvt.Ltd as a Company, which is a Good News for the Indian Gaming Community.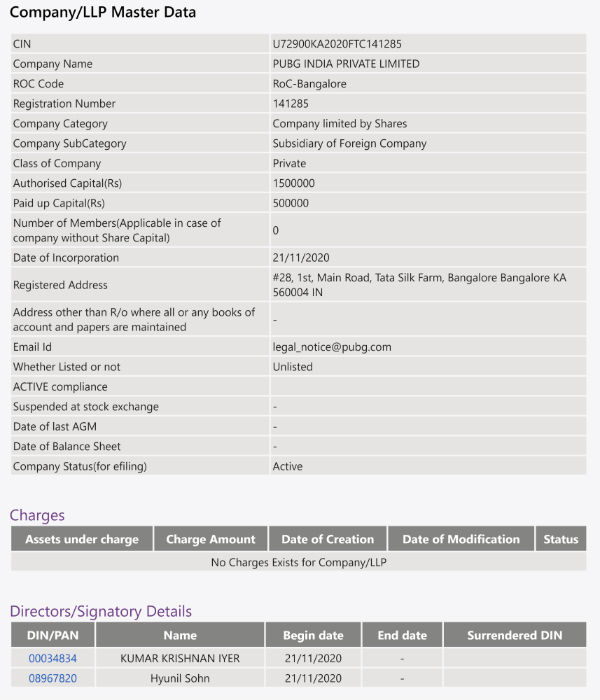 PUBG Gets Registered Officially, Game will Resume Soon
The registration details show the company has two directors listed at the moment  — Kumar Krishnan Iyer, also the director for Spotify and AccuWeather, and secondly  — Hyunil Sohan, the head of Corporate Development at KRAFTON, which is the parent corporation of PUBG. It seems like PUBG Mobile is getting ready with all the official formalities before making the big announcement.
Launch Date Remains a Mystery?
Meanwhile, Twitter is getting flooded by various memes and Queries by the Indian Audience towards the PUBG Corporation. The Company Registration shows sign of Launching PUBG Mobile in India Anytime Soon. It can be today, tomorrow, or any other day during this week. Indian Gaming Community being waiting for the Launch Event since long after PUBG Mobile India Uploaded the "coming soon" Video on YouTube. Indian PUBG Mobile Streamers claims that the Corporation is set to launch in India but they expect Patience from the Audience as well.