With the increasing online threats and various kinds of malware attacks, it has become the most important thing to secure your digital identity. Whether you use public WiFi or visit random websites, a simple attack can make you compromise all your precious data.
A few months ago, Google has requested all the webmasters to use SSL on their websites. Even though, just for the sake of saving some money or because of laziness, many websites have still not implemented that.
They might not bother if their website is marked as 'not secure' in Google Chrome but visiting a website over an insecure connection may associate the risk of eavesdroppers. They can monitor your traffic and even record sensitive information sent over the network.
Today, I will talk about Surfshark VPN, a newcomer in this industry who has fulfilled all the promises of providing safe and secure web access. It's not only offering all the useful features but also comes at a very nominal price. So, first, let's see how Surfshark VPN actually works.
How Surfshark VPN Works?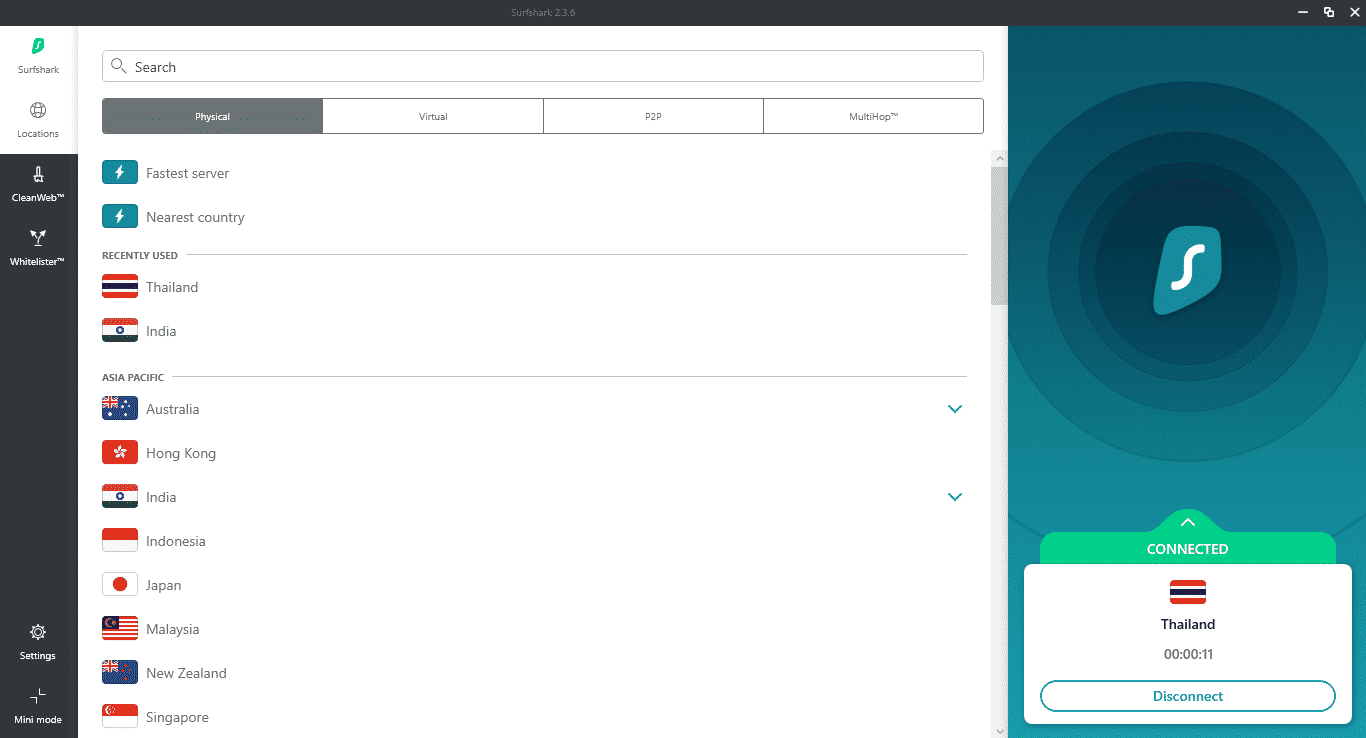 When you connect your device to the Internet, a large part of the information remains unencrypted and visible to your ISPs. It includes your IP Address, websites you browse and the files you have downloaded.
Just like any other popular VPN, Surfshark creates a secure tunnel between your system and the website server. Your information travels privately through this encrypted tunnel.
As it's impossible to decrypt the data without an access key, the risk of unauthorized access is possibly eliminated. Surfshark VPN also hides your IP Address to keep your location private and sensitive data secure.
Going a little deep, we found Surfshark uses IKEv2/IPsec security protocol. For encryption and authentication, it uses 256-bit AES-GCM for data encryption, SHA-512 for Data authentication and Elliptic Curve Diffie-Hellman 521 for Handshaking.
Some Exciting Features of Surfshark VPN
No Logs Policy: One of the important advantages of using Surfshark VPN is — it promises to not log our IP Address, Browsing History, Session information, Network Traffic, etc. It means you can use this VPN without worrying about unwanted monitoring and tracking.
Private DNS and Leak Protection: Surfshark doesn't leave a single stone unturned to take security to the next level. They use private DNS on each server and has leak protection measures while using the IPv4 stack.
Ability to Connect via Two Different Servers: Surfshark comes with MultiHop feature that allows you to connect via two different servers of different countries. This helps us add an extra security layer and improve your online privacy by hiding the traffic and your real location more efficiently.
Inbuilt Blocker for Ads and Trackers: Surfshark is equipped with inbuilt blocker for ads, trackers, malware and phishing attempts. This further boosts your security and promote CleanWeb in the best way possible.
Kill Switch: This feature can save you from a lot of troubles. It basically disconnects you from the Internet whenever the VPN connection drops and ensure that no one can see your activities. In this way, your traffic will always be encrypted and P2P downloads such as torrents will remain invisible to your ISP.
Unlimited Devices: Most of the popular VPN clients come with some kind of restrictions on the number of devices. But that's not the case with Surfshark. Here, you can connect and protect all the devices in your family simultaneously.
How to Use Surfshark VPN?
Surfshark comes with a user-friendly interface having all the features properly organized. It doesn't matter whether you're a fresher or professional. You can use it without any supervision.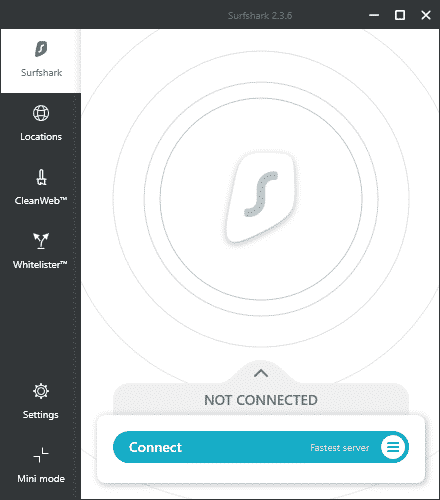 When you first open the Surfshark VPN and login with your credentials, you'll find a Connect button with Fastest server written on the right. You can change this to Nearest Country or Fastest P2P Location as per your requirements. Now, click on Connect and wait for a few seconds.
Once connected, you can click on the green label to know more about the connection.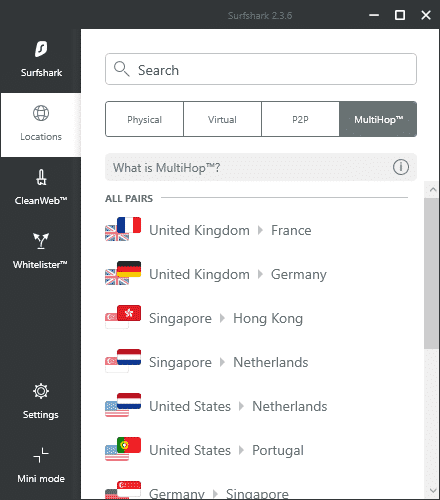 Using the left menu panel, you can go to various sections. On Locations, you'll see different location categories like Physical, Virtual, P2P and Multihop. You're free to choose anyone based on your requirements.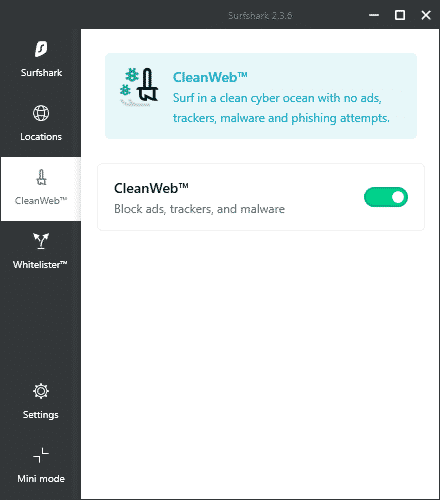 In the CleanWeb section, you can toggle the button to block ads, trackers, malware and phishing attempts easily.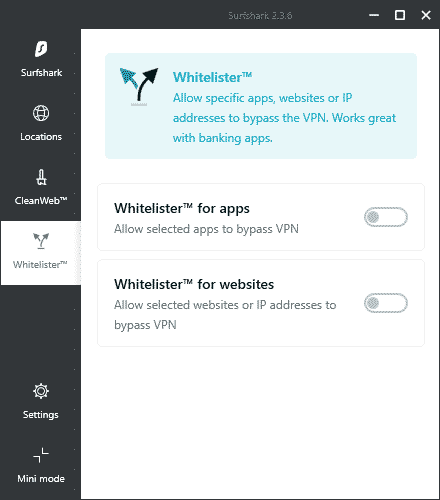 Moving to the next section, Whitelister allows you to select apps and websites which you don't want to open via VPN. You just have to turn on the required setting and choose the apps.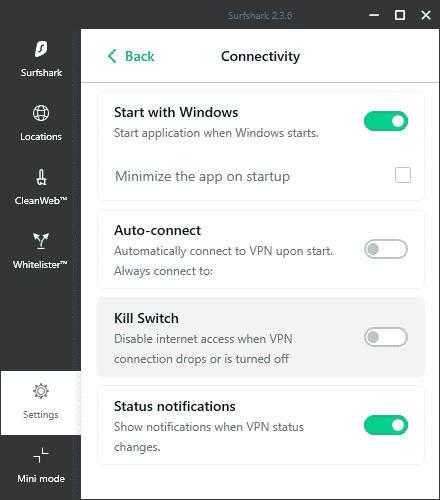 Lastly, you can navigate to Settings > Connectivity to use options like Autoconnect and Kill Switch to enhance your experience.
Is Surfshark VPN Worth the Price?
VPN clients generally come with a hefty price tag and as you'll add more and more features, their prices keep on increasing. Moreover, if you want to buy an unlimited package, many of you may drop the plan by seeing their prices.
Surfshark offers all the features under every package without any usage and devices limitations. You can pay 11.95 USD per month or 71.88 USD per year. But if you opt for 24-months package, you only have to pay 47.76 USD and the VPN costs 1.99 USD per month. You can know more about pricing here.
Overall, if you are looking for an affordable VPN client which is not only safe but also free from usage and devices restrictions, just give it a try.