Till now, we have seen various software, cross-platform chatting tools and virtual LAN servers for wonderful gameplay experience. But a few days ago, a company called Opera Software unveiled the world's first gaming browser, called Opera GX.
Opera Software Unveiled Opera GX Gaming Browser
The web browser has neither been released nor we have many details about it but speculations are indicating that something big is coming.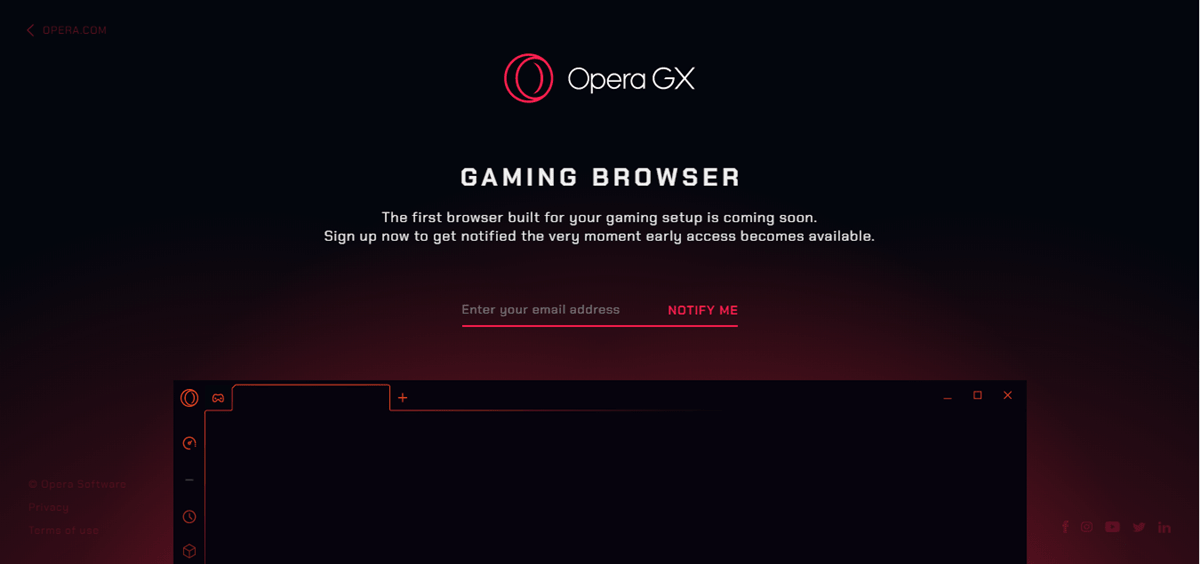 The existence of this innovative browser is confirmed by the official website which says – 'coming soon.' If you are interested, you can even sign up by submitting your email and get notified the very moment early access or the first version becomes available.
Opera Software revealed a few details about the upcoming browser. The user interface looks similar to the Opera web browser to a certain extent. It comes with a side panel and features the same toolbar layout with squared tabs.
The side panel consists of icons with links to Extensions, History, and Settings. If you look carefully, you'll find there's one more icon in the side panel that looks like a speed indicator. We have already seen this icon many times in the benchmarks and tweaking applications.
The main toolbar shows a gamepad icon. The website has a slider to change the color of the interface but due to lack of information, it's not clear whether that is an indicator of functionality or anything else.
Speculations Related to Opera GX
Just like other Opera browsers, Opera GX will be certainly Chromium-based, as the company already know all the ins and outs of Google's open-source web browser Chromium project.
Opera is expected to ship the GX browser with all sorts of optimizations required to improve the gaming experience in the browser. These may include stripping off the CPU-intensive features, background processes optimization, speed, and memory tweaks.
Besides this Opera could plan some new design options to make the visuals more appealing. These have already become quite popular among certain gaming communities after Vivaldi launched a new version with Razer Chroma support recently.
Closing Words
Though Opera is creating an exciting environment by announcing a gaming browser, there are people who still confused about whether we need a browser, especially for gaming.
Anyway, it's better to wait for more details before coming to any conclusion. The only thing we can expect as of now is Opera should optimize the browser in a way users won't notice any difference. What do you think about Opera GX? Share your views in the comments below.