Videos are the best way to express your feeling, revive memories and explain things, but making a video is not a cup of tea for everyone. When it comes to beginners, they still prefer to download random software or apps, select their photos and leave the rest to the app. Though they can use these template-based videos, they will still miss the customizability and ability to edit videos as per their liking.
Today, I am going to talk about Wondershare Filmora9 which is one of the easiest advanced video editors for Windows and Mac. It allows you to edit videos on the timeline, add transitions, effects, titles, ready-made elements, etc.
Not only these, but the new Filmora9 also comes with tonnes of advanced features like Enhanced Chroma Key, Enhanced Video Stabilization, Faster import and export, high-resolution smooth preview, etc. So, first let's talk about the user interface and basic features of the Filmora9 Video Editing software, then we will discuss the other features and pricing.
The User Interface & Basic Features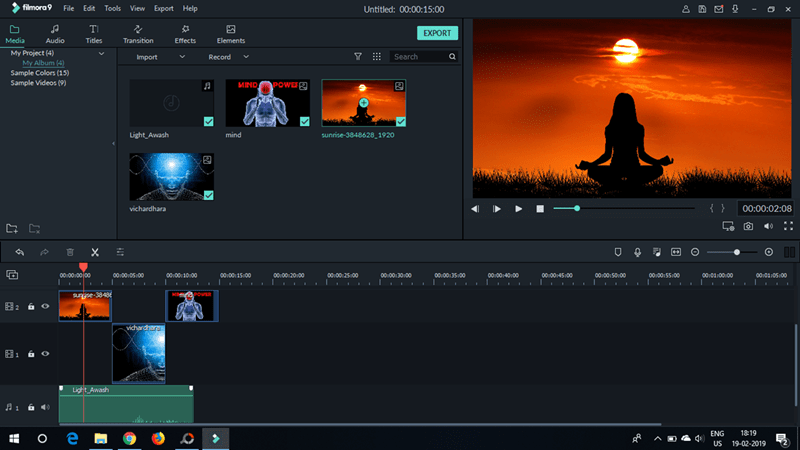 The first thing you will notice in Filmora9 is its clean and uncluttered user interface. Every section is well organized and so you won't face difficulty in finding any feature.
The upper toolbar has all the essential tabs – Media, Audio, Titles, Transitions, Effects, Elements, and an Export button.
The Media gallery is where you can import your files. In the Audio section, you will find some great stock music and sound effects.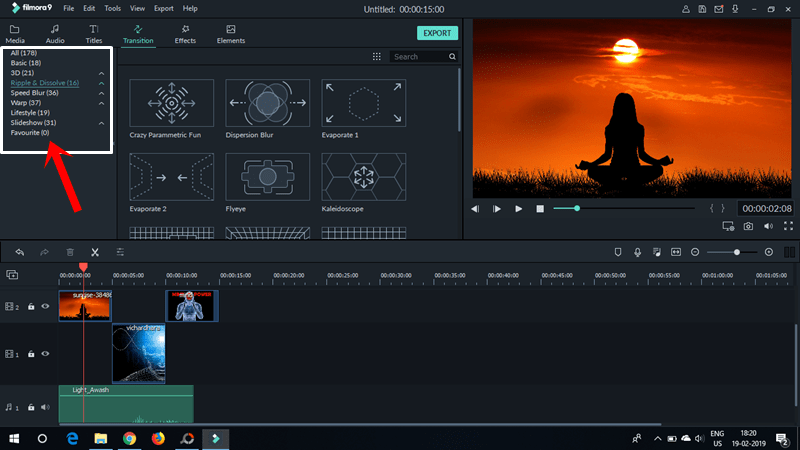 The Titles, Transitions, Effects, and Elements sections are filled with awesome templates which you can add to your videos anytime. These sections are even categorized into sub-sections which makes finding a particular transition or effect super easy.
There's a preview window on the right of the screen. You can watch your video while editing and decide what's good and what's need to be modified. When I compared this software with others, I found Filmora9 has a more stable preview screen. The software doesn't act like a RAM hungry monster and everything keeps working fine.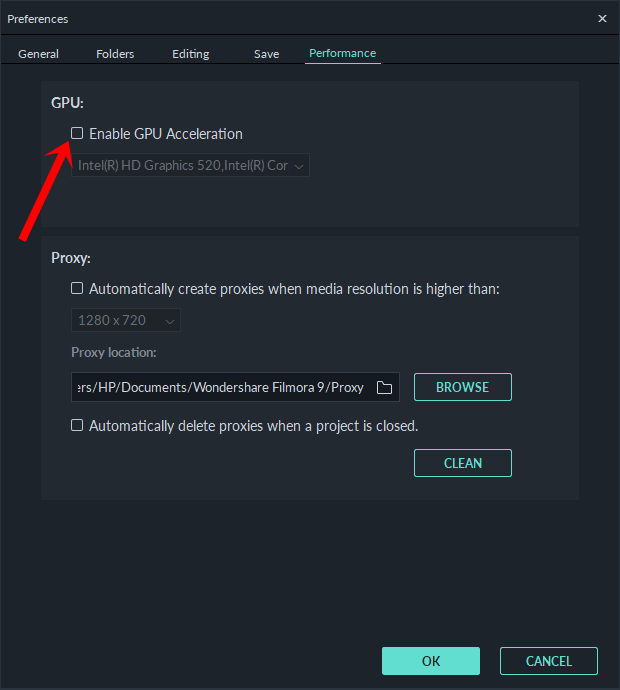 The Filmora9 allows you to adjust preview resolution according to your PC or laptop. You can decrease the quality with the Playback Quality options, create a proxy file for large video and preview it in a lower resolution but without affecting the quality of exported videos. You can even enable GPU acceleration option in the performance section of preferences.
Coming to the bottom section of Filmora9 video editor, it has a feature-rich timeline which makes editing professional videos fun for beginners. You can organize your media in up to 100 full video tracks and create compositing effects, apply filters, transitions, and other effects to any track.
Other Features of Wondershare Filmora9 video editor
Chroma Key: The new version of Filmora9 has more advanced Chroma Key tool. If you are unaware, it's the same tool which your favorite YouTubers used to edit green screen videos. Either you are a beginner or a professional video editor, this software gives more control and so you can achieve a better result.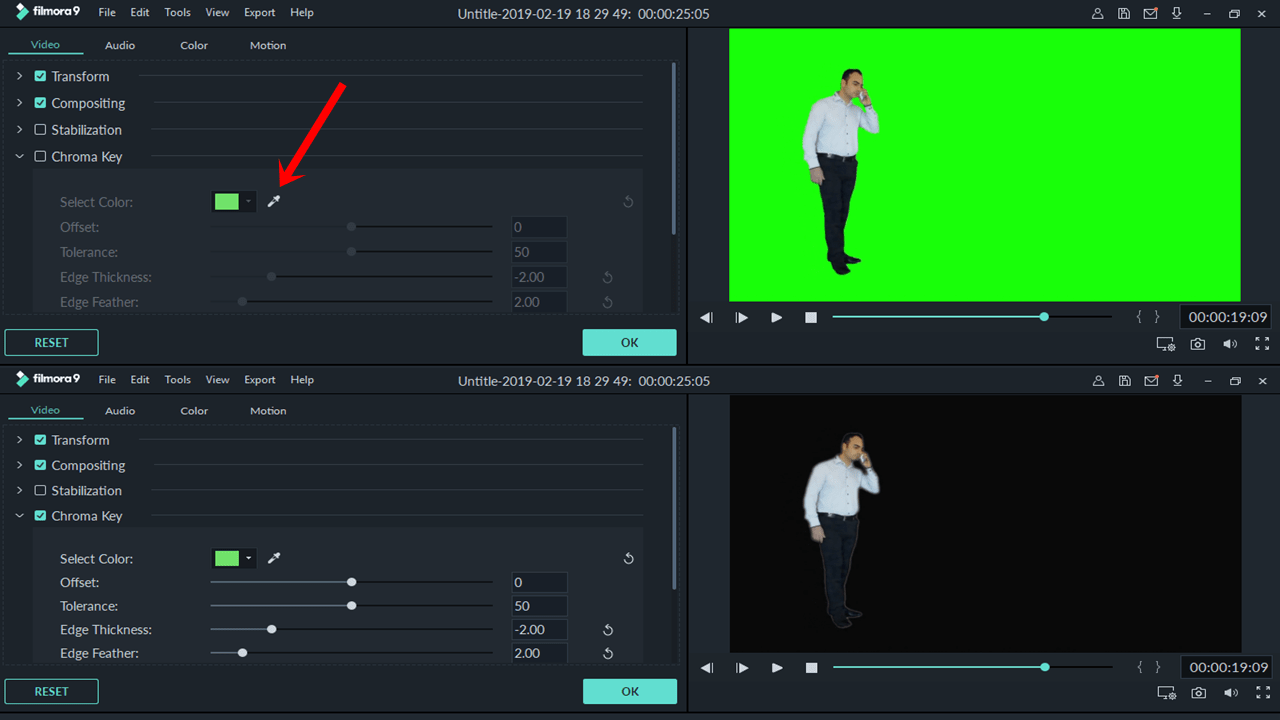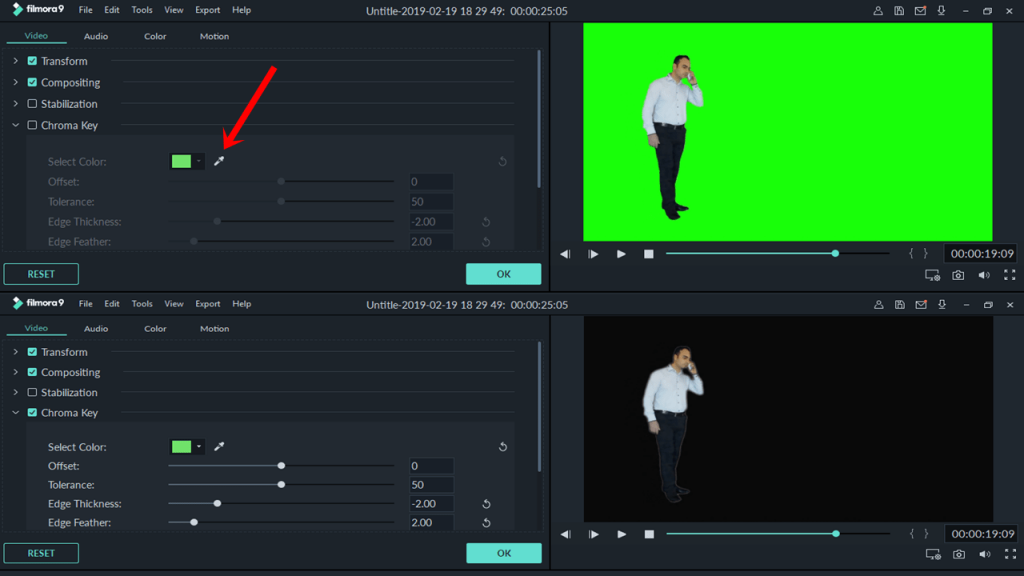 Lens Correction: There are times when even after shooting videos with immense care, the lens flare, lens distortion, etc ruins them. But with Filmora9, you can easily remove them using the dedicated Lens Correction tool.
Record a Voice Over: Filmora9 lets you record voice-overs directly from the video editor. If you are into making tutorials or teaching kind of things, this video editor can save a lot of time for you.
Audio Mixer: Editing several audio files on the timeline and adjusting their volume might be difficult for beginners. But with in-built Audio Mixer of Filmora9, you just have to use the separate volume bars and achieve whatever you wanted.
Stabilization: If your camera or smartphone doesn't have an Electronic Image Stabilization (EIS), you can make your videos look stable and smooth in the Filmora9 video editor itself. You can enable the stabilization feature and adjust the smooth level as required.
Availability and Pricing of Filmora9
The Filmora9 Video Editor is available on Windows and Mac platforms. The software is stable and doesn't need too many resources to run smoothly. Talking about Windows, it supports Windows 7, Windows 8.1 and Windows 10 (64-bit OS). You can use it on any PC or laptop running Intel i3 or better multiprocessor, at least 4GB RAM and 2GB Intel HD Graphics 5000 or later.
If you are looking to work on 2K or 4K videos, you will require Intel 6th Gen or newer processor, at least 8GB RAM and 4GB Graphics Card.
Coming to pricing, the Windows version of Filmora video editor is available at $39.99 for 1 year and $59.99 for the lifetime. There are even 1000+ videos effects available on the company's website, for which you have to pay separately. Otherwise, you can go for Unlimited pack of Filmora available at $99.87 which includes free use of these effects.
The Mac version also comes in three plans – basic at $44.99 for 1 year, Lifetime at $59.99 (one-time fee) and Unlimited at $104.87 Per Year. You can know more about pricing here.
If you are not sure about making a purchase right now, there's even a free trial period for which you can use and test its features
Conclusion
If you are a beginner and looking for some ways to edit videos with a professional touch, Filmora9 is for you. Talking about my experience, this was the first professional video editor I used. The best part is Filmora9 doesn't come with a steep learning curve. If you edit regularly, you can master all of its features in a few days.
Just remember, it's an advanced video editor for beginners. You can use it to edit any kind of videos but if you are looking for something more advanced or software with post-production features, you may need to try the FilmoraPro, a professional video editing software. Leave a comment below and let me know if you are interested in knowing my opinion about FilmoraPro.