As a programmer, there's always room for improvement. Programming is very time-consuming and intensive. Sometimes, it feels like you are doing a lot and seeing the only little result. Maybe all you need is the right tool to boost up your productivity and take things to the next level. Meet DUO, the ideal dual-screen laptop monitor.
What decreases productivity?
You may be wondering, how does this help? The option of using multiple screens is awesome. While some people opt to set up to about 5 screens, using just 2 will be perfect. An example will be this: you can write code using one screen and use the other for real-time testing. Toggling between applications, browser tabs and windows wastes time; An average of 2 seconds per minute. That may not sound as much on its own, but put that together and you lose a lot.
Also, Read: Top 5 Productivity Tips for Programmers and Developers
Solving the problem.
The DUO plugs into any laptop and adds a bright second screen.  No more time-wasting skipping from one tab or window to the next. No more jumping from one editor to test-site. The debugging process is, therefore, a lot faster.  You can code on one screen and check your GitHub repository or StackOverflow feed on the other. It'll also feel good to share your work with anyone sitting opposite you stress-freely.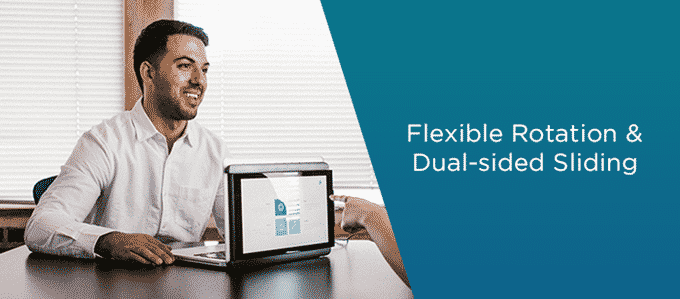 Let's look at the features available on the DUO. First of all, the DUO is portable. It's slim and lightweight (1.5 pounds), so you can carry it where ever you go. Apart from that, it can be attached to any available laptop screen and it'll be ready for use. It's easy to set up and it has a few moving parts. Simply place magnetic adhesives of computer and place DUO on said adhesives. On the company's Kickstarter page, it claims DUO is "plug and display".  And they also say the device increases productivity by 50% as well as a increases efficient multi-tasking. Now that's impressive.
More specs:
270o of rotation: You can turn to twist the added screen as much as possible. This will come in handy when screen sharing to those sitting next to or opposite you.
Cross-compatible: Works on any laptop via a 12.5-inch USB cable.
1080p high-resolution display.
Compatible with multiple operating systems (Windows, Linux, Mac)
The DUO is available for pre-orders on the Kickstarter page. The manufacturers promise delivery should begin during January 2019. In the meantime, you can back this project on Kickstarter. Get one starting at $169. For the much-needed productivity which comes with this device, one cannot complain much.