A great variety of marketing services today can confuse newcomers. The companies offer almost the same product, features, and options, so marketers have to do their best to discover the most profitable platform for them. In most cases, the price is the determinative factor. So, we've carried out research to single out a service that stands out from the rest, and this is SendPulse.
Why SendPulse?
After testing the service, we realized why marketers choose SendPulse. There are 4 reasons to try it that fit both the beginners and pro users:
1. Intuitive interface
A simple and clear interface is the issue of interest for all the beginners because the time is precious. The SendPulse team had spent much effort to make their service user-friendly, and they succeeded. Look below.
This is your account in SendPulse. You don't have to go deep to start sending campaigns.
2. Free plan
Yes, it's possible to run email marketing for free in SendPulse. If you have no more than 2,500 subscribers, you can send them up to 15,000 emails monthly free of charge, and this is not just a trial or a test drive – this is a full-fledged plan. Of course, it lacks some advanced features, but it's a good start. Besides, the prices of this service are the lowest we've ever seen. Less than for $10 you can send professional campaigns. Check out.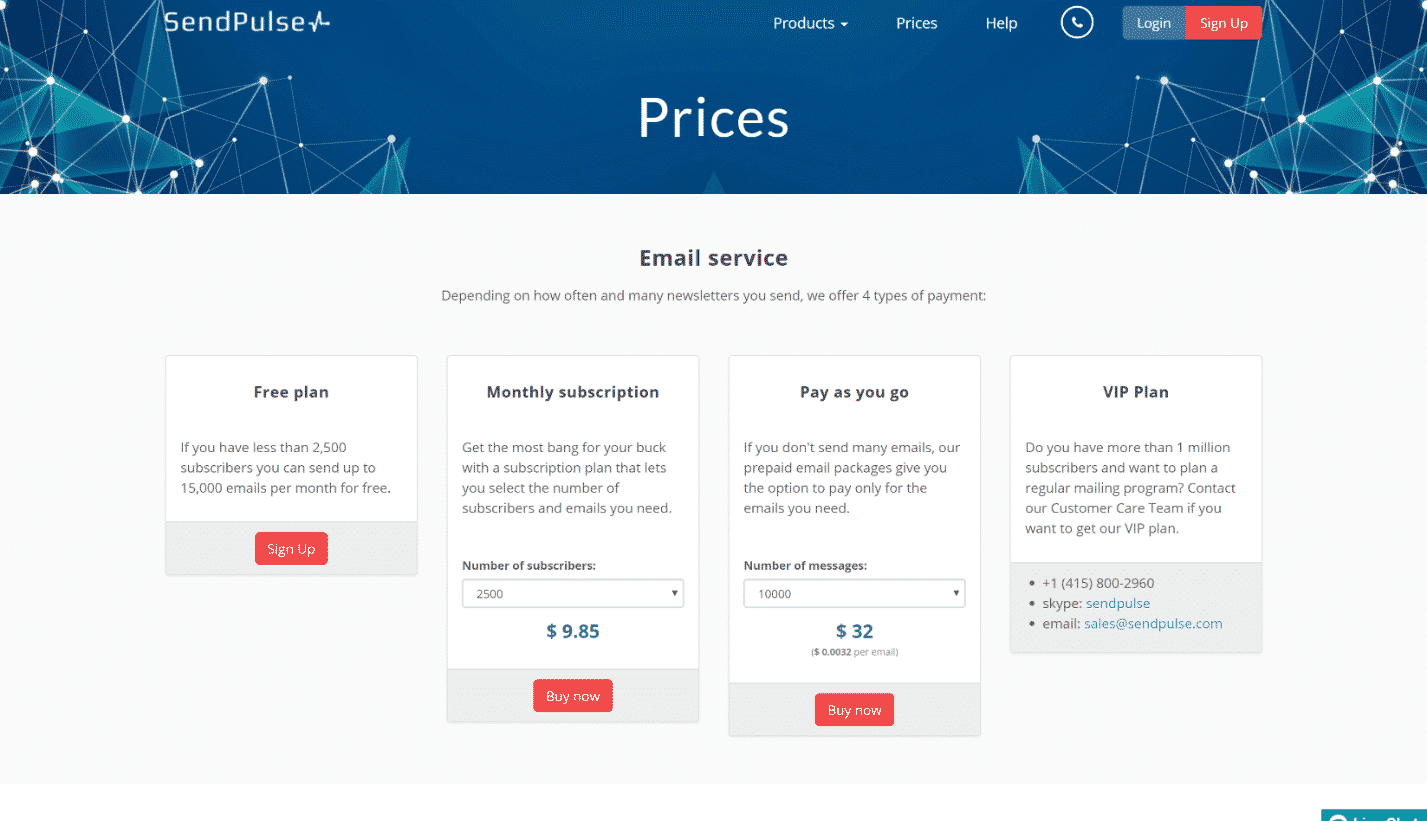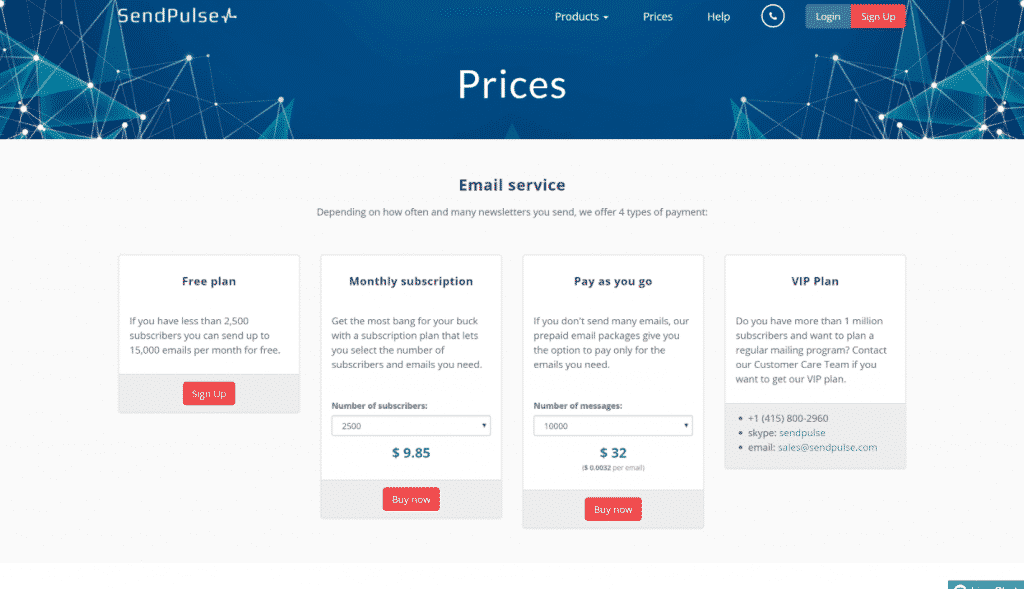 3. Free web push notifications
SendPulse is a multichannel marketing platform that allows to reach out to clients via email, push notification, SMS or use these 3 channels altogether. Accompany your emails with push notifications to inform customers about recent articles on your blog, new arrivals or hot offers. Use push service absolutely for free forever!
4. 24/7 tech support
All we need is support, and SendPulse team is aware of this. They're ready to help you anytime you wish 24/7 and anyway you want to – via a live chat, email, or phone. SendPulse allows converting leads into brand advocates smoothly with the help of Automation 360.
What is Automation 360?
Automation 360 is a product, with the help of which, you can establish and control your communication with the customers from the very beginning – after they join your mailing list. How?
As we've already mentioned, you can communicate with your clients via different channels and this feature helps automate the processes. Data and Marketing Association has stated that segmented emails make 58% of all the revenue. That's why sending relevant content to every user is essential for understanding their needs and preferences.
Below is the working field of Automation 360.
How does Automation 360 work?
Say, you want to start your flow by adding a new subscriber to the email list, choose this event and the list. To segment, your audience from the start, use the "Filter" element. A filter allows sending different offers and content to all the clients basing on the variables. If you're in e-commerce, segment your audience by gender, place of living, age, etc.
Then, decide upon a channel to communicate with a lead, probably email is the most optimal one. State the time for sending, write an email subject and content. Here, you can either choose a pre-designed template or create your own one. Make use of the data collected with the help of Filter and send different emails.
Apart from emails, include SMS and push notifications to your flow. Send SMS to inform a client about his order status or shipping confirmation.
Apply "Condition" block to determine the next step of a customer in your flow basing oh his actions: whether the email was opened or not, whether a link was clicked or not. Meeting any of these conditions defines the content you're going to send. For example, if a client hasn't interacted with your business for a long time, you can send a personalized email with a special offer.
With the help of "Action" element, you can manage your list. Move or copy subscribers from one list to another, delete them if they aren't interested in your offers, change variables to be updated.
Track conversions! They are the evidence of your work. Find out email open rate, CTR, any other goal. It helps to monitor the path of every your lead in the funnel. With Automation 360, you can create advanced flows that contain up to 50 blocks.
The feature is available within any paid pricing plan; it means that you can automate your marketing for $10. Don't miss this chance and try SendPulse Automation 360 right now!