PDFelement. is one of the most effective PDF Editor in the market at the current Scenario, which can be used for all time of PDF work and is better in many aspects to its competitors. It is way above than many of the standard PDF editors available in the market. If you deal with PDF's then it would not be wrong to say that PDFelement is the right tool for you.
If you have anything to do with PDF editing or altering hence you got to think about using PDFelement. If you have a look at the review of this software anywhere, you will only find accolades and a lot of recommendations and appreciations because it is best and come with loads of exciting and premium features.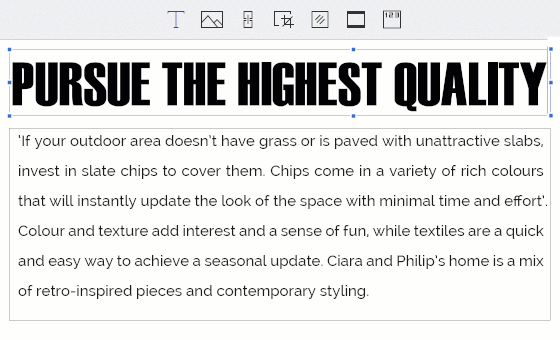 Top Features of PDFelement
OCR – Only available for PDFelement
Optical Character Recognition or OCR technology can be found in the software. It can turn all the scanned documents into something that is fully editable. You will be able to search, as well as format, resize and edit the document and all the text located within it. There are also multiple languages that shall be supported, which includes English, German, Spanish, Russian, and much more.
Conversion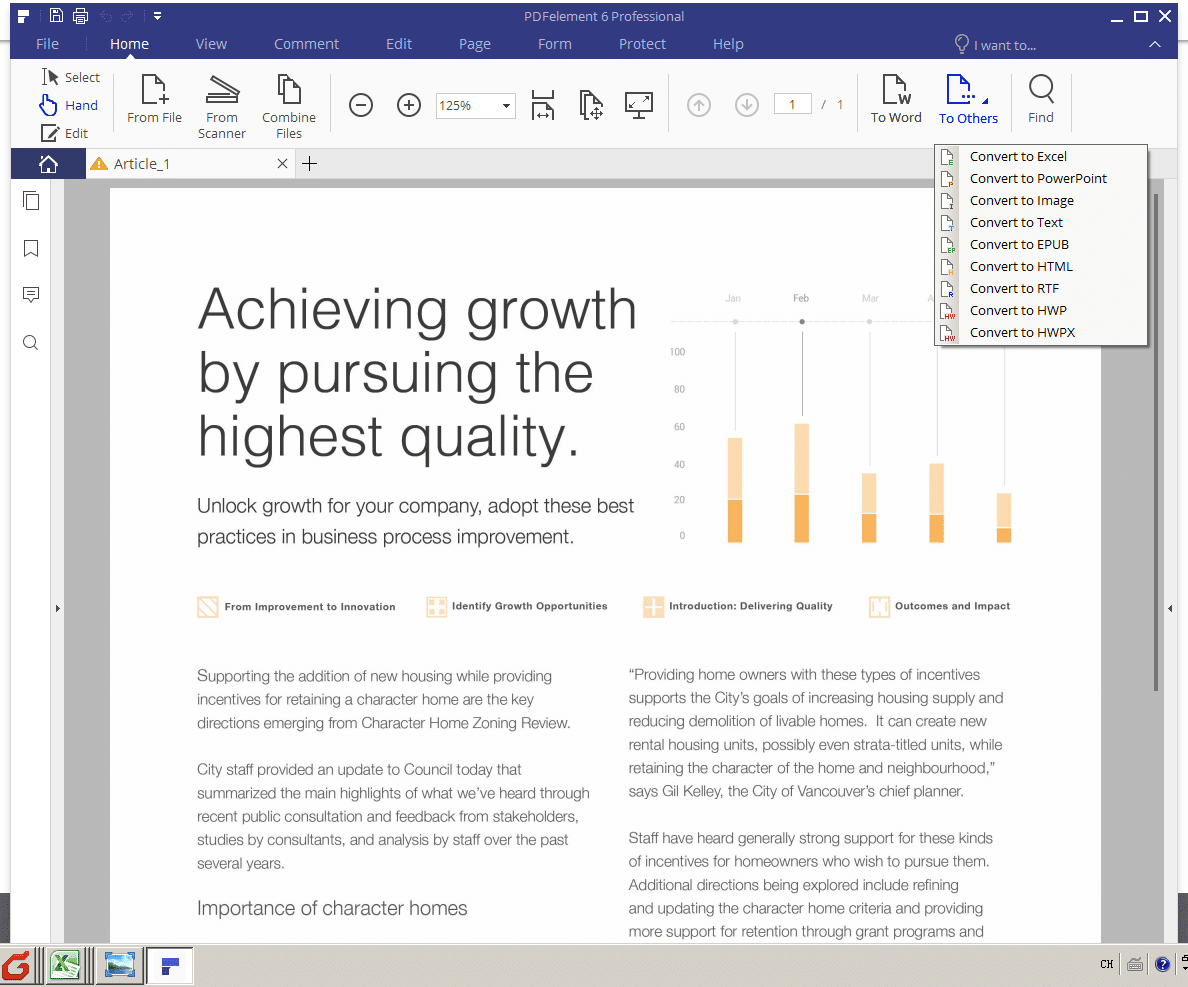 If you want to convert your PDF file to word documents, then you can easily do so with the conversion program located within PDFelement. This can help you to easily convert any kind of image, text, and all the popular file types into PDF, and vice versa. Furthermore, if you want to handle multiple files in a second, then it provides you "batch process". The batch process is also available in adding bates numbers, removing wthe atermark, performing OCR, printing files, protecting files and more operations.
Edit 

PDFelement 6 offers the easiest way to edit PDF documents, from text to images, links, pages, watermarks, background, headers, and footers. With PDFelement, you can edit smoothly with an easy-to-use Office-like interface. You can alter the text, change the fonts, and do a lot of typing, without any kind of issues. This software supports excellent updates and wonderful calligraphy.
Sizing – Resizing 
With the help of the PDFelement, we can make the size appropriate, and make it adjust in the document.
Form recognition and data extraction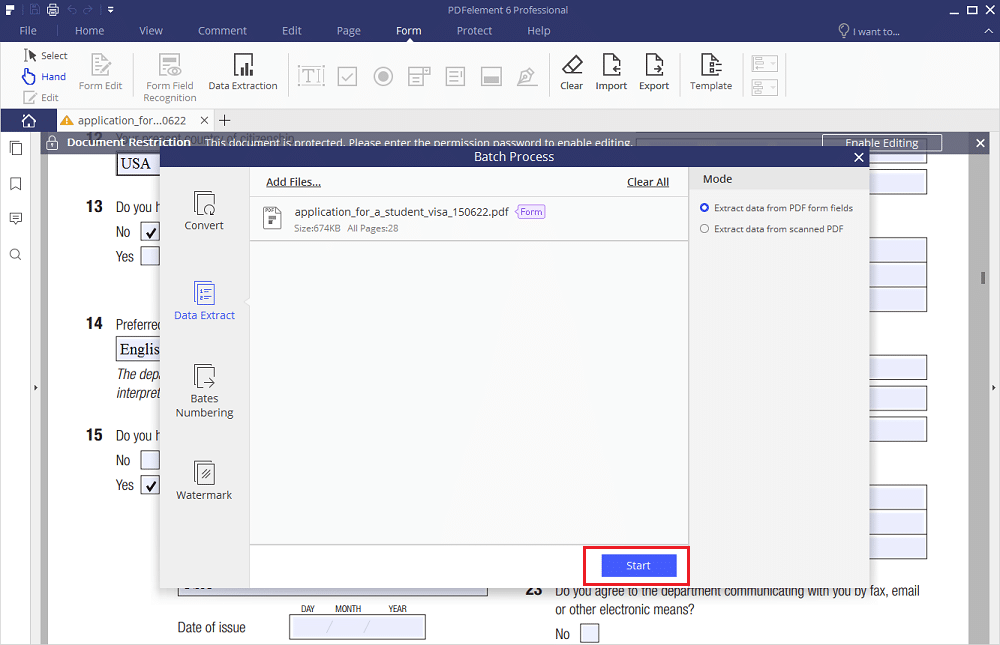 If your non-interactive PDF form contains blank lines and tables, PDFelement can help you create them into fillable and interactive forms automatically with just one click, which can dramatically improve your work efficiency. Besides, the intelligent form automation technology can help you extract data from all types of identical PDF forms into a single, accessible Excel sheet in seconds.
Other Premium Features Include :
Robust Editing
Optical Character Recognition
Text Autofit
Spell Check
Create PDF from Files
Merge PDF from Multiple Files
Batch PDF Creation
Bates Numbering
Convert PDFs
Split PDFs
Extract Page
Batch Convert
Secure and Sign PDF Files
Password Protection
Redaction
User Permission
Annotations and Comments
Markup
Add Watermarks, Backgrounds, Headers, and Footers
Fillable Forms
Edit Paper Forms
Form Data
Free Customer Support
Annual Product Updates
One-click Form Creation
Ready-to-use Templates
Customized Form Extraction
Custom Fields
Intelligent Paragraph Recognition
Match Fonts and Style
Automatic Form Recognition
Data Extraction from digital and scanned PDFs
File Size Optimization
Form Data Extraction
About PDFelement
OS SUPPORTED:
Windows
iPhone/iPad/Android
Mac
LANGUAGES SUPPORTED:
USA, UK, Canada, International, Germany, Spain, France, Italy, Dutch, Portugal and so forth.
POPULAR CUSTOMERS:
Philips, Stanford, IBM
PRIZE DETAILS:
PDFelement offers three enterprise pricing plans for users to choose from. Give the details a look, and select the best plan for your needs:
PDFelement Standard – $59.95/1-time fee
Create PDF Files
Edit PDF Files
Convert PDF Files
Annotations and Comments
Secure and Sign PDF Files
Add Watermarks, Backgrounds, Headers, and Footers
Access to Hundreds of PDF Templates
PDFelement Professional – $99.95/1-time fee
All PDFelement Standard Features
Optical Character Recognition (OCR)
Automatic Form Recognition
Form Data Extraction
Bates Numbering
Extraction
Batch Process PDF Files
Extended Compatibility Support for File Formats
Full-Size Optimization
PDFelement Volume Licensing – By quote
All PDFelement Professional Features
Volume Discounts for Businesses
On-Demand Product Demonstration
Charge Management Consultation
If you are looking for the best alternative to Abobe's Acrobat Pro, Go for PDFelement. Now everyone can download a trial version of PDFelement for free. However, users also have a chance to get the application for free. Until mid-November, PDFelement holds a special competition among students and staff of educational institutions for a better overview of PDFelement. Winners can not only get an advanced PDF editor (mac version) for free, but also win 1,000 dollars or a MacBook Pro.