In our previous article, we have mentioned the 10 best android applications for programmers. These Android applications can help you to increase your programming knowledge and coding practice. In this article, I am going to share the top 5 Android applications to Learn Hacking from your mobile phone.
Many people are using smartphones for study purposes and there are many Android apps for that. When it comes to Learn Hacking from your phone, people do not have much knowledge to share.
Top 5 free Android apps to learn Hacking
1. Hacking Tutorials 2.0 (1 million+ install)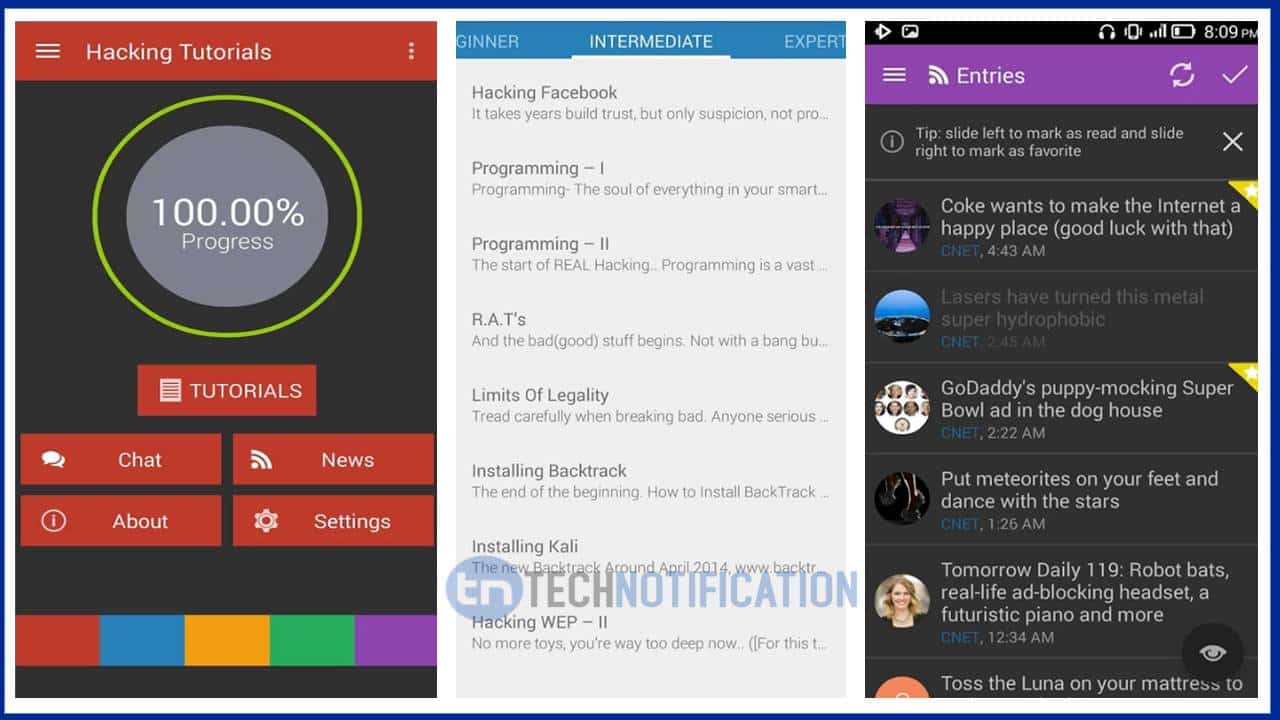 Hacking Tutorial v2 is a step by step guide that explains various hacking techniques. This app presents tried and tested tutorials for beginners looking for a way into the hacking universe. This app shows you the easiest, most direct ways to safely perform a given hack, how it works, and most importantly how to protect yourself against them.
Features
All hacking tutorials are guaranteed to work
A Chatroom to discuss hacking with fellow learners
Available Offline
The latest technology and hacking news
2. Hacking Tutorials (100K+ installs)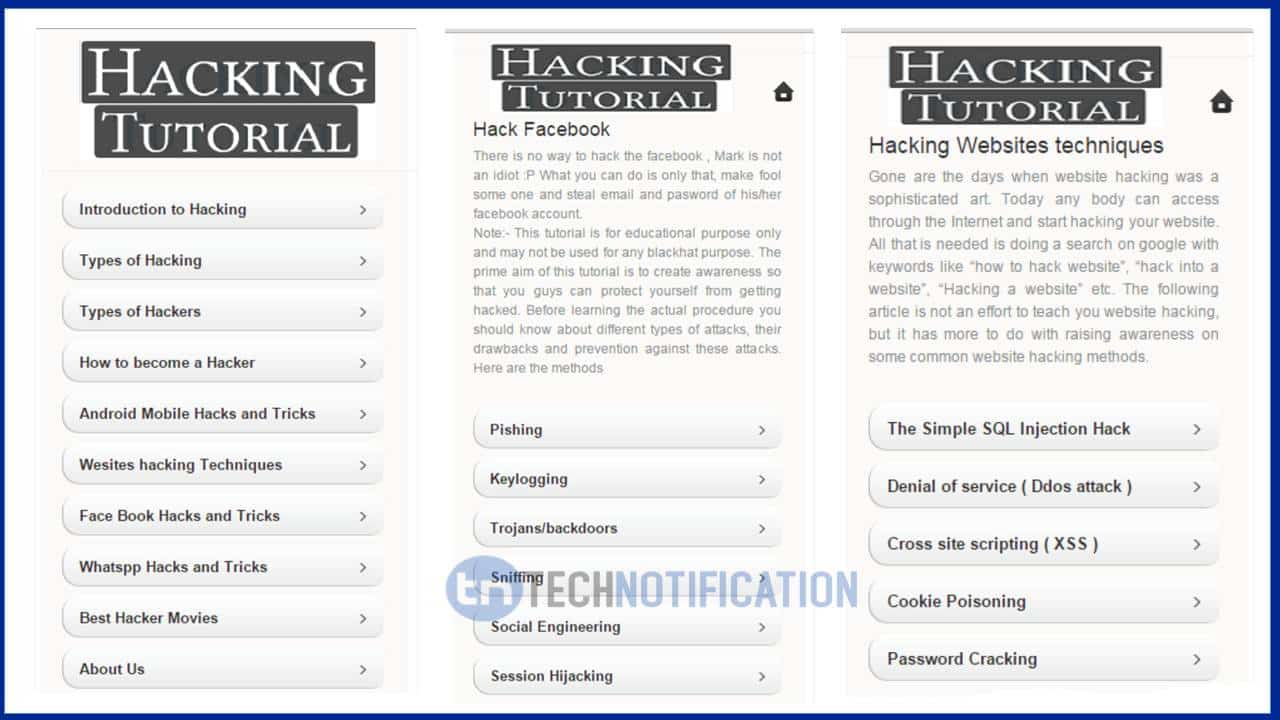 The aim of this application is either to help people begin to learn about hacking or to see how hackers work, how they can attack and How to protect yourself. This app explains the every possible hacking technique and shows how to perform them.
It teaches you:
Hacking Process, Types
Facebook Hacks and tricks
Online websites Hacks and tricks
Android mobiles hacks and tricks
How to protect yourself against attacks
3. Hackers Reference (100K+ installs)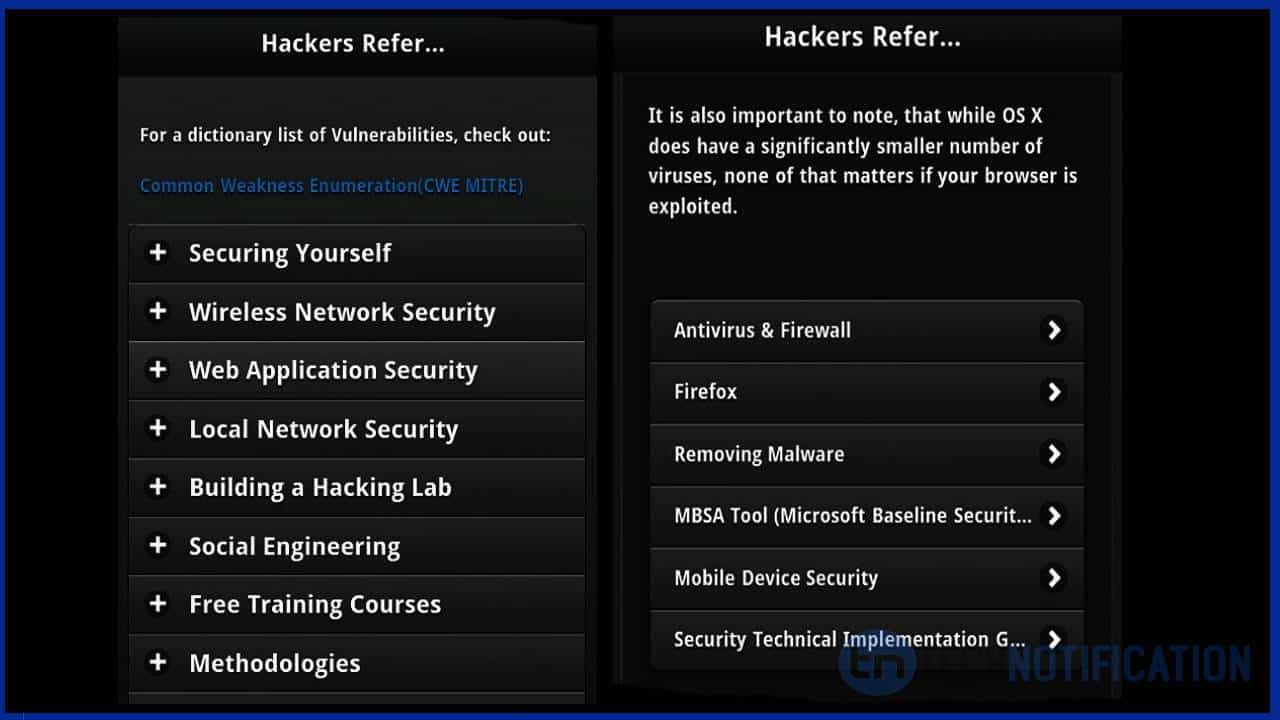 This app is the Best Information Security Reference on the Market!
It teaches you:
Building a honeypot
Cracking WEP Encryption
Introduction to Sniffing the Wire
SQL Injection How-To
Cross Site Scripting
Web shells
Lockpicking
Scanning the Network & Enumerating Services
Exploiting Services
Maintaining Access
Linux Post-Exploitation Cheat Sheet
OS X Post-Exploitation Cheat Sheet
Windows Post-Exploitation Cheat Sheet
USB Device hacking
Various Penetration Testing Methodologies
4. White Hat Hacking Tutorials  (50K+ installs)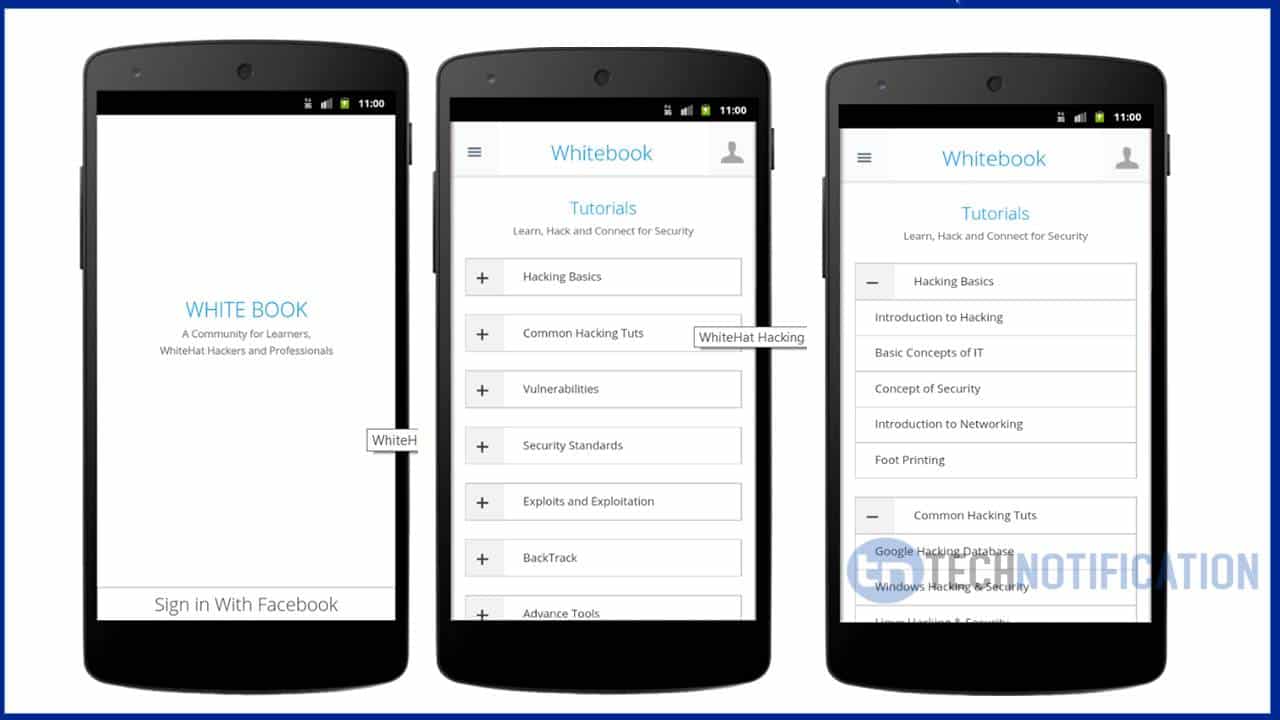 Whitebook is a growing community of White Hat Hackers or so Called Security Professionals, We Begin with tutorials and Techniques to become a Security Professional and Later Will Grow as a Community was with jobs updates, Project Updates, Support, and everything related to Cyber Security to our user.
It Features: 
Hacking Basics
Common Hacking Tuts
Vulnerabilities
Security Standards
Exploits And Exploitation
BackTrack
Advanced Tools
Cyber Forensics
Security Management
Tips and Tricks
5. Hack Hackers (50K+ installs)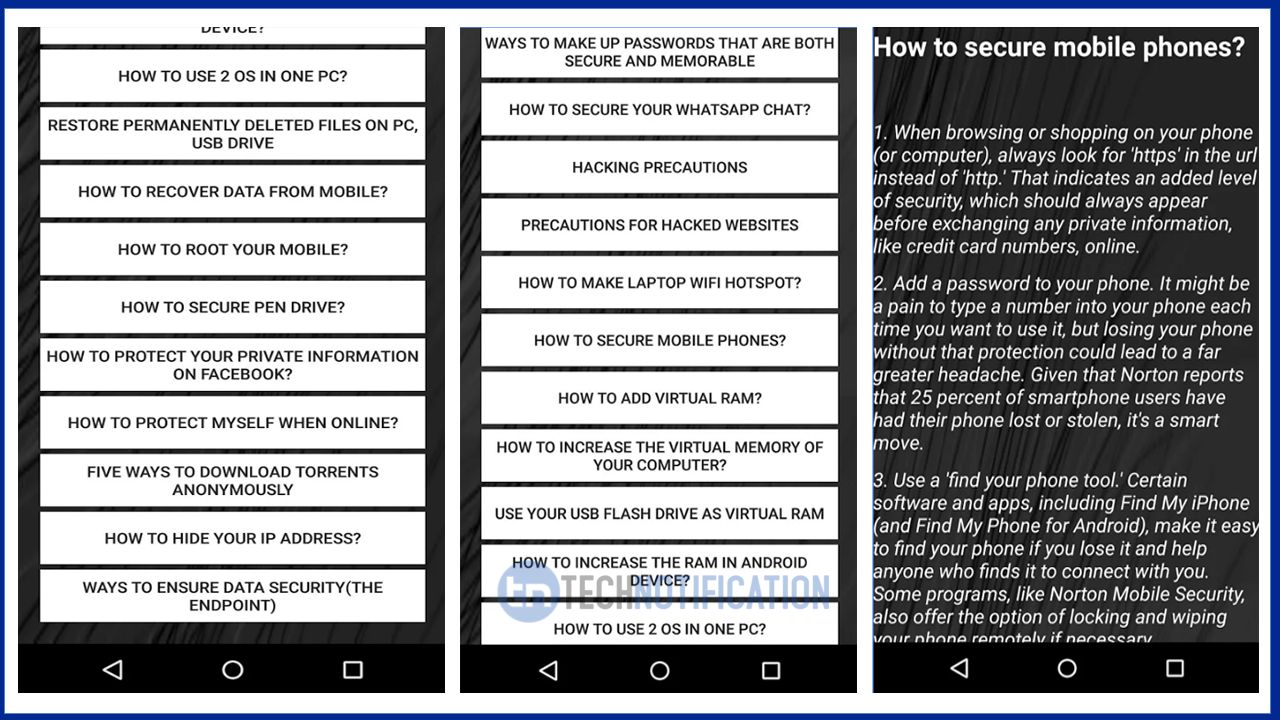 HACK HACKERS is an extraordinary tutorial app that will save you from getting hacked and save your personal details from being misused.
It provides the knowledge of how to: 
Secure your Wi-Fi password and Wireless Router
Secure your IP address
Prevent your FB account from being hacked
Secure your email account
Make up a password that is both secure and memorable
Secure your WhatsApp chat
Hacking precautions
Precautions for hacked websites
Secure a pen drive?
Protect your private information on FB
How to protect me when online Five Ways to Download Torrents Anonymously
How to hide your IP Address?