With new and expertly crafted Smart phones hitting the market every single year, shopping for a new phone can be an uphill task. Not only can you be spoil for choice, but with thousands of choices to pick from, you can easily get confused. Are you currently looking for the best Android phone? Well, here is a little bit about ONEPLUS TWO android Smartphone. Take a look at it and figure out if this air piece of technology is worth a spot in your in your next shopping list.
ONEPLUS TWO review
ONEPLUS TWO – Key Features And Specification
OS: Android 5.0
Processor: Qualcomm Snapdragon 810. Octa Core, Adreno 430, 4GB RAM, 64 ROM
Screen: IPS+ OGS, 5.5 inch, 1920x 1080( FHD) screen resolution
Wireless connectivity: 3G, 4G, A-GPS, GPS, WIFI, GSM
Camera: Front ( 5MP) and back camera( 13MP)
What make ONEPLUS 2 stand out from the rest?
In their effort towards making one of their own one of the best, the designers took their time and made sure ONEPLUS TWO android Smartphone came with every good thing people would want from a Smartphone. Here are some of the features that have made this phone stand out from the crowd.
Expertly crafted design
The design alone speaks volume; it exhumes quality and the actual time it took the designers to mold this phone. Looking at the overall design of ONEPLUS TWO android Smartphone, it is evident the designers prioritize on sophistication and durability. Resilient aluminum, magnesium alloy and stainless steel accents are some of the things that have gone into the construction of this phone. It is one of most lightweight phone you can get your hands on. Plus, it comes with a premium feel that has no match in the industry.
Enormous power and Storage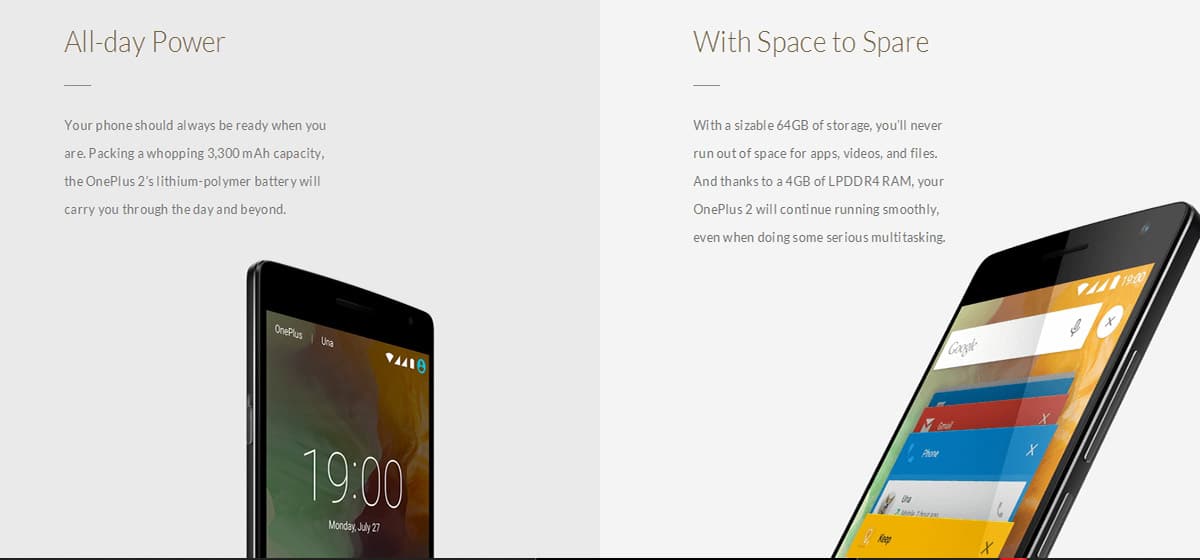 Seen as attempt by the company to make this gadget one of the best, the kind of power it comes with will in a myriad of ways lure many into buying it. The phone coming fully built on the ever powerful 84-bit architecture, its processor, the ultra-premium Qualcomm Snapdragon 810 will change the way things have over and over been done in the industry. It does not even stop there, all that combined with a Adreno 430 GPU, loading of games and power consuming apps have never before looked more stunning. Besides; with a whopping 64GB of storage, you will surely never run out of storage.
Impressively done screen display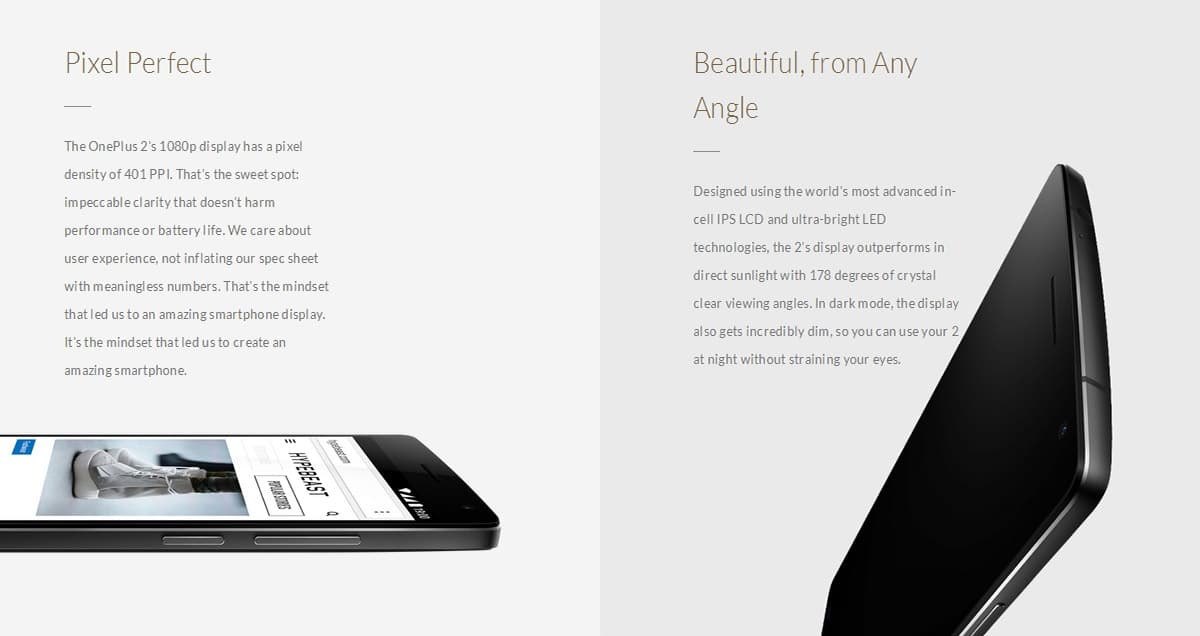 Beautiful from any angle you choose to look at, the 5.5 inch screen alone is among the features that have had the industry talking for a while. The designers having incorporated some of the latest technologies in ultra-bright LED and IPS LCD, this phone gives some of the most amazing and clear viewing angles. It is far beyond vivid for this phone offers an impressive 1500:1 contrast.
Great for taking pictures
If you love taking photos using your phone, this is what you should be going for next. Not only does this phone's camera come with more megapixels, but the quality of its image sensor, as well as, optics tells it all. It coming with a whopping 1.8um light collecting pixies, this is one of the biggest to ever be designed.
ONEPLUS 2 Verdict
At the end, even for an industry that has seen the best of the best, this phone is unlike any other. In fact, if all that has been said is anything to go by, this phone could revolutionize the industry and send other major players running for their money. It is a phone worth saving for.