If you are looking for a smart and timeless item that will make time count, but you are working with a tight budget, then this unique chronograph MEGIR Quartz watch will do you wonders. I am amazed at how a small amount of money can buy me this lovely watch, it comes with many excellent features that you only find in big names like Fossils, Omega, Rado, and more. MEGIR Quartz may not be so superior, but it has at least one or two features you only find in original Swiss watches. This water resistant with Silicon band is an amazing item for a gift, and for keeping time.
Here are its Features that will make you ask for more: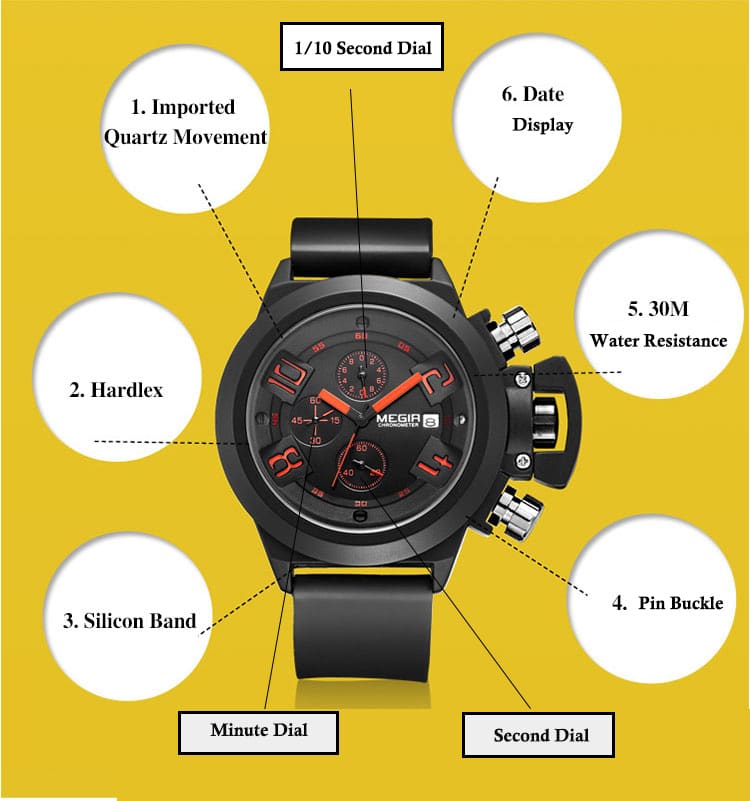 Imported Quartz:
It comes with every authenticity of an imported Quartz watch; it originates from where quality and accurate watches get designed. It's a true brand that will help you keep an accurate time without compromising.
Hardlex Crystal Mirror:
It comes with a Hard and Chrystal quality mirror that keeps it safe, its inner components are completely shielded from any adversity with this hard mirror. It also protects it from scratch and adverse weather condition, you are sure of durability because of the quality covering mirror.
Three Cool Sub-dials:
At first instance, I wondered what the dials were for, but when I bought this Quartz watch for my sporting activities and for accurate time keeping, I noticed the beauty these cool sub-dials are offering me. But one thing I have noticed is that apart from decorating the watch, these sub-dials functions and adds value to this watch.
Date Function:
MEGIR Quartz is aesthetic in every meaning of the word, it has an added mini window that displays date and the day of the week, in short you don't have to buy a calendar since you will have one right on your wrist. It displays dates with utmost accuracy.
Water Resistant:
If you are wondering what will happen when it start raining while you are on the road jogging, there is a solution for that since it also resist water up to 30 meters. That means it can be damaged with water only when you sink 30 meters deep, but where on earth will you go 30 meters deep not unless you are a diver, then you should remove it if you are going more than 30 meters deep inside water.
Aesthetic Wrist Band:
One other aspect that is playing a big role in this watch is its quality Silicone Wrist Band; it's cool and comfortable around your wrist. The black soft Silicone band adds it beauty and authenticity.
Other Features:
MEGIR Quartz watch comes with many other good features that you will admire, they include; classic pin buckles, charming big cool crown, and more ideal values.
Pros:
Affordable.
Accurate time with additional three sub-dials
It is charming and ideal for a sports man.
Sturdy and oriental built.
Takes after quality Swiss Quarts.
Customer care and service in case you have any question.
Cons:
It's not a very well known brand (If it matters)
Above all I highly recommend this watch, its ideal for you if you are operating on a tight budget yet looking for a quality and aesthetic Quarts watch. It is beautiful and bold with three sub-dials making it look like original chronograph watch