Whether you think the smart watches are cool or lame, They are definitely booming and are here to stay for the foreseeable future. If you're looking for top cheap deal on the latest wearable tech, look no further. MIFONE W15 is the best smartwatch for those who are having low-budget.
MIFONE W15 is an extraordinary watch with Bluetooth capability. It is one of the products in the intelligence wearable industry perhaps of its own kind and most representative brand. The smart watch has eleven functionality which include the following stopwatch, 405mAH battery, music, remind, Bluetooth, phonebook, alarm clock, flash memory, search for, call, pedometer and remind. It is compatible with Android phones via Bluetooth with iOS, you do not have to install the application on the mobile phone to use it. Perhaps its most notable feature is its low price, however – it comes in at less than $35. This brand of watch has proved to be very convenient to a number of users as most of them cites.
MIFONE W15 fashion smart watch comes in a mixture of colors ranging from orange, black, chocolate, purple and sapphire blue. It one of the great fashion and design comfortable wears due to the materials it is made of. Also, it beats the other brands due to its watchband, which is great both on comfort and design. It is comfortable, thin and soft. It has a concave-convex design wavy enough to ensure maximum permeability effect. Below is a description of the MIFONE W15 smart watch unique features and some of the functions.
2.5 Curved Sapphire Touch Screen
2.5 Curved Sapphire Touch Screen in the recent past has become the representative process and a feature that is used in most high-end products in the mobile technology industry. The overall stereoscopic effect of the 2.5 curved sapphire touch screen and the phone entire body is much stronger. When you move your hand over or you sweep finger over the 2.5 curved sapphire touch screen edge, the traditional feeling of stopping abruptly is no longer the there. What you feel on the 2.5.D screen edge is a soft and smooth transition. MIFONE W15 products are the first in the mobile industry to adopt 2.5D screen in the smart watches. Coating for finger prints and protection from oil stains is applied on the front. The screen is on exclusive technology giving it both connotation and beauty more famous to people. It has an exclusive display and tracking technology making it to noticeable while wearing it on your hand.
TPSiV anti-allergic and safe trap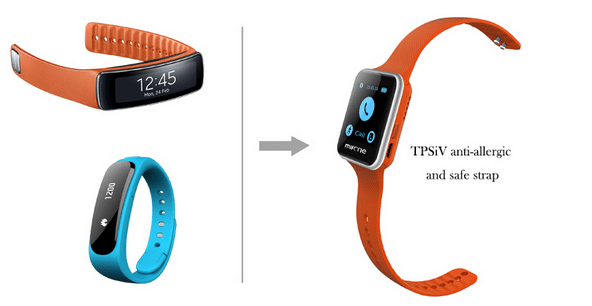 The smart watch strap is manufactured from imported TPSiV materials, which is a European first and high-grade food material and one of the highly rated elastic material worldwide. This makes the smart watch to have an anti-ultra-violent (Anti-UV) and energy free. This excellent anti-allergic function and UV resistance function effectively minimizes skin sensitivity phenomenon.
Powerful features and functions
MIFONE W15 smart watch has 128M U disk, U disk function, call reminders, phonebook sync, recording, stopwatch, recording, Bluetooth communication, find phones, 3D gravity sensor gyro pedometer function and many more. The watch comes equipped with 405mAh very high-capacity battery, which is an achievement in both craftsmanship and technology.
Finally, functions of MIFONE W15 smart watch include a built-in MP3 music player, which can play the music directly without connecting the watch with your phone. Also, it has a global universal standard (USB) micro-USB port for charging giving you a way of charging your watch conveniently.