Apple has released a new developer preview version of the OS X 10.10.3, which includes the beta version of the new Photos app. The new app's interface is quite similar to that of the application on iOS. And the striking feature of this app is its ability to handle large libraries of images without slowing down.
Photos (including edited ones) are synced across user's devices and are saved to iCloud, so that they are available from any of his/her devices. Also, shared streams can be seen and managed. Photos can also be shared across various Social Medias, including the option to create slideshows. In addition, some region provide printing options such as photo books and greeting cards will be available in some regions.
Similar to that on iOS, photos are organized into Moments, Collections and Years, and users can zoom out to see thumbnail overviews of groups of photos. The app has the smart feature of automatically categorizing panoramas, burst shots, slow motion videos, etc. Editing options are also available such as crop tool, rotate, retouch and a bunch of filters. Other adjustments include color, definition, vignette and white balance levels. Apple's smart editing tools group controls that effect each other, such as brightness and exposure. User has the option to edit the image either by dragging a single slider, or adjust them individual if so desired. EXIF information can be edited across multiple photos and you can also tag people, places and keywords.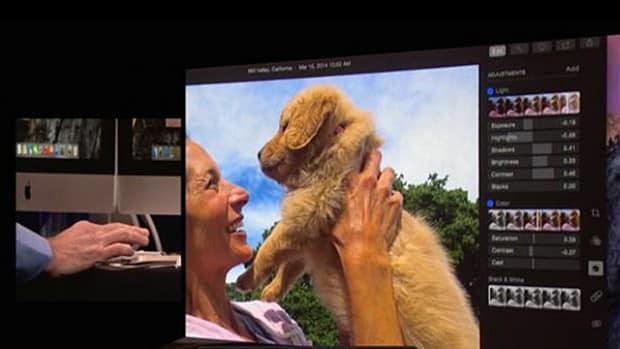 iCloud integration will be heavily emphasized. Users have the option to free up space by sustaining a low resolution of photos in their device while the high resolution one will be uploaded to iCloud.
Developer having the access to pre-release versions of the OS X can find the Photos app in the Mac App Store, and it is also available as a standalonedownload through the Mac Dev Centre.
Apple first announce that the Photos app, which will replace the iPhotos app as well as the aperture. It will also unify the photo organization and sharing experience across iOS and OS X, in Mid 2014 at its World Wide Developer Conference. The photos app will be available in the 3rd Quarter of 2015 and will be a free update for all OS X Yosemite users.