Asus' mini PCs, which are officially launched in India today run on 4th generation Intel processors. The series support 4K/UHD (Ultra High Definition) resolution and multi display support.
Asus priced VivoMini UN62 at Rs.26, 500, and VivoMini UN42 at rs.13, 500. Both variants will be available starting from this month and will counter a 3 year warranty.
Official Press Release
Asus today announced VivoMini UN62 and VivoMini UN42, ultra compact mini PCs measuring just 131 x 131 x 42 mm and powered by 4th generation Intel Core i5, I3 or Celeron® processors for full-fledged computing or home as well as office. VivoMini offers extensive Input/output connectivity with 4K/UHD (Ultra High Definition) resolution output 1 for breathtaking visuals, and multi display for increased user productivity. The silent and energy efficient VivoMini runs silently, with noise level of just 26.3dB under full load – 60% quieter than industry standards – and draws as little as 6.95W at idle.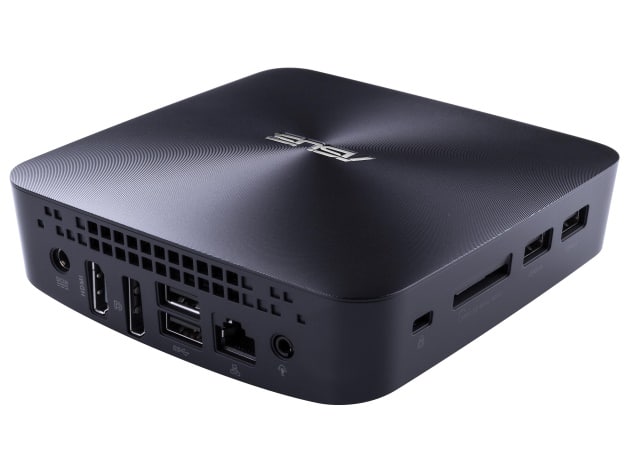 Powerful and Compact mini PCs for work or play
Powered by 4th generation Intel Core i5, i3 or Celeron® processors, Asus VivoMini delivers smooth full PC multi-tasking performance and productivity for work or play. VivoMini features a compact, lightweight 0.6 liter chassis that measures just 131 x 131 x 42 mm – giving it a footprint that is slightly bigger than a standard man's wallet. This sleek design frees up precious desktop space, while its modern Zen-inspired concentric-circle finish is easy on the eye and blends in anywhere in the home or office.
VivoMini can be VESA-mounted on the back of a display too, allowing users to create their own custom All-in-One (AiO) PC for a tidy, clutter-free desk or workstation.
VivoMini is ideal for a wide range of business applications and home needs. It can be used in point-of-sale (PoS) terminals, digital signage, kiosk displays, or as a computing platform for small workstations; it can also be a personal or family PC for surfing the web, playing games and watching movies.
Extensive connectivity with 4K/UHD visuals and fast-charge USB 3.0
ASUS VivoMini has 4K/UHD output support for ultra-realistic visuals with breathtaking levels of detail. This makes VivoMini ideal for use as a home entertainment PC to browse the web, view photos, watch videos or play casual games; it can even be used commercially to power digital signage. VivoMini also supports up to three independent displays2 through HDMI and DisplayPort++ without the need for an additional graphics card. This gives users additional onscreen space for productive multi-tasking; allowing
Silent, energy-efficient computing
ASUS VivoMini is designed with the environment in mind, and delivers incredible energy efficiency thanks to an ultra-low power design that draws as little as 6.95W at idle — not much more than an LED light bulb. This lets users leave VivoMini on overnight to download software updates or perform file backups, all without racking up big electricity bills.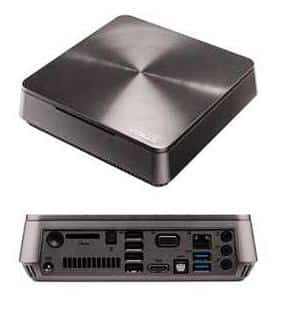 VivoMini operates in remarkable silence thanks to optimized low-speed fan settings that keep noise levels down to just 18.5dB at idle, the same level as the sound made by falling leaves. And it doesn't get much noisier at full load, either – at just 26.3dB, that's quieter than a library and is 60% lower than the industry standard. The optimized fan also lowers operating temperatures for stable performance.
ASUS desktops are designed to ensure extreme reliability, extensive compatibility, and assured safety. VivoMini is subjected to a series of exacting quality and reliability tests. The PC is designed to cope with temperature extremes — from dry, icy subzero conditions, to hot and humid environments that exceed 60°C.
Making things easy with remote PC and cloud management software
VivoMini includes a rich suite of PC remote control and cloud management software. In commercial settings, the ASUS Remote Management Tool is a one-stop solution for routine maintenance and servicing, allowing remote updates to CPU, fan, or system settings in the BIOS. Real-time BIOS updates can also be done via USB or a hard disk.
x-x-x-x-x
Various applications found on ASUS HomeCloud turns VivoMini into a private storage and multimedia center – giving users the freedom to access the device remotely, stream multimedia content, or manage files and documents from anywhere. In addition, VivoMini comes with 100GB of ASUS web storage free for one year, as well as 100GB of Microsoft OneDrive free for two years!