Recently the sequel of movie series Transformers made a great bang on box office, not only because it had a great storyline but also because of its amazing animations. The concept of such alien species invading Earth was also too capturing but not as much as the fact that such convertible smart robots might exist. And ever since then scientists have taken up the challenge to invent such a transformer. All attempts till now had been in vain, until recently when three of the leading robotics companies of Japan joined hands for this venture. They have successfully built a 4 foot tall transformer named J-Deite Quarter. Though this model is not as giant as the one portrayed in movies but to have such a prototype is quite amazing in itself.
Japan has always been known for its advanced technology and to live up to its name Japanese developers have produced a working Transformer robot. J-deite is an ongoing engineering project led by Japanese companies Brave Robotics, Asratec Corp., and Tomy Co. Ltd. The project, which is led by Brave Robotics' Kenji Ishida and Asratec Corp.'s Watur Yoshizaki,  is aiming to create a 16-foot-tall transforming car/humanoid by 2020. The bot is about 4 feet tall and weighs 77 pounds and can transform into a 2-seater sports car in the wink of an eye. The developers aim to make it as a 16-foot Transformer by 2020, and could make it into the Autobots' list of names in the process.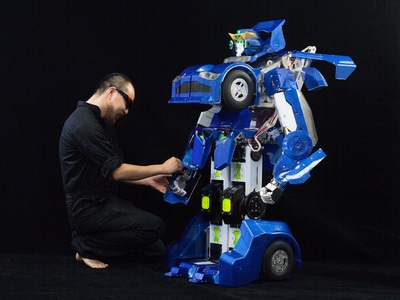 J-deite Transformer robot is a one-quarter-scale autobot that is initially a humanoid, bipedal robot and transforms into a tiny, roughly 3-foot-long sports car. The Transformer robot is small in size and you can't drive it now at the current stage of its development. Transformer robot has got some definite traits of the Transformer and the looks of Optimus Prime. The robot can drive up to 6 miles per hour as a two-seater car with about 1.5 inches of room clearance, and it can walk at 0.6 mph in its humanoid form.
J-deite doesn't walk in full stride as a real giant robot would, and instead waddles in an awkward fashion. The team only aims at building a prototype of J-deite, and is not intending to make a version of the robot available to the public. While Transformer fans may be disappointed that they wouldn't be able to get their hands on the machine, they will definitely want to see what this robot looks like in its final form. The power sourece for this transformer is Servo motor manufactured by Futaba Corp.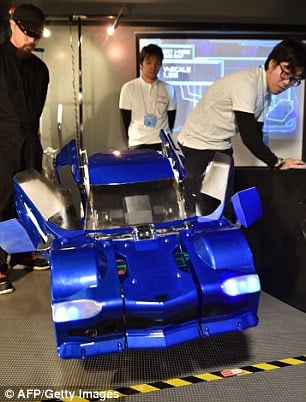 Apart from working on the intricate mechanism that is needed to create such a complex robot, the Japanese engineers have also created their own operating system to power the world's first real-life Transformers. Called V-Sido OS.  This same software will be used on the next version of J-deite, which will be twice as large as the current one at 8.2 ft (2.5m). The V-Sido proprietary software system, designed by Wataru Yoshizaki, allows it to work for about one hour on a single charge. Hope we actually see the complete intended machine till 2020.