The age of smartphones is here. A smart solution to every problem. Not only does a smartphone provides the basic functionality of telecommunication it also captures various other fields of interest any person might have. It can provide loads more functionality than just making calls or sending messages. Advanced features include video calling, photography, image editing, document handling, internet browsing, social media networking, gaming and many more. Smartphones have also progressed in the field of health care with many apps that help you monitor your heart rate and other metabolic parameters. When a smartphone is proving itself so useful, why not try to extend its functionality a little more. Now a smartphone can also be used as a breath analyzer using an extension called Breeze.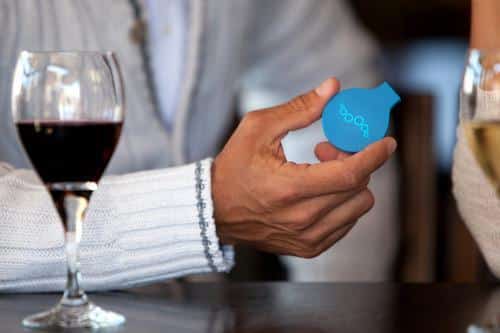 Breathometer unveiled a new device in its line of breathalyzers. A Breathalyzer is a wearable gadget called the Breeze that can clip onto your clothing or onto the inside of a purse. It also integrates with Apple's HealthKit. The idea is that you can carry around the Breeze during a night of drinking and feed the results into the Breathometer app. The data can be shared with HealthKit and directed to display (with other kinds of health data) in the Health app in iOS 8. Not only is Breeze very handy it also an amazing gadget to own, as it will definitely indicate you that you are too drunk to drive after a ravishing party.  Every year thousands of people meet their doom because of accidents caused by driving when drunk. Parents can also present it to their teens who like to party hard and remind them to take the test before driving. And besides this it is always good to know the level of alcohol in your system.
Breeze, the first truly wearable breathalyzer on the market, featuring both ultra-fast and extremely accurate results. Breeze has many features like it has completely new industrial design with a built in mouthpiece to simplify ease of use which is sure to boost up its marketing strategy. It has state of the art fuel cell sensor enabling instant results and law enforcement grade accuracy. Along with these it is Bluetooth LE enabled so it requires no jacks, wires or power cords. In addition to these amazing features, the gadget has a great life span, it can be put to 16 months of daily use before needing battery replacement and also it has a wearable clip, keychain and optional mouthpiece cover included that makes it completely portable and easy to carry. Breeze includes a feature called "Back to Zero" that lets you know when you'll be ready to drive, eliminating the guesswork of whether or not you should abandon your car for the night and call a cab. The Breeze is available today online at Breathometer.com and BestBuy.com and exclusively this holiday for retail placement nationwide at Best Buy stores as of November 1, 2014, at an MSRP of $99.99. And that doesn't even costs so much in comparison to the expense we usually have on our health care.