Today, our new generation has stepped into a new era of modern electronic gadgets. We have seen a huge amount of new products that we barely imagined in our day to day life. This is the world of automation and we need that every work should be done automatically. Robots are modern devices, which is used to done a particular piece of work. Robots can work as per our Instructions. A futuristic looking robot, works on its own mechanical properties. To overcome the problem of video recording, technicians invented a crash proof drone concept that can fly almost anywhere in any hazardous situations, even through wreckage or hazardous zones.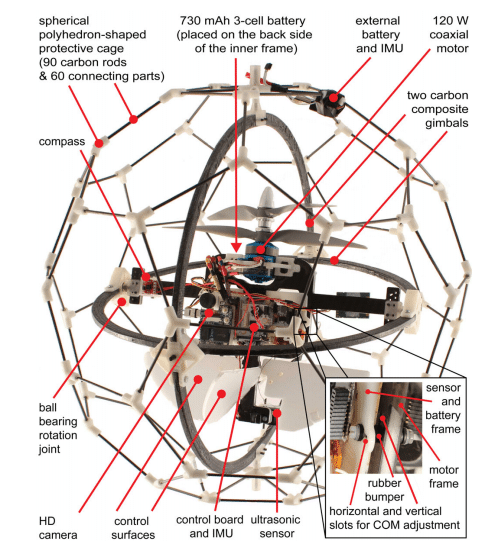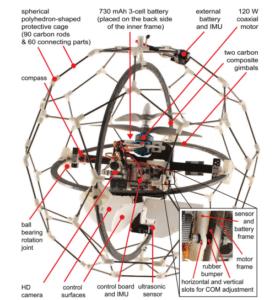 While making this drone, the common problem which arose is that how to construct a robot that can navigate through a forest? Then technicians solved this problem by putting it into a cage, then letting it bump into whatever it wants. It is equipped by a fully immersive roll cage that keeps it protected from whatever it might fly into. In this case, trees, bushes etc. but the robust safety of the drone means it might soon be perfectly applicable for combing disaster areas or any other tight spaces.
It is a drone which can bump into anything. The major problem which arose while making of this drone is that putting your expensive camera gear on this drone. While it may not be waterproof, this drone concept is looking to change the way we approach UAV-based photography. So finally to overcome this problem, it is equipped with a free-rotating gimbal camera system with a light weight spherical cage which is designed to deflect the drone away from potentially damaging surfaces like trees. On the inner side of this cage a simple dual- propeller, stabilization apparatus and a small HD camera is connected.
The cage is made spherical polyhedron shape which is protective and includes 90 carbon rods and 60 connecting parts. A 730mAh 3 cell battery is placed on back side of the inner frame. It can fly with a 120 watt coaxial motor which gets power from the provided battery. It has control surfaces and ultrasonic sensors which prevent it for further collision from trees. Sensor frame and battery frame is separated by a rubber bumper which provides a better flexibility experience for better working.
This drone was tested in a series of pre-programmed autonomous flights in a fairly thick forest. It has roll-cage which is made with polygons that are too wide to protect against thin branches. The engineers are planning to tighten up its roll cage's openings and adding thin force sensors to the cage itself and further optimize the mathematical collision program. It helps to increase its efficiency and provide a better ride along uneven surfaces. All these changes can provide us a drone that can stay in air, no matter what the conditions are. The whole system works when it hits something. When it hits some object, its outside frame rotates and absorbs shocks, while only an undershot affecting the orientation of its propeller.
It is a combination of physical limitations that a system would create a rapid advantage of smart guidance.