Who doesn't like such devices which bring our sci-fi dreams seem true. Time has brought us to witness many devices which were once seemed impossible to witness. Scientists have given form and definition to many such devices who work like pure magic. And from magic, one trick that occupies our mind is the art of levitation. The trick that enables to make objects fly or stay up in air without any support. This wonder is promised in one such new invention which makes the magic of levitation come alive.
OM Audio's levitating Bluetooth speaker
. It looks nothing more than a wonder, a magic trick displayed in full view. It takes the word "cool" to a whole new level.
The Om/One has a lot of the same features of your typical Bluetooth-enabled speaker: It's easy to sync to your phone on the go, it can reach an impressive volume level for its relatively small size, and it has a lengthy battery life. Oh, and one more thing: It floats. The Bluetooth speakers are developed by OM Audio which have already produced some smart audio accessories such as the Inearpeace earphones and Mantra speakers in the past. OM/One levitating speaker floats and spins in mid-air bringing your favorite music to you. The levitation surely looks like a cool stunt, but according to the company besides providing a delightful sight it also helps the sound to travel better and allow the speaker to consume less power. The OM/One orb floats thanks to the magic of magnets and a lightweight enclosure that weighs only three quarters of a pound. The base, which is used to charge the speaker or any other USB-powered device, features a glowing OM Audio logo, adding to the mystical effect that OM's Hindu-influenced name infers.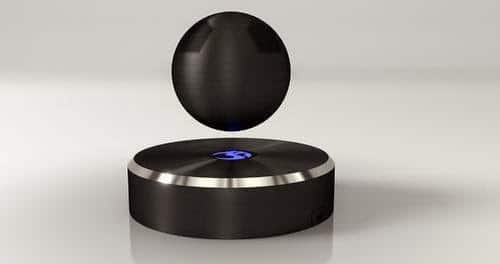 The wireless speaker can connect to most devices including smartphones, notebooks and tablets via Bluetooth 4.0 over a distance of approximately 33 feet. And while the floating effect is pretty cool, the OM/ONE can play music with or without the base which comes in handy if you want to use the 1.3-pound speaker outdoors. The spherical speaker (6.3 inches x diameter x 1.6 inches height) works in concert with a magnetic base (2.1 pounds, 1.6 x 1.2 inches) to achieve the spinning, levitating effect. In terms of audio, the OM/ONE relies on its 75mm audio driver to deliver clear, balanced mids, highs and lows. The Om/One device also contains a microphone, allowing the levitating orb to take calls, too. On its surface, which looks something like cross between the Death Star and a soccer ball, is a hidden sensor that allows you to turn the device on and off as well as pair it with your audio source, such as a smartphone. Dubbed the OM/ONE, the $179 portable speaker is now available, just in time to float into homes for the holiday season. The OM/ONE will be available in black, white and disco ball when it ships. It is a complete party package.