Finding Fashion was Never this Simple
Women will agree that shopping online is nothing like shopping in a mall. The human element is missing, and despite endless websites and bottomless searches, finding something that looks good on you can be like looking for a needle in a haystack.
Along comes Roposo.com, India's first fashion-focused social network. On Roposo, women can discover and shop new products and trends which are liked, curated, personalized and updated every day from across 5000 online brands and 150 e-commerce portals.
Roposo is founded by three IIT Delhi graduates, who claim to be "fashion geeks". Avinash Saxena was working as CTO at Zomato.com when he was struck with the inspiration to use data & technology to make online discovery more intuitive and social.
"Nowhere do you feel the lack of a good discovery engine as much as in fashion. Young women in India are increasingly conscious of how they dress. But to discover something that is in their style, they have to visit 25 different websites on average. They might read something on a magazine or blog, or get inspired by a facebook post,or get an interesting emailer from a friend. After that, they visit multiple e-commerce websites, and but in the absence of friends or a shopping assistant, they don't know how to make up their minds" he says.
So how does Roposo make it easier? "It is a single place that they can visit everyday with their friends to discover the latest products and shopping trends. Because you can follow opinion-makers like friends and fashion bloggers on Roposo, its fast and easy to shortlist fashion that best suits you," he says.
This is what they call social commerce – the sexy thing in retail in Silicon Valley, where startups like Wanelo, Fancy, Refinery29, and many more have made their mark.
Roposo is trying to develop its own set of unique discovery features that cater to the Indian market. When I go to
www.roposo.com
I get a newsfeed (like a clean version of facebook or twitter or instagram) with the latest user-generated content. It is refreshed by the minute, and has the latest "lists" or collections of products curated by users. Avinash says that 3,00,000 products were saved by users in lists in the month of May, which was just after the website was officially launched.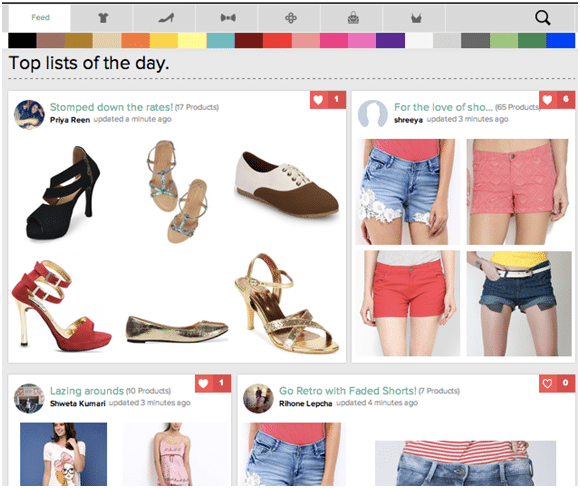 Immediately, I see a lot of shorts, which are probably selling like crazy given the hot weather. Other users have shown their liking for a list by clicking on the heart-shaped button on the top right corner of each list.
I am beginning to sense that this kind of real-time information on trends would get any woman excited. I click on the "Go Retro with Faded Shorts" list because it sounds interesting (Click here for List)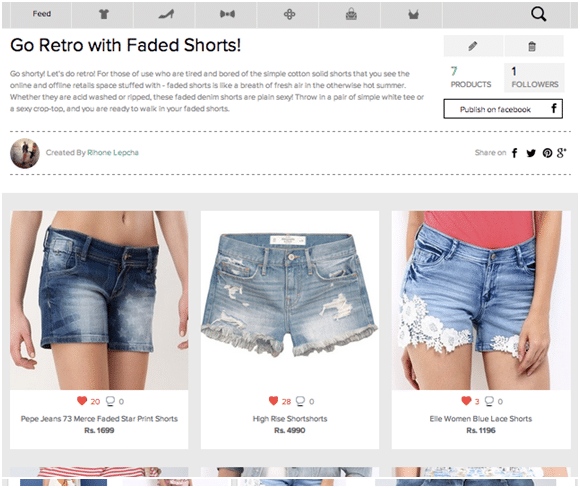 I see that this list already has a follower, and the first two products, from Koovs.com and Elitify.com, with 20 and 28 likes respectively, are probably the hottest. I note the presence of all the usual social buttons to share on facebook, twitter, pinterest etc. I get the hang of it.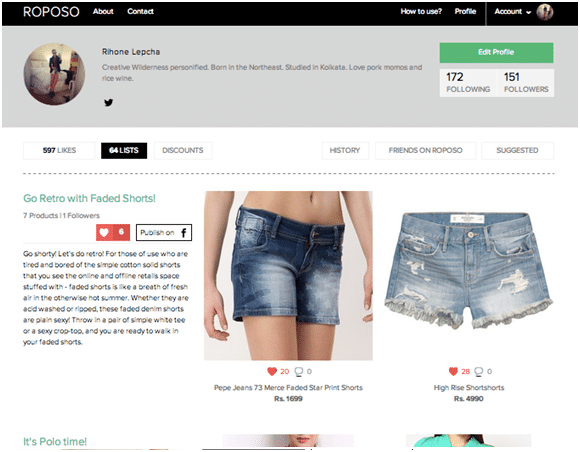 She seems to be a regular, with 151 followers, and 64 lists that she has made. And in the 5 mins that it took me to do all this, her list on Retro Shorts already got 6 likes!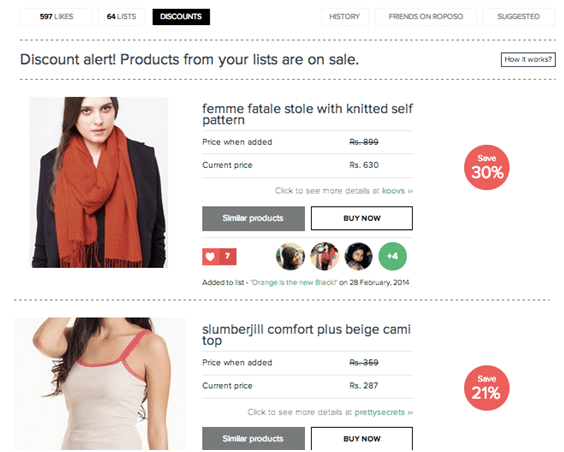 Now this looks like a very compelling feature – discounts on items saved in your lists. This completes the shopping experience, in my opinion, because every woman likes a bargain, especially if it comes to you in such a convenient manner.
I found the experience overall quite refreshing, and simplified. Especially as there is no alternative website that offers me everything under one roof. If I were a woman, I would probably tell my friends to join too, so I could check out their profiles and lists from time to time.
Here's wishing Roposo a successful journey ahead! and we will soon hear their name as leading indian fashion focused social network website.
Review by Swati Nakra Published and edited by vicky singh.