Navigating the choppy waters of the B2B SaaS market can feel like an uphill battle. Not to mention the competition is fierce. Alongside grappling with customer churn, one may struggle to differentiate a product in a dense market and wrestle with the complexities of scaling a business. It's enough to make even the most seasoned entrepreneur feel caught in a storm.
So how can one make these challenges manageable and make a product stand out? This is where the top B2B SaaS agencies in the UK can help.
This article introduces the 10 best B2B SaaS agencies in the UK. These companies have mastered the art of turning problems into possibilities and know how to navigate their clients to the top of the B2B SaaS market. So, prepare for a journey into the UK's B2B SaaS scene.
1. NUOPTIMA

Meet NUOPTIMA, a growth agency that is truly committed to results. With a solid 15 years of experience under their belt, they specialize in both organic and paid content marketing across various platforms such as Google, Twitter, LinkedIn, Facebook, and TikTok. However, their expertise doesn't stop there; they are also proficient in the following:
SEO
Content Creation
Backlink Building
eCommerce Email Marketing
Amazon Marketing
PPC
NUOPTIMA is not just the best SEO agency; they are business builders who approach marketing with innovative strategies. With professionals from diverse backgrounds including digital marketing, SEO, venture capital, and investment, clients gain access to deep sector-specific expertise catering to various industries. They have experts across SEO, advertising, content creation, and more working together to increase brand awareness, sales, and long-term scaling.
Moreover, by overcoming pitfalls in their own business journey, they've learned how to consistently deliver a minimum of fourfold ROI across their companies. Thus, NUOPTIMA's team brings a wealth of knowledge to tailor a marketing plan to each specific SaaS company. This includes collaborating with clients to identify which growth channels are worth pursuing. Rather than advertising to new prospects who don't know the brand, they concentrate on attracting ready-to-buy customers. Therefore, thanks to their in-depth understanding of the market and first-hand experience scaling brands, this agency helps clients bypass any growing pains and accelerate success.
In short, NUOPTIMA stands as a responsive and talented team to work with. Their services have been recognized with numerous awards, including the Best B2B SEO Campaign 2022 at the UK Search Awards. In addition, interested parties can benefit from a free strategy call today.
Headquarters: London, UK
Founded: 2020
Email Address: [email protected]
Website: nuoptima.com
Contact: N/A
Address: 1 Beauchamp Court, 10 Victors Way, EN5 5TZ, Barnet, United Kingdom
Specialization: SEO, Backlink Building, eCommerce Email Marketing, Amazon Marketing, Google Ads, LinkedIn Ads.
Clients: GlycanAge, Naturecan, Bonnet, Quolum, yhangry, Microminder, Pzizz, Market Finance
2. Seeker Digital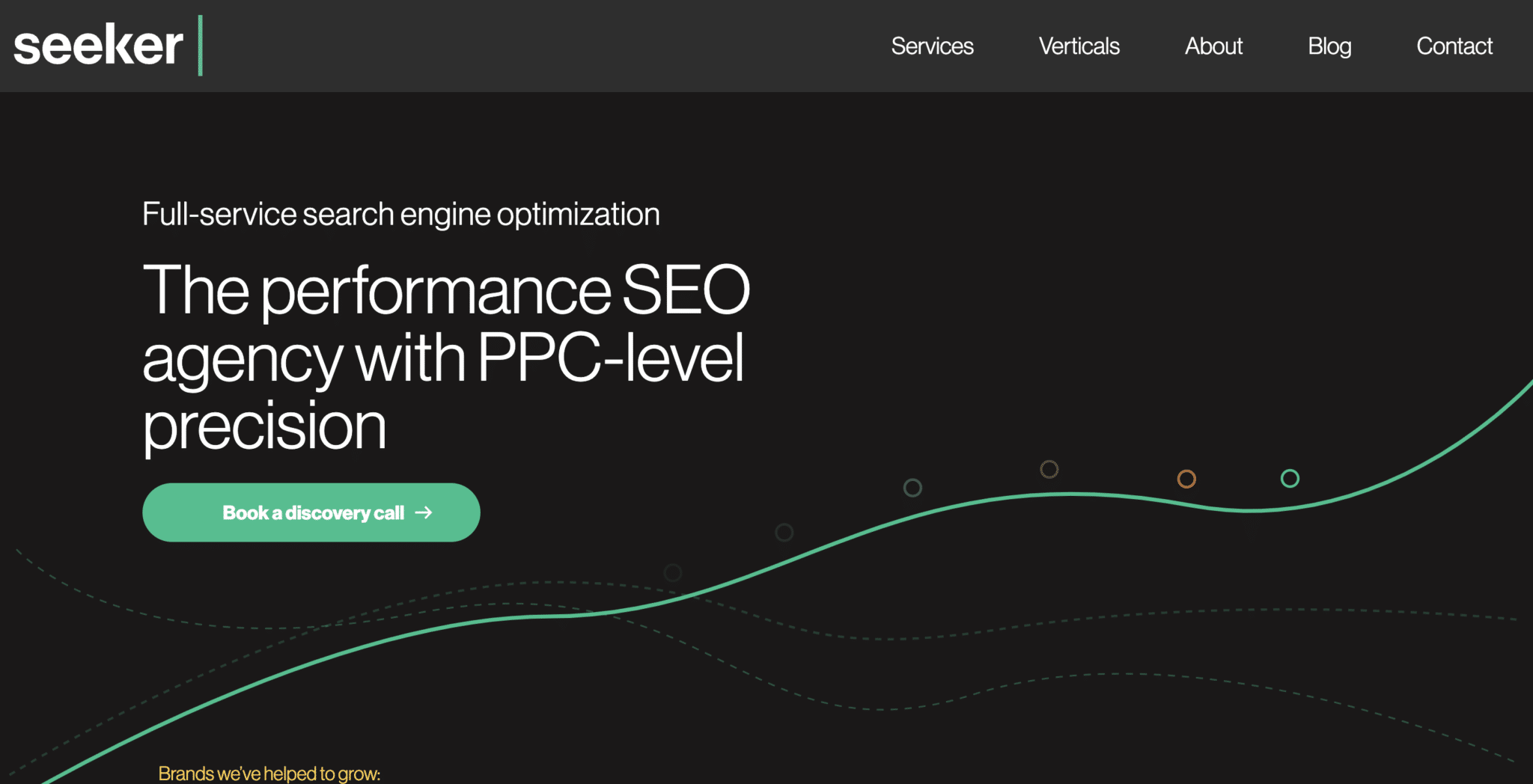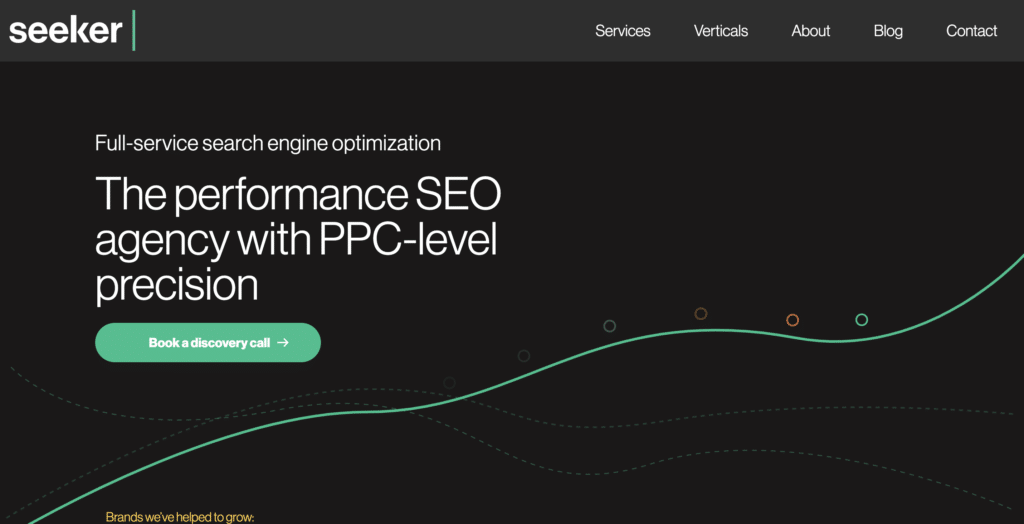 Seeker Digital is a performance SEO agency that blends tactics to bring control and consistency to the unpredictable world of organic traffic. They aim to make it a reliable revenue driver and a solid foundation for long-term growth.
Seeker Digital's services are all-inclusive, covering everything from keyword research and gap analysis to forecasting. Since they are familiar with the challenges facing e-commerce and SaaS businesses, they devise SEO strategies tailored to specific goals, ensuring smooth progress.
Moreover, the agency believes in a hybrid path, combining SEO, digital PR, link building, content marketing, social engagement, and training and consultancy for maximum effectiveness. Their teams work together to achieve the desired results, creating seamless multi-channel marketing. Furthermore, Seeker Digital aims to understand how its clients operate internationally, allowing them to provide local care and attention, regardless of the location.
Headquarters: Bristol, UK
Founded: 2016
Email Address: [email protected]
Website: https://seeker.digital/
Contact: 0117 422 8686
Address: Desklodge House Room 201, 2 Redcliffe Way, Redcliffe, Bristol, BS1 6NL
Specialization: SEO, Digital PR, Link Building, Content Creation, Social Engagement, Training and Consultancy
Clients: Admiral, Post Office, Pukka, Zurich, Shopify
3. Aspectus


With a focus on results, Aspectus is an award-winning global brand, marketing, and PR agency that sets businesses up for success by combining strategic thinking with sector-specific experience. They work across several industries, including:
Technology
Financial Services
Capital Markets
Energy
Industrials
Throughout their work, Aspectus has developed, designed, and launched annual pieces of hero content, driven leads with globally integrated marketing campaigns, and increased awareness and the number of qualified leads through email nurture programs.
Furthermore, this B2B marketing agency designs its package to make businesses stand out within a competitive market. Whether it's building a brand, generating leads, creating engagement, or attracting investors, Aspectus services are bespoke to meet its client's goals.
Headquarters: London, UK
Founded: 2019
Email Address: [email protected]
Website: https://www.aspectusgroup.com/
Contact: +44 207 242 8867
Address: 128 Southwark Street, London, SE1 0SW
Specialization: Branding, Digital Marketing, PR and Communications, Websites, Campaigns and Content, ESG Communications
Clients: CME Group, Munich RE, Air Swift
4. Gripped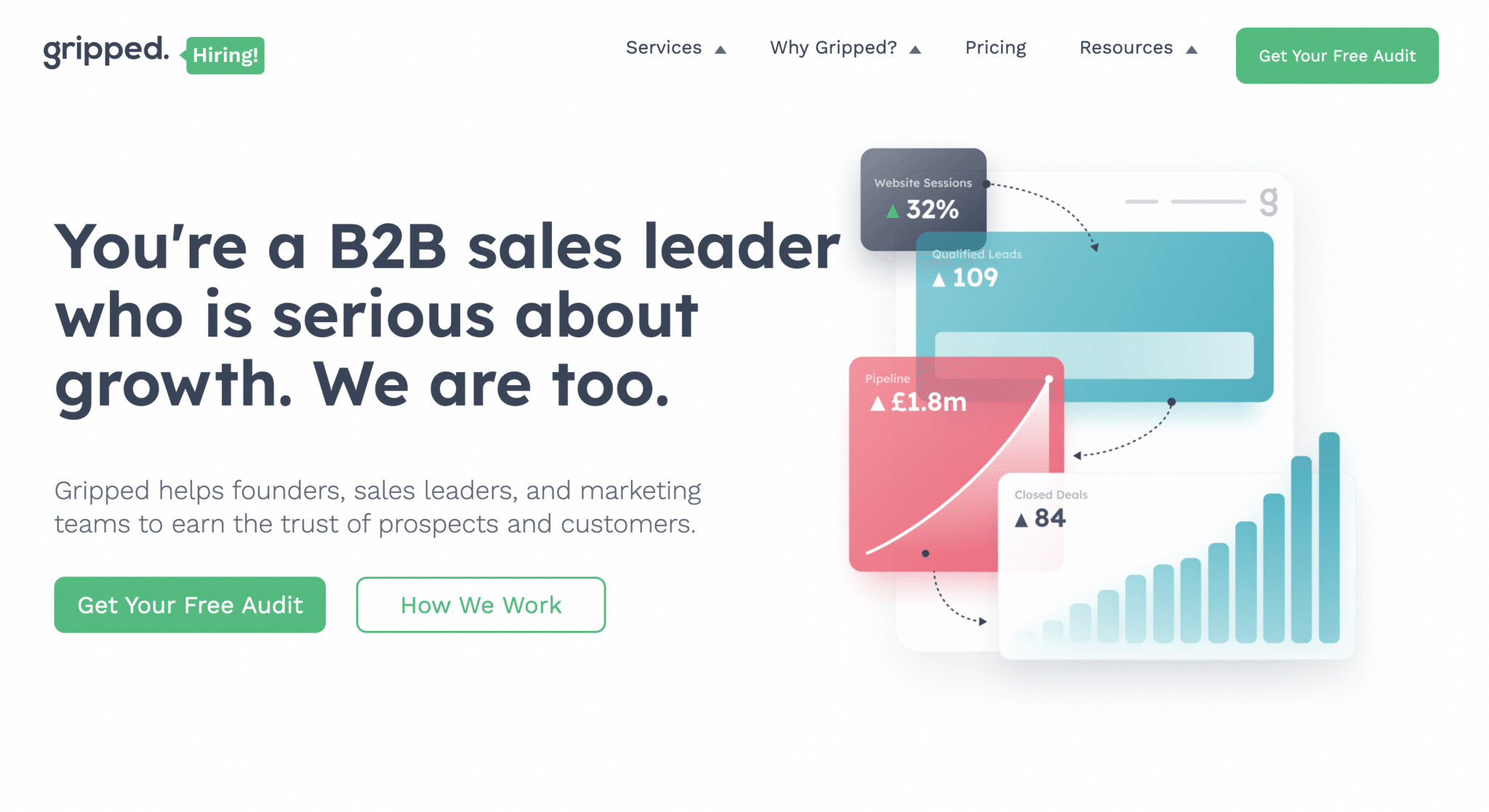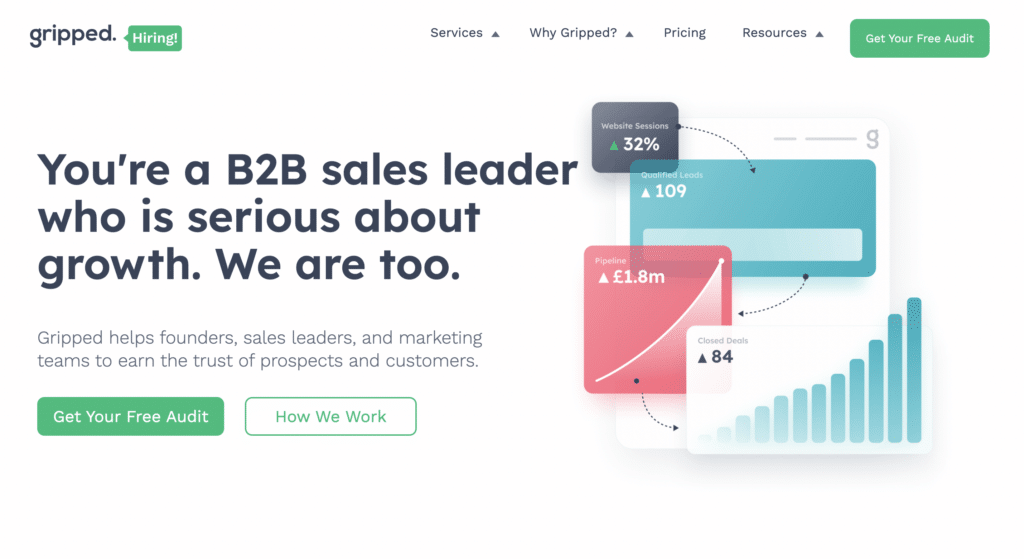 Gripped support founders, sales leaders, and marketing teams develop trust with their audience. Their services aim to establish a market presence to make it easier to increase leads and conversions. To this end, the team at Gripped combines multiple channels to differentiate their clients from the competition. This offering includes content marketing, SEO, automation, and paid media. For instance, in their content-led SEO strategy, they create quality pages that resonate with the ideal customer and hit essential keywords.
Moreover, by taking a hybrid approach, they hope to build a reliable and credible online reputation that delivers qualified leads. In short, Gripped aims to get the right people to their client's website, crafting a friction-free experience and encouraging leads to convert.
Headquarters: London, UK
Founded: 2017
Email Address: [email protected]
Website: https://gripped.io/
Contact: +44 (0) 330 808 0988
Address: 38 Southwark Street, London, SE1 1UN
Specialization: B2B Digital Marketing for SaaS & Tech Providers, Content Creation, SEO, Automation, Paid Media
Clients: Nextstor, Vercator, Take Note, Undo
5. The Brains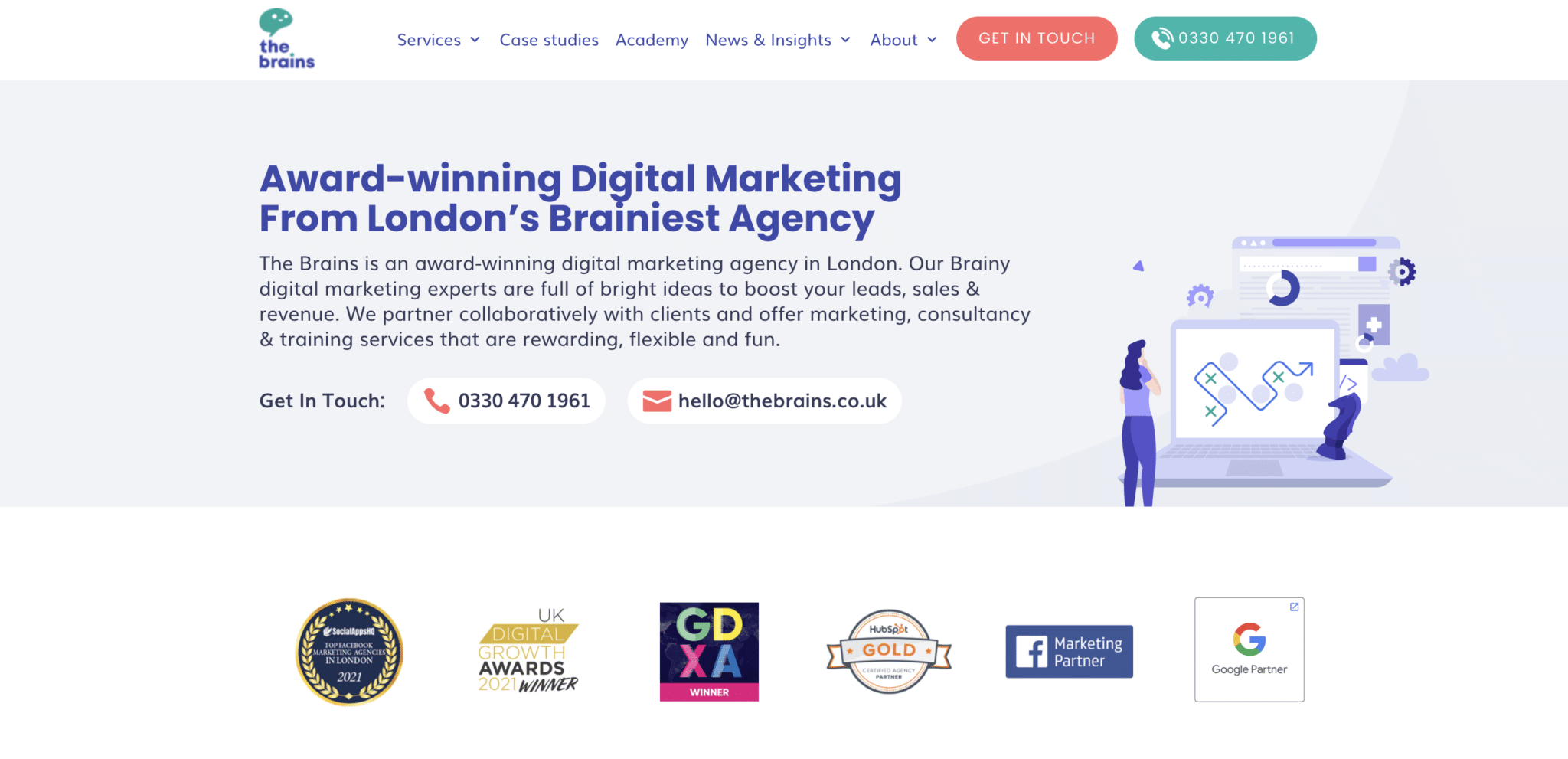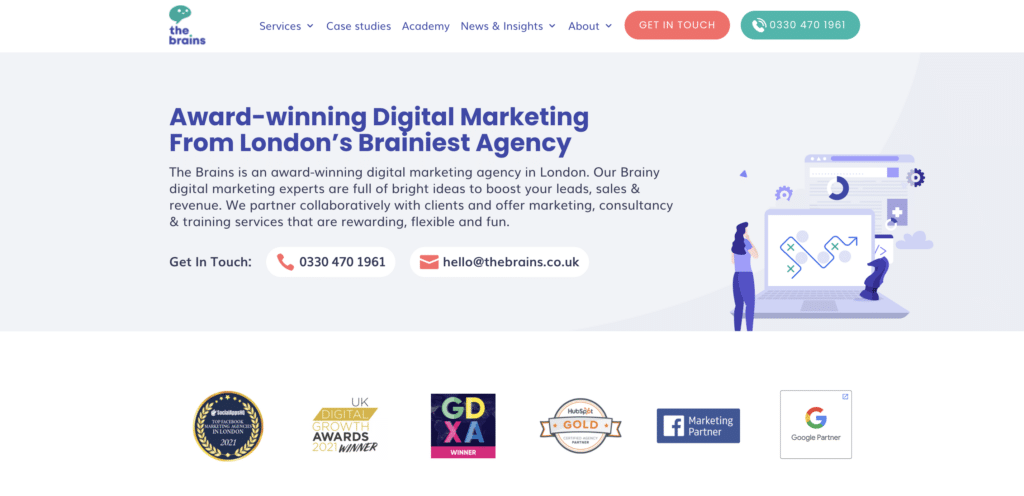 Delivering consultation and training, The Brains built their agency by supporting other startups through the complex scaling process. From founders to sales leaders and marketing teams, The Brains teaches clients how to gain consumer trust within the SaaS industry.
Like many SaaS agencies, The Brains help B2B establishments carve a space in the market where they can generate predictable revenue. The team does this by employing paid media methods and combining them with organic growth tactics. However, instead of simply implementing effective SEO and PPC tactics, this also agency works collaboratively with internal marketing teams to educate them on the process. In this way, their clients are involved in the marketing process, helping them make better decisions for the future of their businesses.
Headquarters: London, UK
Founded: 2015
Email Address: [email protected]
Website: https://thebrainsmarketing.co.uk/
Contact: 0330 470 1961
Address: Mindspace, 9 Appold St, London EC2A 2AP
Specialization: SEO, PPC, Paid and Organic Social, Website Design & Development, Consultancy, Email Marketing, Marketing Automation
Clients: Fraser Hart, Central Film School, Medical Travel, Co., Just Move In
6. Upraw Media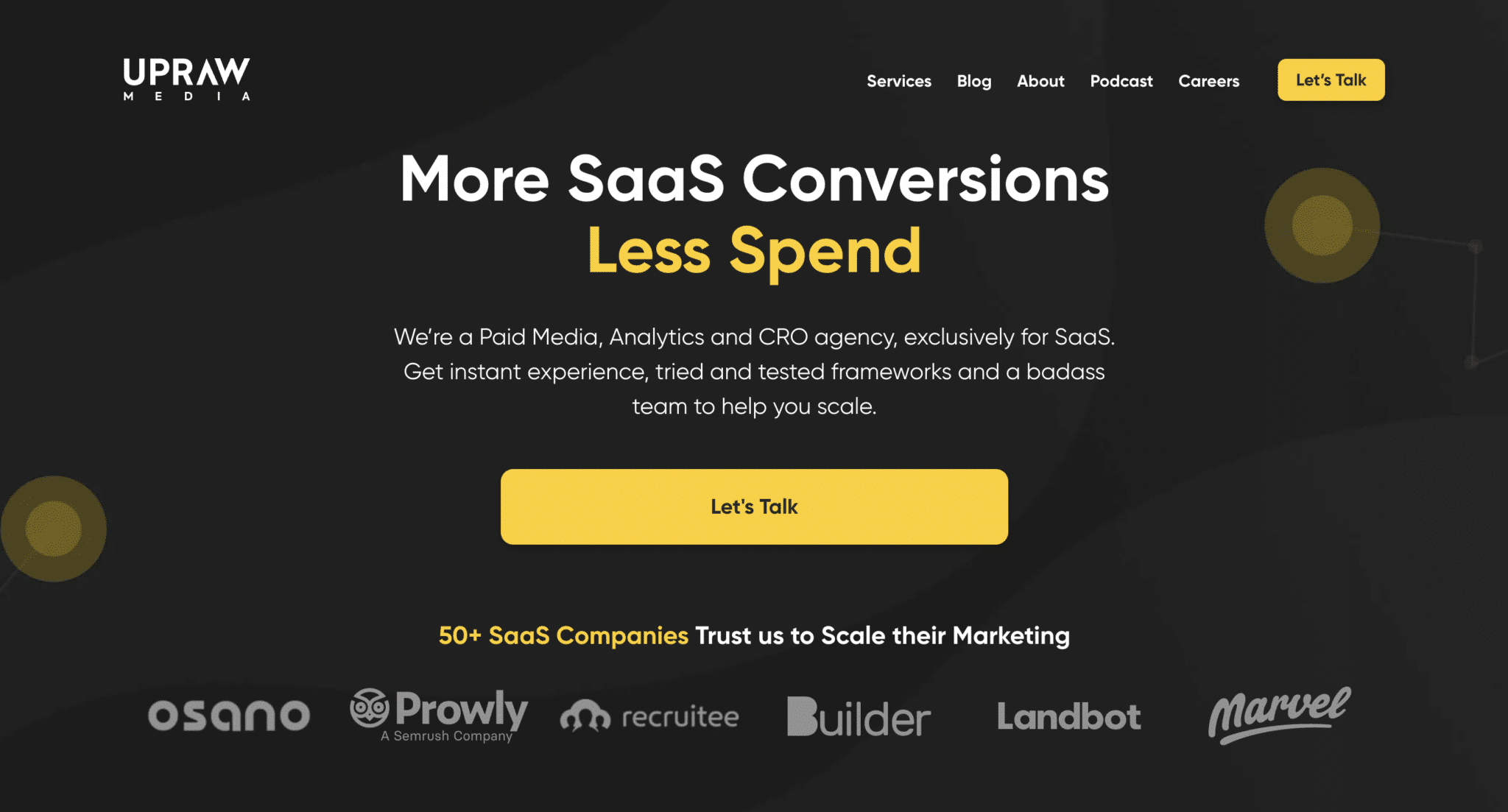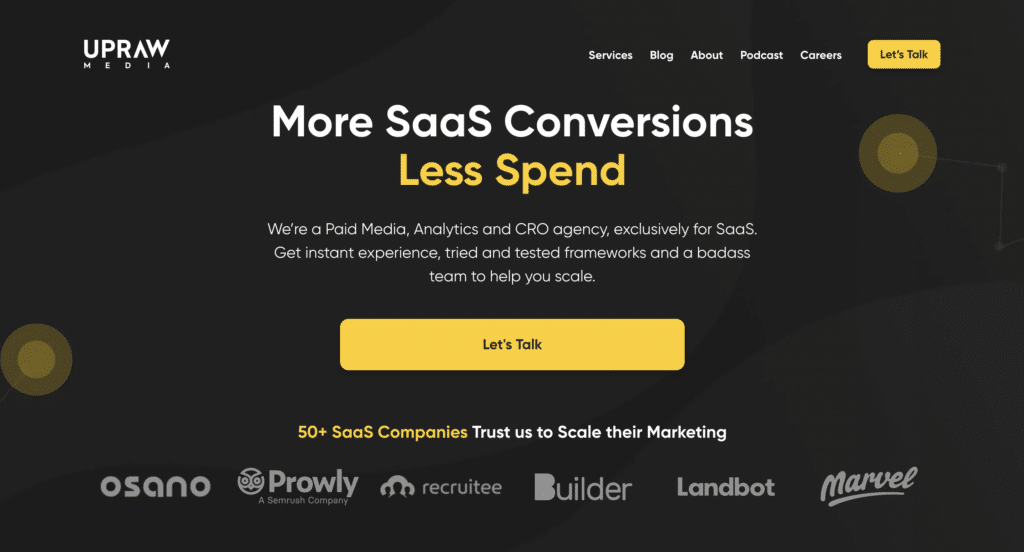 Upraw Media, a specialist in the SaaS domain, is a paid media, analytics, and conversion rate optimization agency. They support SaaS companies to scale their marketing efforts using their tried and tested framework and ongoing analysis tools. For instance, this agency presents data warehousing, blending, visualization, and attribution modeling to ensure robust measurement.
Additionally, the data-driven output encourages clients to make better promotion decisions across their marketing campaigns. Furthermore, Upraw Media reviews its client's sites and works to improve its digital foundation to maximize conversions. Hence, whether it's site speed, CTAs, or social proof, they make sure every angle has been thought of.
Headquarters: London, UK
Founded: 2018
Email Address: [email protected]
Website: https://uprawmedia.com/
Contact: N/A
Address: Office 7 Ludgate Hill, 35-37 Ludgate Hill, London, England, EC4M 7 JN
Specialization: Paid Media, Analytics and Measurement, Conversion Rate Optimisation, Content and Copy for SaaS companies
Clients: Landbot, Builder, Marvel, Osano
7. Klood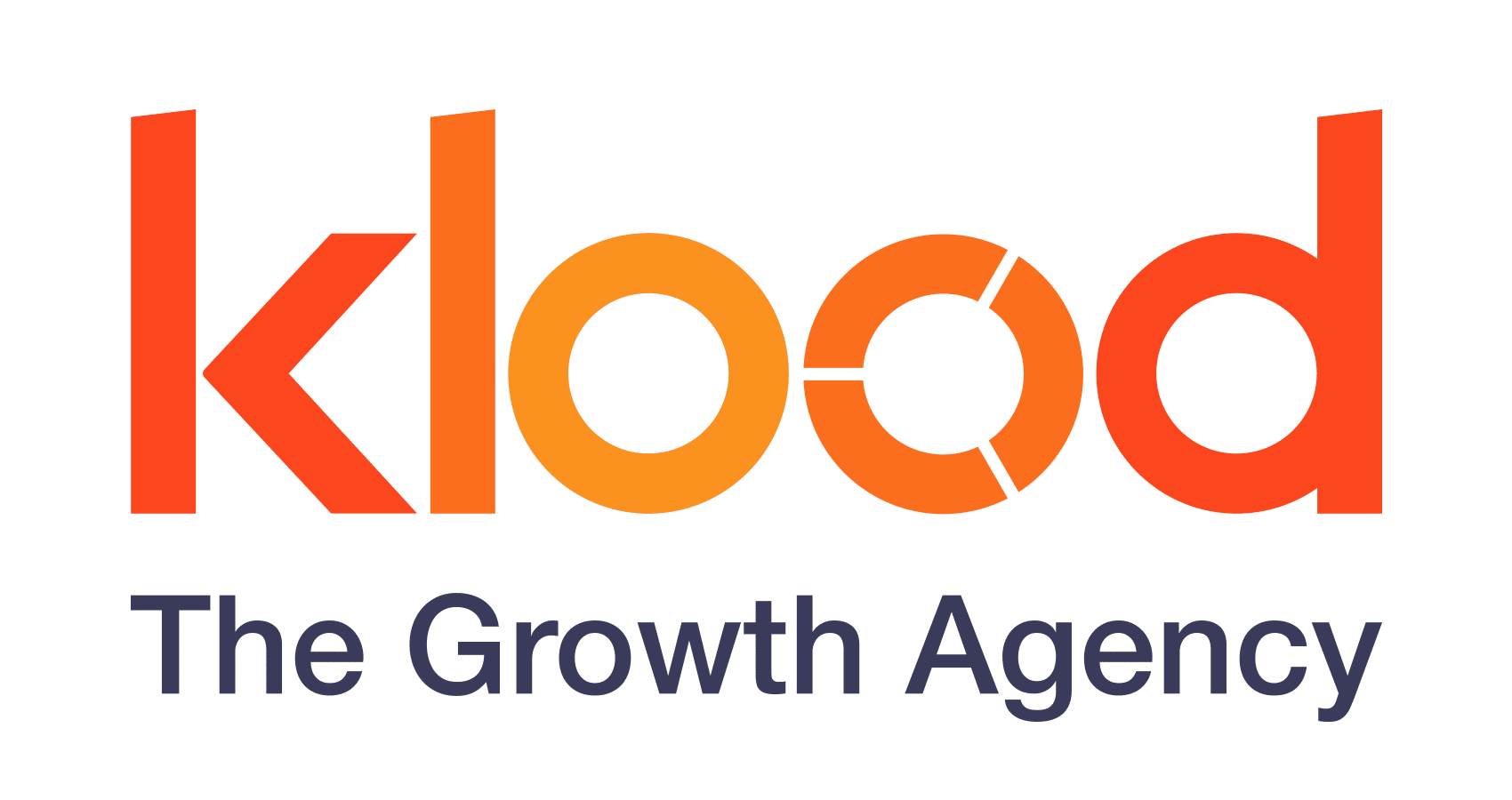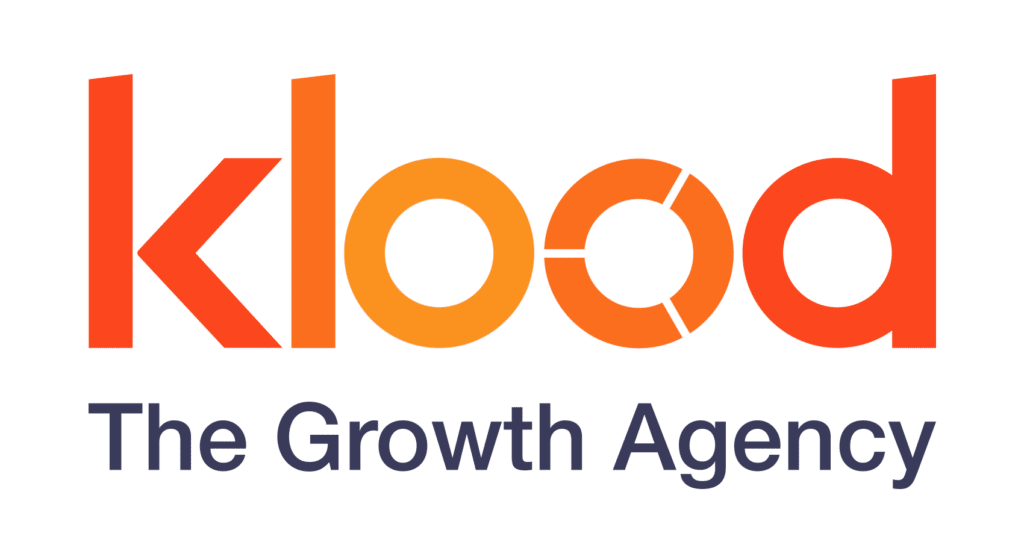 Klood specializes in sales and marketing automation solutions tailored for small businesses. Their services streamline these processes, making them more efficient and effective, ultimately saving time and resources while boosting business revenue.
Klood's approach centers around helping businesses overcome common challenges such as:
Spending too much time on low-value tasks
Not converting enough leads
Needing better coordination in the MQL to SQL hand-off
Not fully utilizing the contact database
Lengthy sales closing times
Missing opportunities to upsell or retain customers
Their solution is to uncomplicate sales and marketing by strategically using HubSpot to simplify operations. For example, they automate and manage lead gen, sales, and promotion tasks, allowing teams to focus on the creative and customer-facing interactions that win more conversions.
Moreover, Klood's Auto Growth Mode is a five-step process designed to help businesses enter a state where they can attract, engage, delight, and retain customers in a cost-effective way. Their process involves a thorough consultation to understand each business and map out a plan of action. Next, they set up automation and continue to review progress along the way, ensuring the clients are following best practices.
Headquarters: Olney, UK
Founded: 2009
Email Address: N/A
Website: https://www.klood.com/
Contact: 01908 086438
Address: 1 Brittens Court, Olney, United Kingdom, MK46 5LG
Specialization: Automation, HubSpot Agency Services, HubSpot Consultancy, HubSpot Coaching and Support
Clients: Silverbug, Rocket, ResourceSpace
8. Cobloom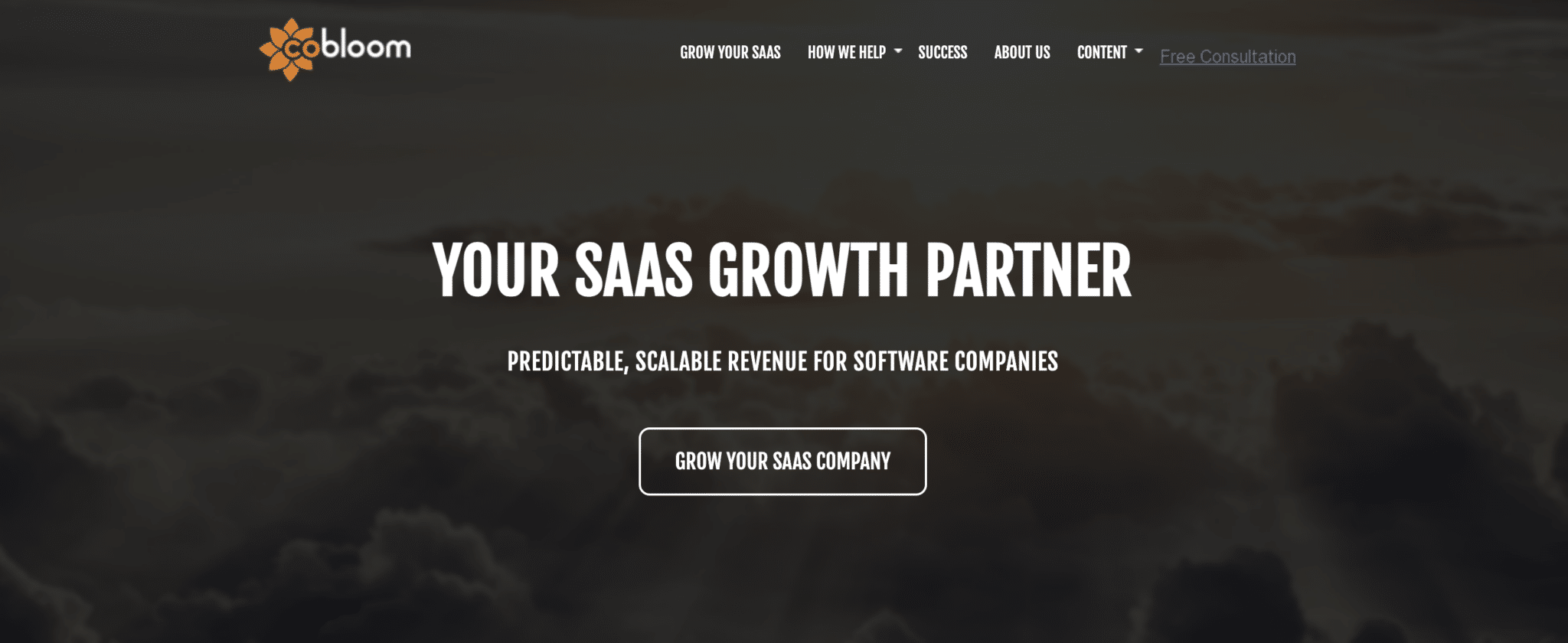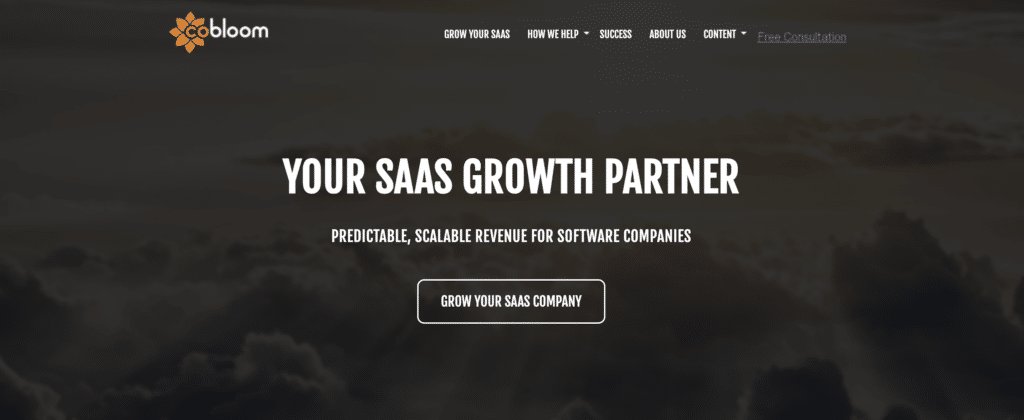 Cobloom ethos is to deliver predictable, scalable revenue. The agency's technique combines the long-term prospects of inbound marketing with the rapid iteration of growth hacking throughout the entire funnel.
Hence, Cobloom's marketing is built from the ground up specifically for scaling a SaaS business. It's a way to experiment fast and test crucial growth hypotheses while developing a foundation for long-term customers that will use the product.
Moreover, the team focuses on holistic strategies that build awareness, capture relevant leads, and improve customer retention. They do this by gaining a deep understanding of the buyer journey, where the ideal customer spends their time, and thus, creating high-value educational content that converts. Furthermore, their partnership with HubSpot further enhances their ability to provide reliable promotion.
Headquarters: London, UK
Founded: 2012
Email Address: N/A
Website: https://www.cobloom.com/
Contact: +44 (0)845 5649 981
Address: The Brew Eagle House, 163 City Road, London, EC1V 1NR, United Kingdom
Specialization: SaaS Marketing, Inbound Marketing
Clients: Scale
9. 93x
Specializing in B2B and SaaS marketing, 93x takes a unique approach as they prioritize quality over quantity. Thus, with their deep understanding of the B2B technology buyer journey, they offer sector-specific expertise, setting them apart from their competitors.
Their understanding of the customers, especially their tech clients, allows them to create digital strategies that align with a realistic buying process. This understanding, combined with their focus on real-world impact, makes 93x a viable option for companies looking to scale their inbound lead generation.
This B2B agency also stands out for its attention to detail in its creation process. For instance, the team consists of tech journalists and top B2B writers who understand the industry, terminology, and what readers are looking for. They also use top-tier technology, tools, and data to shape and inform their action plan.
Headquarters: London, UK
Founded: 2019
Email Address: N/A
Website: https://www.93x.agency/
Contact: N/A
Address: 93digital, 60 Grays Inn Rd, Holborn, London, WC1X 8AQ, United Kingdom
Specialization: SEO, PPC, Paid Social, Web Design & UX
Clients: Learnosity, Bankable, Kantox, Open Banking
10. Xander Marketing


Xander Marketing stands out in the SaaS landscape as they support businesses by generating more customers and website traffic. The agency offers strategic planning to help businesses achieve their goals, lead generation to fuel growth, and PPC and SEO services to increase relevant traffic. They also provide:
High-Converting Web Designs
Lead Conversion Strategies
Brand Awareness Campaigns
Thought Leadership Content
Customer Retention Techniques
Moreover, Xander Marketing has created a flexible business model so they can adjust their services to fit their client's needs. To this end, they will act as a fully outsourced marketing department or fill in the gaps to supplement the client's existing structure. Additionally, having worked with over 175 businesses in the SaaS field, Xander Marketing boasts a knowledgeable background for startups or established SaaS businesses.
Headquarters: N/A
Founded: 2009
Email Address: [email protected]
Website: https://www.xandermarketing.com/
Contact: +44 (0)330 223 2770
Address: N/A
Specialization: Lead Generation, Brand Awareness, Customer Retention, Content Creation, SEO, PPC, Email Marketing, Social Media
Clients: ETZ, WhosOff, Evianos, Metis
Conclusion
So, there you have it, the 10 best B2B SaaS agencies in the UK, each with unique strengths and specialties. When partnering with a B2B SaaS agency in the UK, one can expect to bypass the learning curve and hit the ground running. However, choosing the right company can be the difference between getting lost in the crowd and dominating the competitive SaaS landscape.
Remember, success hinges on more than just a great product. It's about finding the best marketing partner to navigate the challenges, amplify one's strengths, and turn a vision into reality.