Twitter uses your current location to improve your experience by providing you with the latest trends and news about your country or region. You might have noticed that your location and your phone device are visible at the bottom whenever you post a tweet. But nowadays, people have become more sensitive and prefer to hide their location or even want to fake it to trick people.
So, what to do? Various virtual location software is available on the web that can facilitate you in spoofing your location. In today's article, we'll introduce you to the Dr.Fone – Virtual Location tool that can easily spoof your location.
Part 1: What Are Some Essential Reasons to Shift Your Location Across Twitter?
There are numerous reasons behind spoofing location, and people use virtual location software to change their location. Some location-changing tools even enable users to spoof location iPhone without any jailbreak risk. Awesome, right?
1. To Prank Friends and Family
Usually, people spoof their location to prank their friends and family by making them think they've shifted to another country or are currently traveling. Moreover, employees spoof their location to make their colleagues or boss believe that they're currently traveling and unable to work.
Everyone has been through the scenario where they're sitting at home working while people on their socials are traveling. This is where tools like Dr.Fone enable you to spoof location to make it seem like you're also traveling, which, if you ask us, is a pretty good trick.
2. To Build New Friendships
Social apps often recommend people from your own country or city, which can be pretty helpful, but sometimes people prefer to chat with people from other countries to widen their friend circle. Usually, people change their location on Twitter to see various trends from different countries. This is where a tool like Dr.Fone comes in handy. With virtual location tools, you can easily change your location to your desired region within a few quick steps.
3. For Privacy Concerns
Some people prefer not to share their location on the web for various privacy reasons, which is why they use virtual location tools to spoof their original location. We're aware of the hackers and blackmailers surrounding the web, making it a scary environment. This is why people rely more on location spoofing tools to protect themselves from being blackmailed by hackers. This impressive tool protects your privacy and even lets you hide your location, so no more worrying about privacy.
Part 2: Introducing Wondershare Dr.Fone – Virtual Location – The Location Spoofer for Twitter
Wondershare Dr.Fone always tries to facilitate its users with various helpful tools, such as the virtual location tool. This smart-looking tool is smooth than any other location spoofing software. It's reliable and savvy that even an amateur can maneuver to spoof the location to the desired destination. It also keeps records of your locations, so you don't have to search for the same location repeatedly. It's compatible with both the iOS and Android systems for the ease of its users. Sounds good, right?
Developed by Wondershare, this virtual location tool is easy to navigate and offers a smooth spoofing process to trick location-based applications such as Twitter, even with an iPhone. Many people usually avoid location spoofing software because of privacy concerns, but Dr.Fone protects your privacy.
With only a few clicks, it lets you change your location to anywhere. Now prank your friends and family or trick some location-based application such as Twitter by spoofing your location. So fake your location without worrying about jailbreak or the privacy issue with Dr.Fone.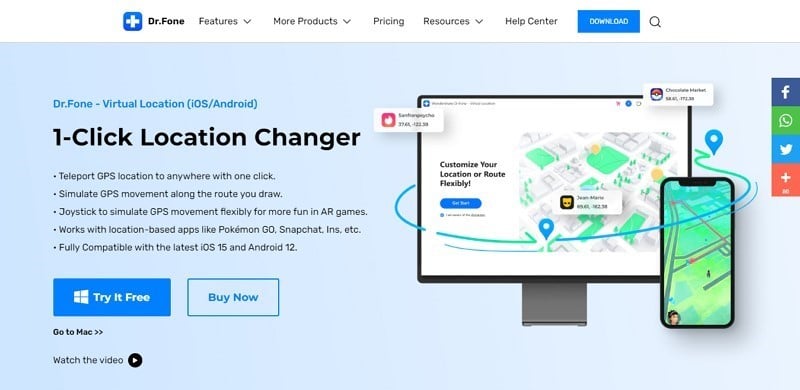 Part 3: How to Shift Your Location across Twitter with Dr.Fone – Virtual Location?
In this digital world, you can efficiently change your location to your desired country or region in just a few simple steps with the Dr.Fone – Virtual location tool. In this tutorial, we'll guide you with the steps on how you can spoof your location to your desired region, so are you ready?
Step 1: Launch the Virtual Location Tool
First of all, download and launch the Dr.Fone software on your Windows or Mac from the web to get started. From the default setting on the interface, choose "Virtual Location" from the given options.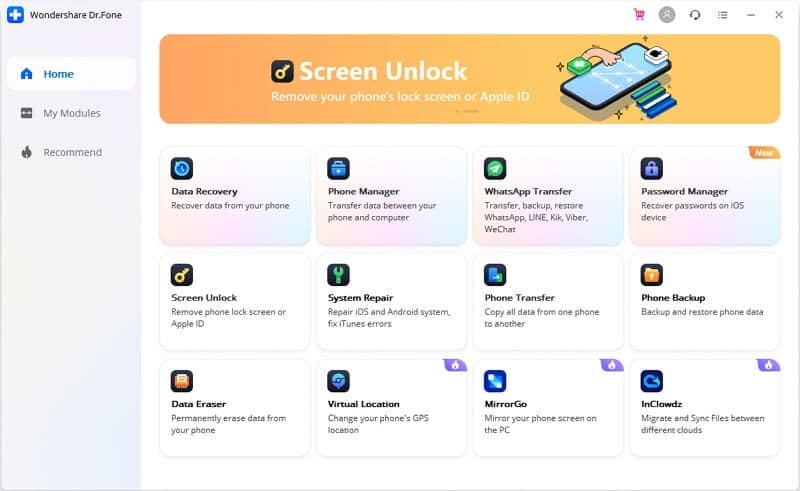 Step 2: Connect your Phone with Dr.Fone
Now you need to connect your phone, whether an iPhone or Android, via USB cable to link your phone with this virtual location software. After connecting, tap on the "Get Started" button to proceed. If you have an iPhone, you only need to connect your phone once. After that, you can connect it via Wi-Fi. Awesome right?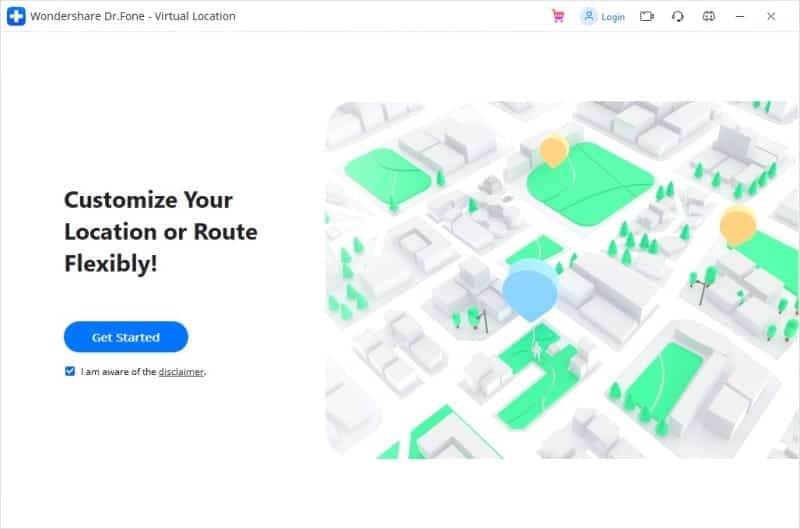 Step 3: Activate Teleport Mode to Spoof Location
Now your actual location will be displayed on the interface. If, for some reason, it isn't showing or is incorrect, click on the "Center On" icon. Now select the "Teleport" icon, displayed in the upper right corner of the interface, and enter your desired location on the search bar to change your location.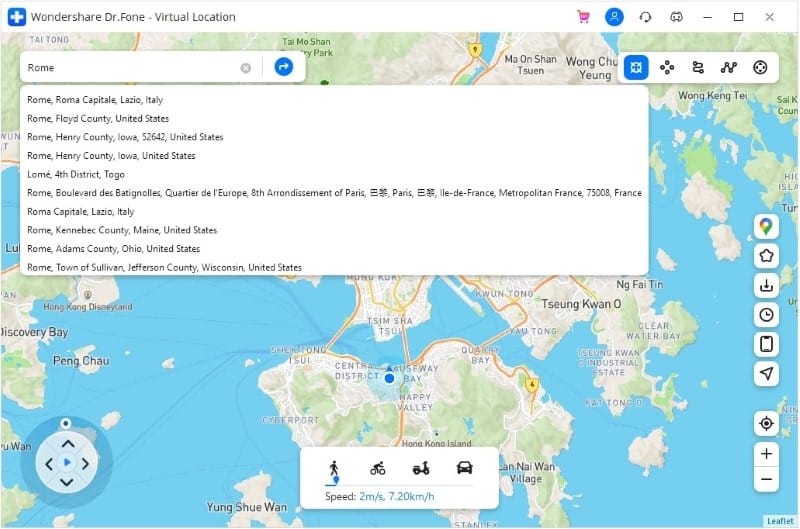 Step 4: Change your location
After teleporting, click on "Move Here" from the small pop-up window to finish the spoofing process. Now go to the Twitter application to ensure your location successfully changed to your desired place. So, now you know how to change your location to your desired place. All thanks to this fantastic tool by Dr.Fone.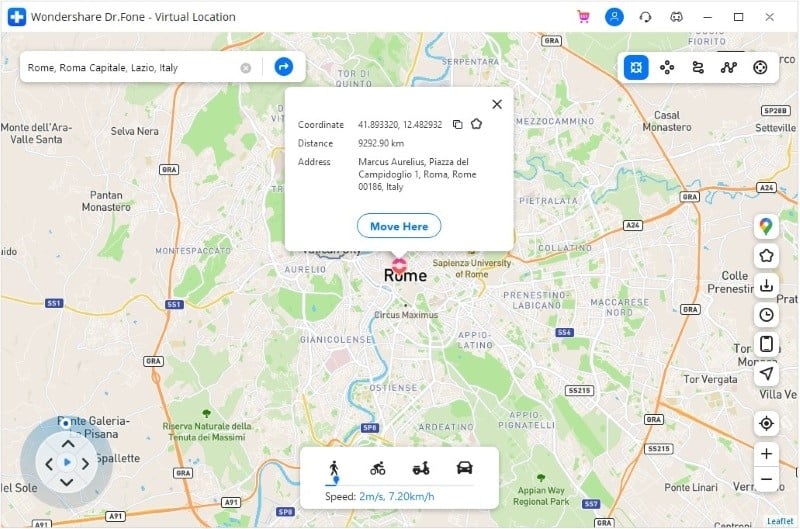 Conclusion
The advanced virtual location software such as the Wondershare Dr.Fone tool has made it possible to fake your location within a matter of a few minutes, so now you can easily spoof your location on location-based apps such as Twitter and Snapchat without worrying about privacy.