Maximizing sales is one of the main objectives of any business organization. They form one of the initial steps towards making profits. Consequently, a business can't make any profits without first generating sales.
Making the most out of sales can boost businesses in various ways. It helps increase cash inflows, thus, improving a business's overall operations. For instance, through sales maximization, a business can collect more revenues to help cater for operational costs and other expenses. Increasing your sales can go a long way in enabling your business to remain relevant and competitive for the foreseeable future.
Even though you can start your business alone, there will come a time when you may need to work with some employees to help you with the daily business operations. This occurs especially when your business grows and expands, like adding a sales team to help out a business to thrive.
A sales team is a department that is responsible for all the sales tasks and quotas in your organization. This team enables you to meet your sales goals, they usually consist of customer service agents, sales managers, marketing specialists, and sales representatives.
The role of a sales team in an organization is to help identify new customers, retain existing ones, and generate sales.  However, your sales team can't bring better results to your organization without using the best tools.
Best tools for Sales Team
Here are some of the tools that can help sales teams boost revenue:
Communication Tools
Communication is essential to any relationship, and a business-customer relationship is no exemption. It's a process of passing information from one point to the other. Your sales team needs to communicate with customers to help close a deal, without communication, your business might not be able to engage with any customers or generate sales.
There are various communication tools you can install in your business systems, one of them is the phone system. It enables your sales team to be more accessible every time. Even outside working hours, a phone system allows your sales team to engage with customers 24/7.
You must choose a reliable phone system, it must allow your sales team to communicate from anywhere, at any time. This enables customers to reach out to your business remotely regardless of the time and the location.
Your phone system should allow your sales representatives to communicate with several customers as soon as possible. You can achieve this by having power dialer software installed in your phone system. It is a computer application that can allow your sales team to auto-dial customers' contacts instead of typing them manually. This helps communicate with several customers within an hour, which saves a lot of time and effort.
Apart from a phone system, you can also consider installing a live chat application in your business system. This is a program that can allow your sales team to communicate with customers in real time. It enables your customers to get quick responses from real people while they're still on your business website.
Nowadays most customers are very busy, they want to do every transaction fast and easily to save more time and energy. They prefer a quick response from a real person as soon as they visit your website, that's why you must consider having a live chat application.
It enables your sales team to immediately respond to any potential or existing clients' concerns.  Responding to customers in real-time help improve customer experience, enabling them to remain connected to you. Having the best live chat application goes a long way in boosting your sales.
Marketing Tools
No matter how smart your sales team is in terms of academic qualifications and intellectual capabilities, they might not add any value to your business without marketing. Marketing is the process of sending promotional messages to consumers to help create awareness and visibility of your business.
As earlier stated, some salespersons are also marketers. That's why you also need to provide them with marketing tools.
Marketing tools are techniques and technologies that allow your sales team to promote your business online or offline. This enables you to reach more consumers globally, thus increasing your chances of generating more sales.
The selection of your tool should allow you to implement a suitable marketing strategy, if you wish to promote your business through email marketing, your tool should help you achieve that.
Aside from that, you should also select a reliable marketing tool service provider. This is important because the service provider you choose can determine the success or failure of your marketing efforts. They will also be responsible for the maintenance and functionality of your marketing tool. If you're looking for a marketing tool service provider, you can work with  Drop Cowboy or any other similar firm in the market.
Customer Relationship Management Tool
Startups and small businesses face a lot of competition from established firms in the market. Even if they can manage to attract a few customers, retaining these clients isn't a walk in the park. Consultative sales strategies enable the seller to establish a long-lasting relationship with clients through building value and trust in a customer-centered approach. Installing customer relationship management software for your sales team makes the entire process simpler and more effective.
Customer relationship management software is a computer application that allows your sales team to manage customer relationships. It ensures that every step of interaction between the sales team and customers goes smoothly and efficiently.
CRM software can have several benefits to your sales team, it allows them to collect customers' data and store it in a centralized place. This helps them manage your customers better and organize sales efforts in general.
A CRM application also enables the sales team to access customers' data from any location. They can always guide your customers throughout their shopping journey and assist them in many ways, increasing your chances to generate more sales.
Apart from that, CRM software can act as a time planning and management tool for your sales team. It allows them to make their daily schedules to ensure all the customers are attended to and on time. This also promotes customers' experience and satisfaction.
It also helps your sales team to collect and analyze customers' data, which enables them to understand customers' problems or needs better. Through that information, they can create buyers' personas and provide personalized services that can be an added value for your customers. Providing customized services helps boost customer satisfaction. This can also help you to increase your sales.
Finally, a CRM application promotes collaboration among your sales team. It allows them to share customer files and other important company documents, keeping everyone informed and updated. Therefore, two or more sales representatives can serve one customer without the fear of effort duplication or repetition of tasks, because a sales staff can always track and see the conversation of another sales team member with a particular client.
Sales Prospecting Tools
Another essential application you can consider for your team is the sales prospecting tool. Like CRM software, the sales prospecting tool enables your sales team to identify and nurture potential leads to become regular customers.
There are several benefits of using a sales prospecting tool, it allows your sales team to reach out to potential customers, and it helps save time and effort because your sales team won't spend any energy reaching out to people who are not interested in your business. Your sales team can use this tool to collect various customers' data that can help you understand their interests and preferences.
Another benefit of utilizing a sales prospecting tool is to help reduce the workload of your workers. This is important because your sales team might have other roles to play in your business, like in some organizations, salespersons are also responsible for marketing activities.
Sometimes, playing more than one role in an organization can be time-consuming and overwhelming. However, you can install a sales prospecting tool into your business system and make the life of your sales team easier.
Having sales prospecting tools means automating most revenue-generation activities, which helps eliminate manual and repetitive tasks. For instance, a sales prospecting tool allows your workers to personalize email messages and automatically send them to potential customers. This helps minimize the workload of your sales team, allowing them to focus on other vital business activities.
But you must research to find the best sales prospecting tool for your business. This is important because not all sales prospecting tools available out in the market would suit your business needs.
Social Media Tool
In this day and age, social media platforms have become an essential part of every consumer's daily life. People spend most of their time on social media, connecting with friends, purchasing products, and finding helpful information. Consumers utilize social media to find products and services, making it the best place to engage in sales efforts.  A social media tool will help your sales team engage with this online audience and get maximum revenue results.
Social media tool plays a major role in business sales activities. It enables your sales team to engage with a broad audience of customers. This helps boost your brand awareness and visibility, increasing your chances to generate more sales.
A social media tool can also enable your sales team to provide better customer service because they can always send personalized messages to customers. This enables customers to feel appreciated and boosts their satisfaction. Providing better service enables customers to remain loyal to your brand. This goes a long way in helping your business to build a strong customer base.
How Do You Find The Best Tools For Your Sales Team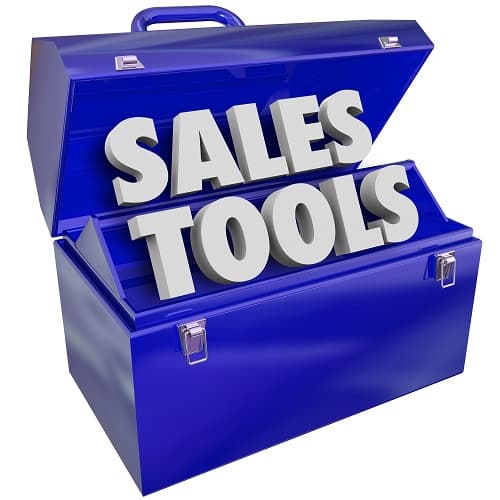 As you've read, there are several tools you can consider for your sales team. However, you must ensure you're selecting the right tools for your business. That said, here are major factors to consider when choosing tools for your sales team.
When you decide to install any tool for your sales team, you must ensure that it's compatible with the other existing applications. It should work with presently installed tools without any hassle.
Note that the main aim of purchasing tools specific to your sales team is to help them improve their efficiency. Maintain your whole business system, and make sure to select tools that is well integrated with your existing business programs or applications.
Cost is another factor to consider when selecting tools for your sales team. This includes the purchase costs, installation, maintenance, and any other associated expense. For that reason, it'd be a good idea to select sales tools that are within your budget.
Always remember that any tool you choose to make use of should be beneficial to your sales team to meet business needs. The costs may be higher or lower than the designated budget, but the important factor is the value for money and the results that can be achieved through this investment.
If you aim to grow your business and become one of the market giants, you must consider your tools' scalability.  Scalability is the ability of your tools to expand with your business. For that reason, your tools should be able to accommodate your business needs at all times adequately, even if your sales increases or decrease, your tools should be able to serve you.
Last but not least, you need to consider user-friendliness before purchasing any tool. User-friendliness is how easy it's to utilize the tools. You should select simple tools that your sales team can utilize with ease and can take the least possible time to learn. Doing this helps save a lot of time and effort for your sales team.
Takeaway
The sales team plays an integral part in any business, they help the management make sound decisions on matters related to revenues generations. This team guarantees to find new customers and manage existing ones. Without a sales team, a company will have a hard time generating sales. Their existence in a thriving business is really a priority, and providing the right tools for your sales team is a must. To promote the efficiency of your sales team, you can consider installing the above-explained tools to get maximum results.