The Internet has been around for quite some time already. Just like any invention, it keeps evolving. Network speeds get faster and we can now connect to the World Wide Web using a variety of devices – from desktop computers to mobile phones and even watches.
Naturally, together with the technological evolution, the needs and expectations of its users changed too. This means that everything – including websites – needs to change. Considering all that, it seems obvious that 2019 will bring even more changes – what will be the hottest web design trends?
Minimalism & Performance
The first trend results from growing competition in almost every industry followed by the diminishing attention span of the average Internet user. Because of those two factors, it will be harder than ever to appeal to the visitors and encourage them to take action. And any small obstacles, such as a slow website or hard-to-understand navigation or structure could make them click the back button in the blink of an eye.
To ensure that their websites work smoothly (especially on mobile devices) the first thing that entrepreneurs will have to do is check that their hosting is prepared to accommodate the visitors coming from different parts of the world and using different devices. That's why so many web owners already use cloud hosting, which provides website owners with both enough scalability and power.
On top of that, many web designers will opt for minimalistic design. Apart from helping you speed up your website, it has a few other benefits. The clear and easy-to-read way of presenting core information on your site increases the chance of conversion and the minimalism itself, together with high-quality graphics can make your brand stand out and even position it as an upscale one.
Source: Leenheyne
New Ways of Scrolling
While the design of the website itself will become more well-balanced, web designers will use other venues to try to grab the attention of site visitors. One of them will be the new way of scrolling, designed to disrupt the expected experience.
To achieve the desired result, instead of taking the user smoothly down the page, websites will use slide-in effects, animations, and parallax scrolling. While the latter was quite popular a few years ago already, recent technology developments have made it much smoother and less resource-hungry.
Another big benefit of this unorthodox scrolling method will be the possibility to keep the user attention focused on the critical part of your website for a few seconds longer – such as the core UVP or the main products that you would like them to take a look at.
Use of Natural and Geometric Shapes
To make their websites stand out, designers will implement different types of shapes. Some of them will choose traditional, geometric shapes such as triangles, squares and straight lines, all designed to grab the attention and emphasize the most important elements on the website.
Others will opt for natural, curvy shapes. Rounded button and image corners, as well as other website elements, are already quite popular, but many developers will take them one step further and make the natural shapes a prominent element on the website. Most of the time, those shapes will be used above the fold to grab users' attention and force them to look at the particular part of the site.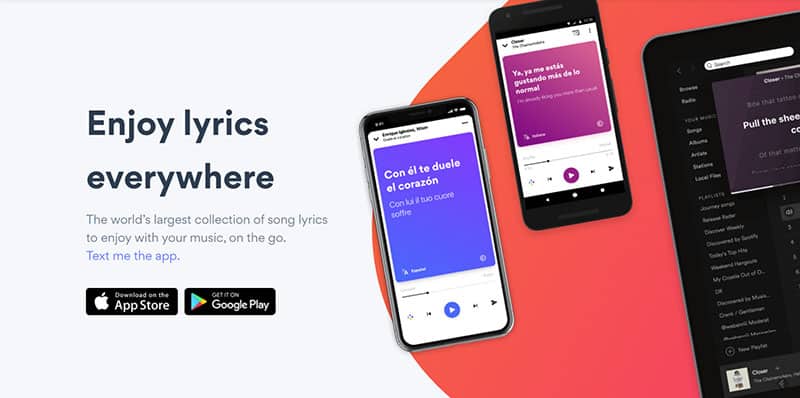 Source: Musixmatch
Even More Personalization
The next trend is old news. 44% of consumers admit that they are more likely to repeat their purchase if the shopping experience is personalized, so it's no surprise that more and more businesses are personalizing their websites and sales funnels.
Because of that, the well-known personalization methods such as showing your visitors products related to those that they have browsed or purchased are must-haves. Without them, you can't really compete with other online stores. At the same time, they are not as effective as they used to be.
That's why in order for the personalization techniques to drive your conversion rate up, you need to take your efforts to the whole new level. Which means creating a streamlined personalization strategy for the whole website that will include as much data about your visitors as you can get.
Entrepreneurs will need to use the information gathered about their audience to offer them specific discounts based not just on their purchase history, but even on the category that they spend the most time in, their stage in the buyer's journey and even the weather outside.
Unique Graphic Design
2019 will also mark the death of stock photos – at least those of poor quality, which decrease your credibility and almost force your site visitors to turn around and go elsewhere. And while high-end, carefully-selected stock images will still be used on certain landing pages, in the blog posts, and on social media, they are completely out of the game when it comes to eCommerce.
But to stay competitive, you will need more than just unique graphics. The images that you add to your website need to present the products in a way that will make the viewer want the product immediately. Another trend will be to "blend" the images with the website design – which means that product photos on a white background could soon be gone too. Unfortunately, all that will drive the cost of setting up a high-quality eCommerce store up.
The good news is, on top of helping you increase sales, unique images can also attract extra visitors to your site. Naturally, as long as you optimize them correctly. It's worth remembering that Google image search is the second most popular search engine in the world, far exceeding YouTube. Behind the regular Google search, of course.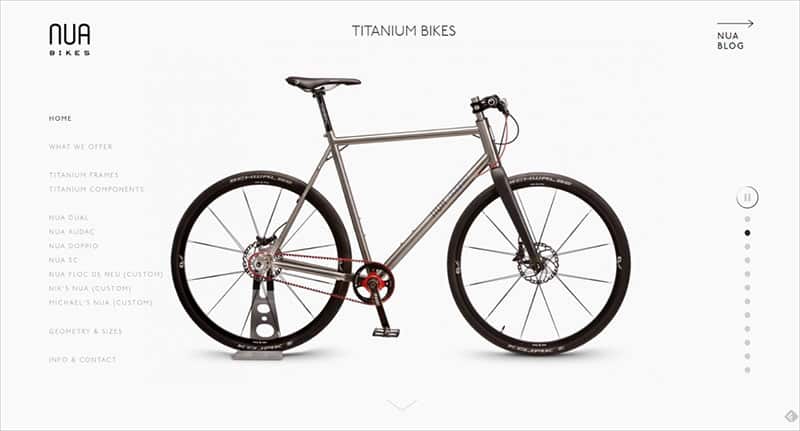 Source: Nua Bikes
VR & Augmented Reality
One more trend that, after the initial explosion of interest, went into a slight decline and is now coming back is the use of VR and AR. Thankfully, more users can afford the necessary devices to enjoy the experience and many websites started implementing VR and AR solutions that actually make sense and are easy to view even with the use of a smartphone.
The latter has become possible thanks to developers, who seem to have finally understood that it's not about the effects and gimmicks but rather about the usability and user experience. Naturally, both technologies are still heavily under-used – so now it's the best time to implement them (properly) on your own website!
GodL乄GuRi