Anyone familiar with the graphic design world is no stranger to graphic design software, and in most cases, the software could either be Adobe products or CorelDraw. For the most part of my graphic design journey, I used CorelDraw. As impressive as these products are, they all have one inconvenience: they aren't free.
While some professional designers wouldn't mind purchasing their tools, others and most beginners in the graphic design field will prefer to experiment with free programs. Unbeknownst to most, there exist some powerful free and open-source design programs, which are about as powerful as the paid, popular ones.
In any case, you can start practicing with free programs and gradually switch to more advanced programs as your design needs shift and evolve. However, if the project requires in-depth expertise in design, it's best to look for UX designers for hire. Professionals in this field would know how to approach graphic design even with free software programs. 
For businesses in London, seeking professional design assistance is even more convenient, as there are several reputable UX design agencies in London that can provide expert guidance and creative solutions tailored to your specific needs, whether you opt for free or advanced design tools.
Also, Read: Top 5 Absolutely Free Open-Source AntiVirus Tools for PC
Best free and open-source software for graphic designing
I'm starting the list with my favorite. In my opinion, Inkscape should be hailed as the best open-source logo design program. Its functionality goes beyond designing logos and can be used to create vector graphics in general, including illustrations of all forms, diagrams, line arts, charts, and complex paintings. The primary format of Inkscape files is in the SVG format, but files can also be exported as a PNG or PDF. It has a versatile text tool, pencil and pen tools, shape tools, embedded bitmaps, the ability to create clones, object manipulation in the form of transformations, z-order operations, grouping, layering, alignment, and distribution.
In addition to Fill and Stroke functions, edits such as node editing, boolean operations, path simplification, and bitmap tracing can be done directly on paths can be done.  Inkscape can be compared to Adobe Illustrator and CorelDraw. Being free doesn't diminish its versatility. It's capable of almost everything Illustrator can do, except the ability to output files in the CMYK color format. Being cross-platform, Inkscape supports all major operating systems.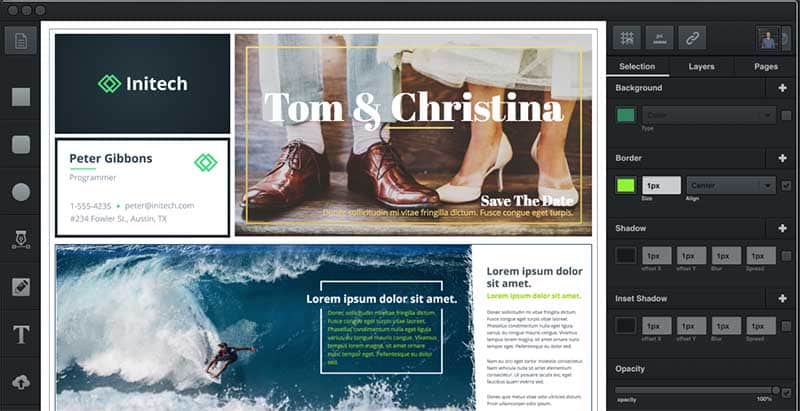 Vectr is a free graphics software used to create vector graphics easily and intuitively. It's a simple yet powerful web and a desktop cross-platform tool to bring your designs into reality. Vectr's most prominent advantage is its low learning curve, which lets a newbie get started immediately and master vector graphic creation easily. Vectr's intuitive tools let you focus on what truly matters – creating beautiful graphic designs. Vectr exists both for download on a desktop (cross-platform too), and on the web, where it has a real-time sharing feature.
You can send anyone a Vectr document for real-time collaboration without the wait. Others can watch you create and edit designs live, whether you're in the web app or desktop version. The magic of vector graphics, when compared to their raster counterpart can be seen during scaling. Raster graphics lose quality when resized. Vectors do not. Create blur-free logos, presentations, cards, brochures, website mockups, or any 2D graphic with Vectr.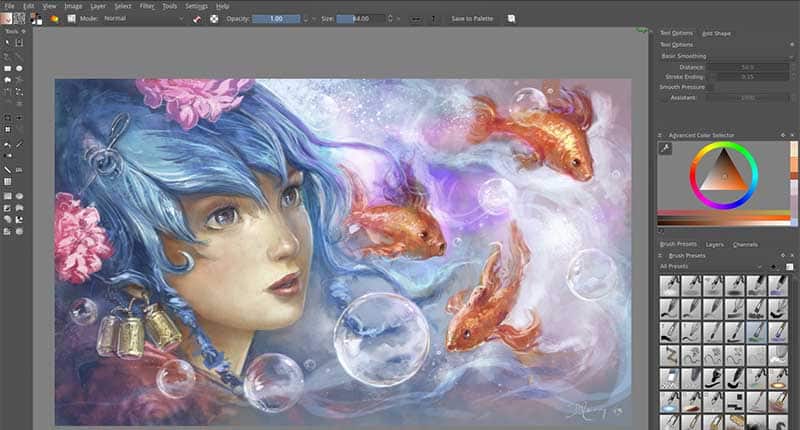 Krita is a professional FREE and open-source program primarily used for creating raster graphics, especially for digital painting. It has a low-distract UI,  color management support, an advanced brush engine, non-destructive layers and masks, group-based layer management, vector artwork support, and switchable customization profiles. Cross-platform, it will run on Linux, Microsoft Windows, and macOS. Krita's native document format is Krita Document (.kra) but it can also be saved to many other file formats including PSD.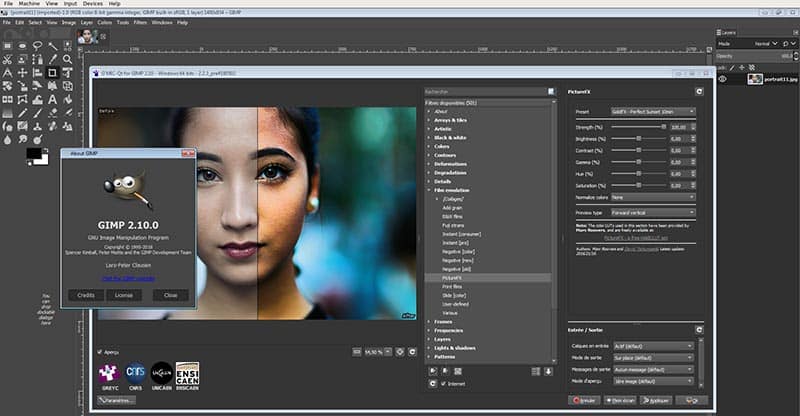 Indisputably, Gimp is the best free & open-source image editor. GIMP is a cross-platform image editor available for GNU/Linux, OS X, Windows, and more operating systems. GIMP provides the tools needed for high-quality image manipulation. From retouching to restoring to creative composites, the only limit is your imagination. Furthermore, GIMP gives artists the power and flexibility to transform images into truly unique creations.
GIMP is used for producing icons, graphical design elements, and art for user interface components and mockups. You can further enhance your productivity with GIMP thanks to many customization options and 3rd party plugins. GIMP provides extensibility through integration with many programming languages including Scheme, Python, Perl, and more. This results in a high level of customization as demonstrated by a large number of scripts and plug-ins created by the community.
Conclusion
Remember that the quality of your work will depend on the software you use, and how well you use it. At the very start, using programs like Gimp and Inkscape will take time to master. They have a large array of tools, and each tool has to be used to full potential in order to get the best work. Once you master how to use them, you begin to realize that they can be used in place of the "professional" paid programs.