There is a lot of talk about Blockchain and cryptocurrencies in the space of technology. Many companies and startups are growing day-by-day making Blockchain as their driving force. Trends suggesting that it is one of the technologies in the fourth industrial revolution that evolve, innovate, and incorporate.
It is also said to be the people are showing a lot more interest in Blockchain, the investments are surging to peeks. As a result, Organizations, Companies, Startups, and Businesses are lacking huge skill gap for creating and implementing blockchain technologies. Due to this, there are many opportunities pouring for blockchain enthusiasts to make a career out of this fascinating technology. In this article, I come up with five best career options in the space of blockchain.
Here are the 5 career options for Blockchain programmers and developers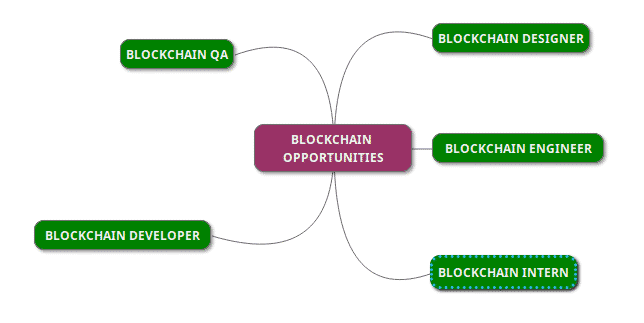 1. Blockchain intern
Blockchain intern is the first step for the people who are willing to start a blockchain technical career. This is the best opportunity for programmers and developers to begin to work on blockchain technologies. A startup or an established company will be the first choice for getting a blockchain internship. Many companies offer entry-level or fresher positions to the beginner blockchain enthusiasts. The technical skills required for interns are NodeJS, CSS and HTML, Java, C++, React, Solidity, Truffle, Go, and APIs.
The blockchain intern will work on:
Private blockchains
Software solutions for blockchains
Distributed ledger technologies
3. Blockchain developer
There are different institutions like financial companies, banks, government organizations, insurance, and technology companies adopting blockchain technologies. So, the blockchain developer is will be the hot career opportunity for many graduates and expert developers. Various companies want to cram blockchain technology for providing better service to the clients. This can only be achieved by the developers who create best programs using the technical skills Javascript, Node.js, Jquery, SOAP, REST, MYSQL, Neural-networks, Regression, Agile Scrum, C, C++, and more
Blockchain Developers needs to work on:
Public and Private blockchains
Blockchain Use cases
Need to create distributed ledgers
Create software for blockchain technology
3. Blockchain quality engineer
The quality engineer is the responsible professionals in the field of Information Technology, even blockchain need its support. These people who need to look after the quality of blockchain development environment. The people good at implementing automation frameworks and tests, manual testing, and dashboard support are best suitable for this role. These professionals are also responsible for the planning and delivery of complex blockchain projects.
Blockchain quality engineers will perform:
Research about tools, technologies, and test automation methods.
Perform new test automation strategies
Develop and apply Quality Assurance tests
4. Blockchain designer
Due to the rise in blockchain startups and businesses, there will be a requirement of designers who can design websites and apps for spreading a word to customers and clients about blockchain services and technologies. The UI/UX designers, graphic designers, and video designers in the blockchain space are the top opportunities for designers. Most of the blockchain designers need to come up with technical skills like HTML, CSS, Javascript, Jquery, Bootstrap, React, Swift, Sketch, PS, Figma, and more.
Blockchain Designers generally perform:
Designing web pages and app pages for new blockchain companies
Create graphic content to spread the information in blockchain space
Need to create a good user interface for effective marketing
5. Blockchain engineer
If you are capable of implementing various services using blockchain technologies, then blockchain engineer role is for you. There is a lot of demand for blockchain engineer opportunities. He is the person who can develop and engineer digital services for the companies by creating and implementing blockchain solutions. The high demand skills for blockchain engineer are Java, Hyperledger, fabric, ripple, solidity, Oracle, Identity, Python, and bitcoin.
Blockchain engineer is required to:
Study the technology needs of the companies
Create applications that meet blockchain business needs
Build an infrastructure to use Ethereum and bitcoin
It is not the end of opportunities for blockchain enthusiasts, there are a lot of other roles to come in the near future which help the blockchain technology grow extensively.