Digital document management has become a crucial part of our lives. MS Word files have also become one of the most common tools for this purpose. This tool helps us to store valuable information like work reports and academic projects. However, a corrupted Word file can be a nightmare. It can lead to damage or data loss. In such scenarios, a cost-free solution is needed to fix Word file issues quickly and efficiently.
Thankfully, there are free online tools available to repair corrupted Word files. In this article, we will discuss the top three solutions that can help you salvage your important content without spending any money. These tools can handle a variety of document issues, such as MS Word files not opening, unreadable text, and others.
Even though, if you need to recover a critical report, blog, or an important exam, we've got you covered. With these amazing tools, you can repair corrupted Word files online for free and regain access to your documents instantly. So, keep reading.
Part 1. Possible Causes of a Damaged Word File
Before we delve into discussing the online free tools to fix Word files, it's important to understand the possible causes of a damaged Word file. Being aware of these common reasons can help you take proactive measures to maintain the integrity of your documents and prevent corruption. Here are some of the most common causes:
1. Virus or Malware Infection
The first and foremost reason for Word file corruption is the presence of viruses or malware on your computer. These malicious programs can modify or delete file content, leading to corruption.
2. Sudden Power Outages or System Crashes
Unexpected power outages or system crashes can also result in file corruption. When the saving process of a Word document is interrupted due to such events, it can lead to file corruption.
3. Incompatible Software or Plugins
Using incompatible software or plugins to open, edit, or save Word documents can cause corruption. Different versions of Word or third-party applications may not be fully compatible with each other, leading to file corruption.
4. Disk or Storage Media Errors
Last but not least, errors on the disk or storage media where Word files are stored can lead to corruption. This can be caused by bad sectors on the hard drive, faulty USB drives, or other storage issues.
Part 2. Top 3 Online Tools for a Corrupted MS Word Repair
Method No: 01. Fix Word File With WordFIX
Are you struggling with corrupted Word files? WordFIX is here to help! This user-friendly and efficient Word repair software is designed to recover data from damaged Word documents, providing a reliable solution for both individuals and professionals.
One of the standout features of WordFIX is its ability to handle non-Western characters in corrupted files, making it an ideal tool for those dealing with international documents. In addition to this, WordFIX is fast, and intuitive and offers a simple yet effective way to retrieve your lost data.
Here's how you can use WordFIX to recover your files:
Step 1. Visit the WordFIX website or a trusted source and download the software. Follow the installation instructions to set up WordFIX on your computer.
Step 2. Launch the WordFix tool and click on the "Open" or "Browse" option to select the corrupted Word file you want to repair.
Step 3. Once you have selected the file, click on the "Analyze" button. WordFIX will start the analyzing process, which is usually fast, and you'll see a progress bar.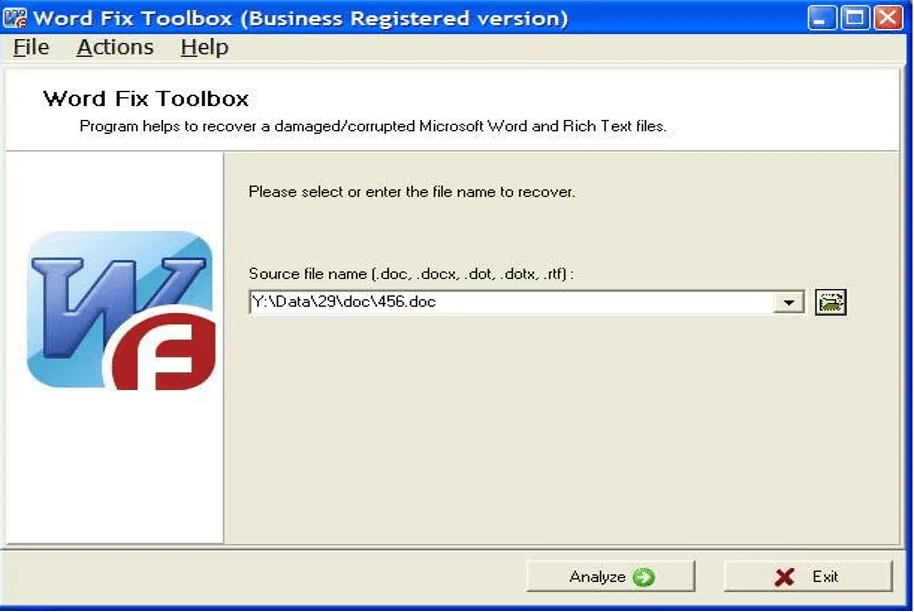 Step 4. After the repair is done, save the repaired Word file by choosing a location to save it on your computer. Make sure to give it a different name to avoid overwriting the original corrupted file. And the process is completed.
Method No: 02. Recovery MS Word File Using Wondershare Repairit File Repair
If the problem remains the same, look no further than Wondershare Repairit File Repair! This top-tier Word file repair tool is designed to recover your vital Word documents and restore them to their original state, all while ensuring the utmost security and reliability.
One of the standout features of Wondershare Repairit is its versatility. It can be used on both Windows and Mac OS X platforms, making it a great choice for users across different operating systems. Also, if you're dealing with a small or large number of files, there are no restrictions on the quantity or size of files that can be repaired.
Take a look at some of its exceptional key features.
Provide a user-friendly solution to fix text, images, fonts, hyperlinks, headers, footers, and more effortlessly.
No restrictions on the quantity or size of files that can be repaired.
Ensure flawless file repairs with an exceptionally high success rate, all while keeping the original file intact.
Seamlessly recover files with various levels of corruption, such as those that appear blank, won't open, have an unrecognizable format, contain unreadable content, or have altered layouts.
Compatible with Office 365, MS Word 2019, 2016, 2013, 2010, 2007, and earlier versions.
To utilize this tool follow the below steps.
Step 1: Download Wondershare Repairit on your device. Alternatively, you can use the tool free online by visiting the official website.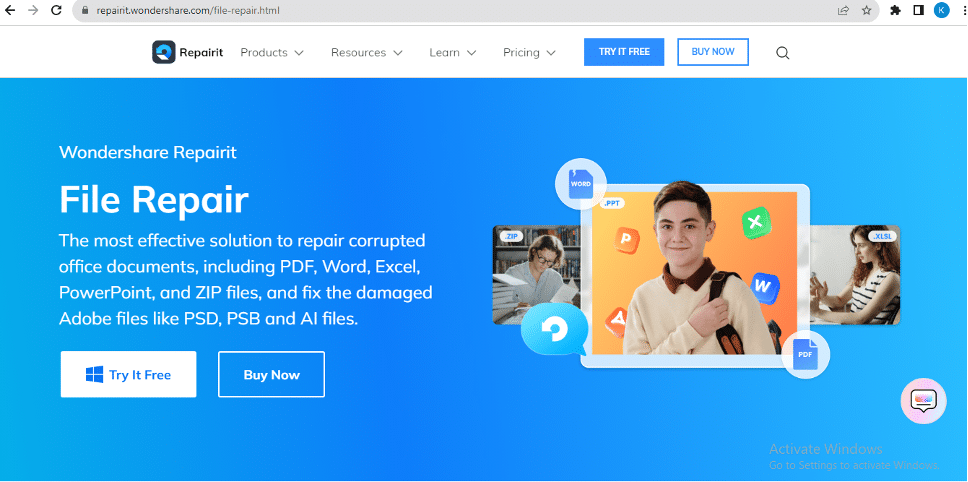 Step 2: Launch the software and go to "More Types Repair > File Repair".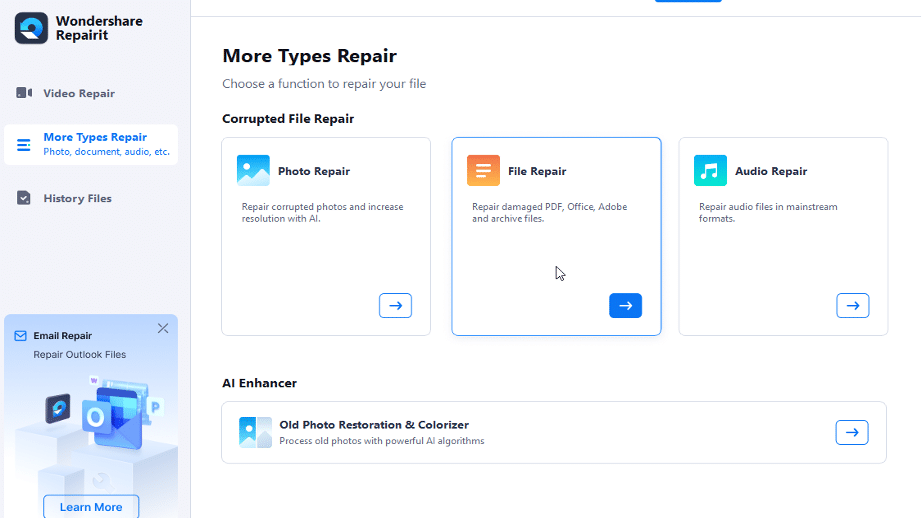 Step 3: Click the "+Add" button and import all the damaged or corrupted MS Word files that you want to repair.
Step 4: Once you've imported all the files, click the "Repair" button and wait for a few minutes until the process is complete.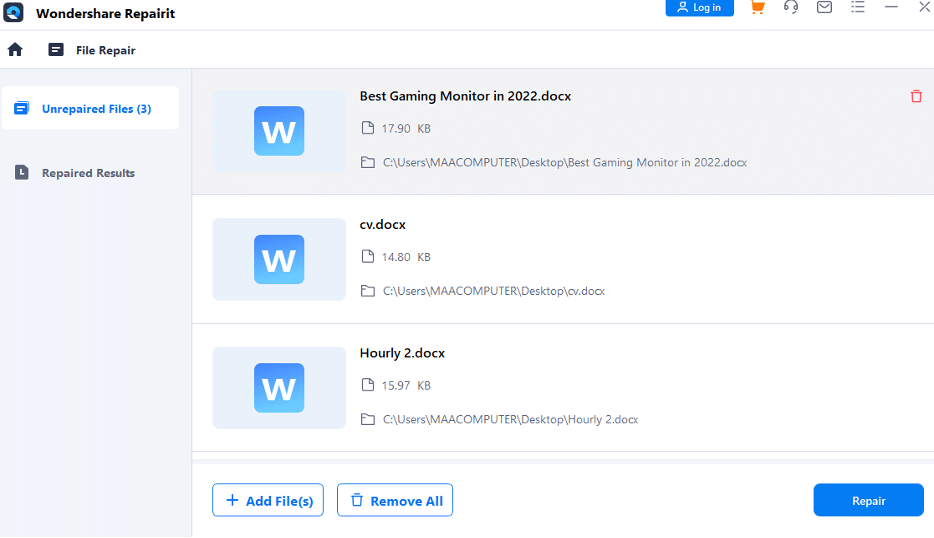 Step 5: Click the "Preview" button to review all the MS Word files. If you're happy with the results, click the "Save All" button and choose the specific location in your device to save them.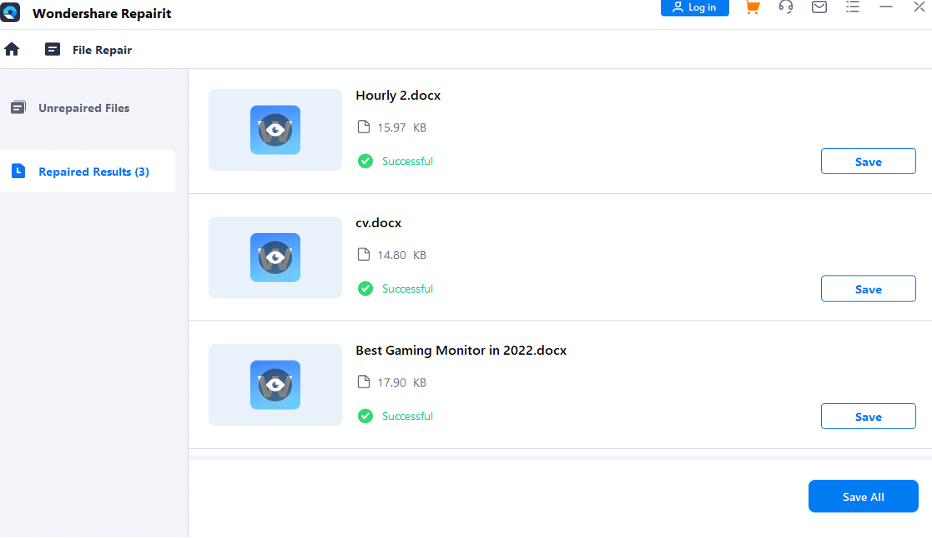 Wondershare Repairit File Repair is a user-friendly and powerful tool that can help you in repairing Word files quickly and efficiently. Don't wait any longer to try it out!
Method No: 03. Remo The Microsoft Word Repair Tool
Lastly, introducing Remo, the MS Word Repair Tool, is a trusted and efficient solution for the swift recovery of corrupted Word files. This remarkable software is renowned for its ability to repair both .doc and .docx files, offering compatibility with various Microsoft Word versions.
The software offers a comprehensive restoration of OLE objects, hyperlinks, formatting, and text within corrupted .doc files. What sets Remo apart is its user-friendly approach, allowing you to preview the recovered data from the damaged Word file and retrieve exactly what you need.
To repair your Word files using Remo, follow these simple steps:
1. Download Remo Word Repair on your computer.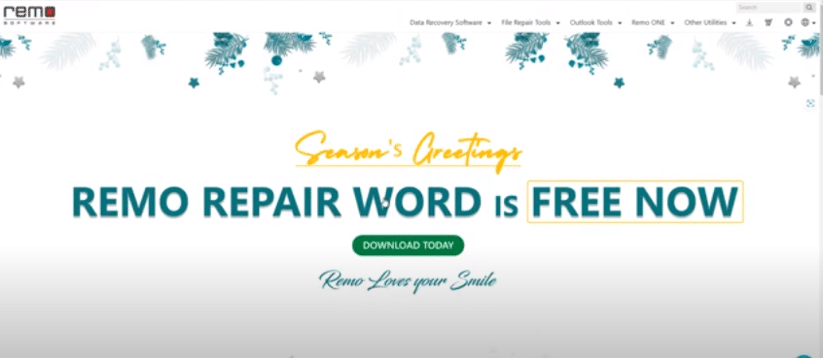 2. Launch the software, and select the corrupted Word file you want to repair. Next, click the Repair button.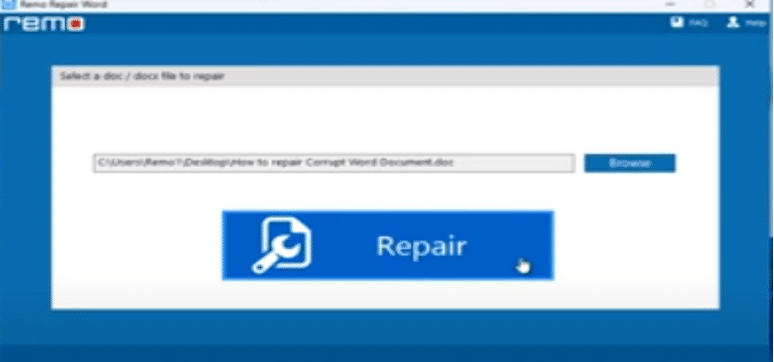 3. Remo will start the repair process, which is usually fast, and you'll see a progress bar.
4. Once the repair is complete, preview the recovered data to ensure its accuracy.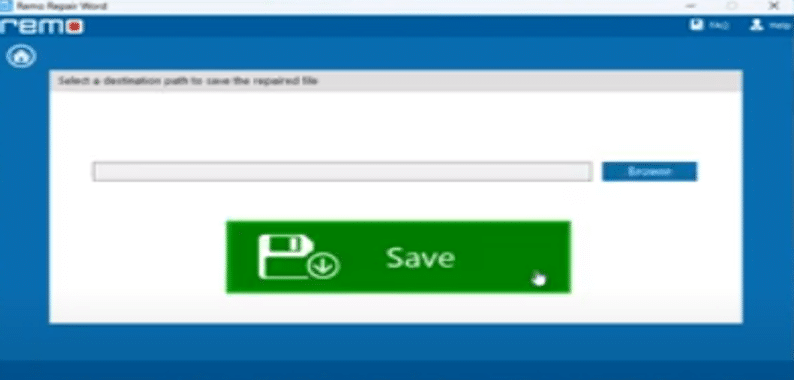 5. Lastly, Save the repaired Word file to your desired location by clicking the Save button.
Part 3. Tips & Tricks to Prevent Corrupted Microsoft Word Files
Dealing with corrupted Word files can be a real pain, but there are proactive steps you can take to reduce the risk of encountering this issue. Here are some tips and tricks to help you avoid the frustration of dealing with corrupt Word documents in the future.
It's a good habit to frequently back up your Word documents to an external drive, cloud storage, or a secure server. This ensures that you always have an uncorrupted copy in case of unexpected issues.
Keep your operating system and word-processing software updated. Software updates often include bug fixes and improvements that can prevent corruption.
Protect your computer from malware and viruses that may corrupt your files by installing and regularly updating antivirus software.
Always close Word documents and the software properly. Avoid forceful shutdowns, which can lead to document corruption.
When sending Word files via email, try to avoid large attachments. Use file-sharing services or compress files if necessary.
Regularly check the health of your storage media (hard drives, USB drives) to ensure they are not developing issues that could lead to file corruption.
To Sum Up
In this article, we discussed three exceptional free online tools, WordFIX, Wondershare Repairit File Repair, and Remo Word Repair Tool, to effectively address the issue of corrupted Word files. These tools offer efficient solutions for recovering vital documents with their user-friendly interfaces and compatibility.
Furthermore, by implementing the tips and tricks mentioned in this article, you can significantly minimize the risk of encountering corrupted Word files. In today's ever-evolving digital landscape, the safety and accessibility of your valuable documents are paramount.
Whether you're currently dealing with corrupted Word files or want to prevent such issues in the future, this article equips you with the knowledge and tools necessary to navigate and conquer these challenges, ensuring the integrity of your digital documents. Thank you.