Nowadays, the use of vehicles has become inevitable, especially with the exclusive innovations and stylish designs they have become more like a necessity. But the extreme obsession with cars is usually found in teenagers and Gen Z, and with this obsession comes a terrifying risk of accidents. This is why parents prefer to keep track of their kid's whereabouts to ensure they're safe.
Various free phone tracker applications facilitate the parent users to keep track of their kid's whereabouts such as the Wondershare FamiSafe phone tracking tool. Amazing, right? In this article, we'll discuss how phone tracking apps such as Wondershare FamiSafe can facilitate parents in keeping track of their kid's whereabouts.
Part 1: Causes Why Accidents Happen Today
Unfortunately, incidents of car accidents have increased a lot in the past couple of years. Numerous reasons, such as human error or technical failure, can lead to accidents. This is why you need to stay alert and focused while driving. Some of the reasons behind car accidents are mentioned below:
1. Distracted While Driving
The most common reason why car accidents happen is because of distraction which is why it is emphasized by the law consistently to stay alert while driving. Talking on the phone or texting someone while driving can lead to a severe accident which can even cost you your life which is why avoid doing things like using your phone, eating, or reading when you're behind the steering wheel.
2. Amateur Driver
Amateur driving can lead to accidents. If you're a beginner driver, you surely aren't aware of how driving works, especially on crowded roads. Driving requires you to be patient and calm; otherwise, you can get tangled in various messy situations. Especially young drivers who tend to make videos on their phones while driving are a severe danger to the road.
3. Usage of Social Media
Nowadays, people, mainly social media influencers, want to update every moment of their day. Using social media and holding live sessions or clicking snaps while driving can lead to an accident. If you want to avoid accidents, stop using your phone while driving.
4. Incompetent GPS Tracker
If you're going to some new town or area, you're usually at the mercy of digital maps but are these GPS and map tracking apps always accurate? Well, there are usually some faults in the tracking system of these sorts of applications which can not only waste your time but can also get you into accidents. For instance, if you take a reckless turn and get hit by an oncoming vehicle. This is why you should always use reliable map tracker applications.
Part 2: Wondershare FamiSafe – The Tool to Obtain Driving Reports
Wondershare FamiSafe is a wholesome phone tracker tool with various exciting features. With its easy-to-use interface, anyone can easily navigate it without getting confused with tech language, which is usually an issue with other fancy tools. FamiSafe offers a safe and reliable phone tracking feature that comes in handy, especially for the parents, as they can keep track of their kid's activities. It provides you with the proper driving history on your phone screen, so no more worrying or bugging your kids by excessively calling or texting them.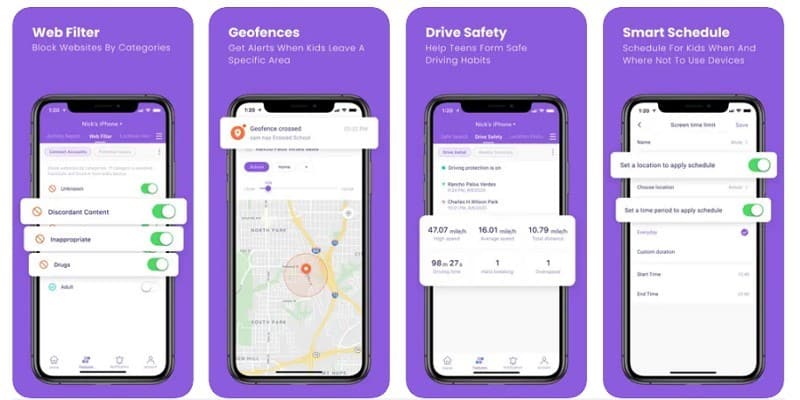 FamiSafe offers an application that is compatible with both iOS and Android devices. Even though you're sitting at home, you can still overview the driving details of your kid anytime with this excellent phone tracking tool. Great, right? It lets you set settings like a speed limit, so you'd be notified immediately if your kid goes over the limit which you've set.
Its advanced tracking feature keeps you updated on the driving routine and history. The innovative and efficient processor keeps records of the previous driving schedule and even compares it for you with the latest updates to highlight if your kid's driving habits have improved or not. So no more stressing about how you can keep a check on your kids to ensure they stay away from any danger.
Part 3: Tips to Protect Kids From Car Accidents
By following rules imposed by law and developing healthy driving habits, you can surely avoid car accidents. Always stay active and drive with precautions when you're behind the wheels to keep your driving experience safe. Following are some of the tips that you should guide your kids for safe and secure driving:
1. Don't Get Distracted
While driving, try staying away from indulging in other activities such as using your phone or having a conversation, or even listening to loud music to keep yourself focused on the road. Chatting and attending a call while driving is one of the everyday things people do, which might not seem like a dangerous thing at the moment, but it can cost you your life if you don't let go of these habits.
2. Stay Calm While Driving
We often see in movies how reckless driving can lead to a severe accident which can become a life or death situation. This is why you should always stay calm while taking a drive. Otherwise, who knows what tragedy can occur? Often, we get into an argument while talking on the phone or take a drive after some heated discussion with our boss or colleague, which can make us drive reckless and unfocused, creating a scary situation. To avoid this scenario, only drive when you're in the right mind, and avoid making intense conversations on calls when you're behind the wheel.
3. Stay Cautious
Staying cautious on the road is the most important thing to do if you want a safe driving experience. Often teenagers or amateur drivers lose control of their car by violating traffic and driving rules such as speed racing or using their phones without any awareness of the road, which is why you need to stay cautious and prepared for any unfortunate situation on your way.
4. Avoid High Traffic
Avoiding high traffic and busy roads is a smart thing to do, especially if you're an amateur driver. These roads require patience and experience driving; otherwise, you'd be lost for hours in traffic and can even meet with an accident.
Conclusion
Parents often worry about their kid's safety, especially when they start driving. As teenage car accidents are on the verge lately, parents' concerns have also increased. Still, with the help of a valuable phone tracker tool such as FamiSafe, you can easily keep a check on your kid's whereabouts from the comfort of your sofa.