The best android launchers allow you, the user to fully control and customize your phone's home screen. It allows you to give your phone a complete makeover and leave your own personal mark on it. From icons to themes, from futuristic to minimalist an android launcher will allow you to get the exact look you want.
Although finding the best among android launchers for your smartphone is a matter of your own personal taste, here are our top 5 among the best Android launchers that are a definite head-turner.
5 Best Android Launchers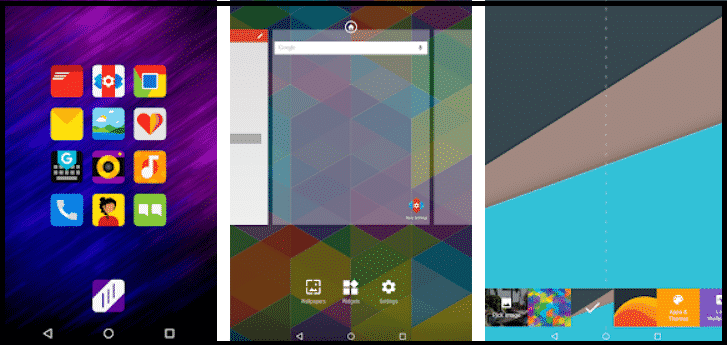 You just can't talk about Android launchers without mentioning Nova launchers. Nova Launcher is a powerful, customizable, and versatile home screen replacement. Nova brings advanced features to enhance your home screen but remains a great, user-friendly choice for everyone. Whether you want to completely overhaul your home screens or are looking for a cleaner, faster home launcher, Nova is the answer.
Key features:
Custom Icon Themes: Nova supports thousands of icon themes available in the Play Store.
Night Mode and Dark Theme: Have night mode come on automatically at a specific time, or just leave it on for a dark theme.
Customizable App Drawer: Vertical or horizontal scroll, page effects, and card or immersive options are just a few of the things you'll find available for the app drawer.
Backup and Restore: Moving from phone to phone or trying new home screen setups is a snap thanks to Nova's backup and restore feature. Backups can be stored locally or saved to the cloud for easy transfers.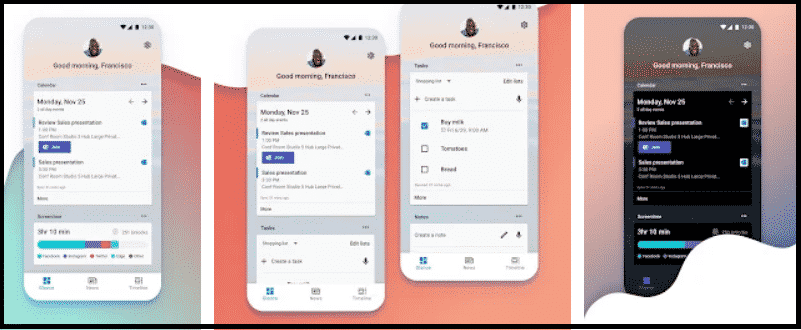 After rebranding the formerly known Arrow launcher, Microsoft launched the brand new Microsoft Launcher. Whilst staying true to Arrow's original design language, Microsoft improved the interplay between your android phone and windows PC. Microsoft Launcher provides a new home screen experience that empowers you to be more productive on your Android device. Microsoft Launcher is highly customizable, allowing you to organize everything on your phone.
Your personalized feed makes it easy to view your calendar, to-do lists, and more. Sticky Notes on the go. When you set up Microsoft Launcher as your new home screen, you can either start fresh with your favorite apps or import your current home screen layout. Need to switch back to your previous home screen? You can do that, too!
Key Features:
Personalized news: Stay informed with a personalized news reading experience that is consistent across all your devices.
Customizable icons: Give your phone a consistent look and feel with custom icon packs and adaptive icons.
Beautiful wallpapers: Enjoy a fresh new image from Bing every day or choose your own photos.
Dark theme: Comfortably use your phone at night or in low-light environments with Microsoft Launcher's new dark theme. This feature is compatible with Android's dark mode settings.
Landscape mode: Microsoft Launcher supports vertical and horizontal orientations to enhance your viewing preference.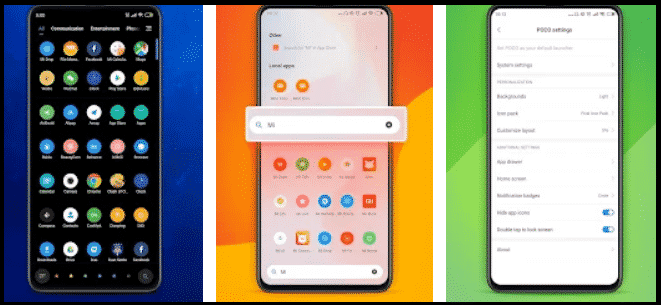 If you've always loved the clean and minimalist look of Xiaomi phones but don't own one, look no further for this is the only app you need to completely transform your phone with your dream aesthetics. POCO Launcher is a fast and lightweight launcher designed especially for Android phones. Its high performance and gorgeous design will give your device a boost of confidence. Play with Home screen wallpapers, themes, and animations; personalize your device to make it truly unique.
POCO Launcher has been awarded as one of the best 15 apps released in 2018.
Key Features:
Minimalist design: Following in the footsteps of Material Design, POCO Launcher puts all your apps in the App drawer, keeping the Home screen neat and clean.
Personalization: Resize the Home screen layout and app icons. Apply customized wallpapers, themes, and animations. Use third-party icon packs to give your device a new look.
Privacy: Keep your apps private by hiding their icons.
Convenient search: App suggestions, icon color categories, and lots of other customizable features allow you to find what you need much faster.
Manage apps: Group apps by category automatically or create custom groups to always keep important things just a tap away.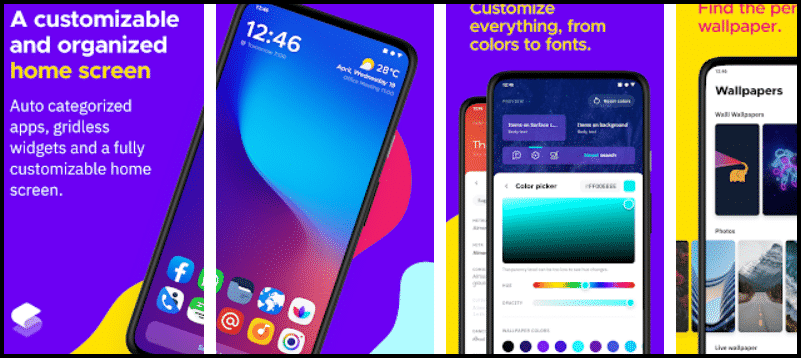 Improving upon its previous iterations Smart Launcher 5 is the newest android launcher from the Smart Launcher Team. Smart Launcher 5 provides a new Android experience focused on efficiency and customization. It's everything you need to perform your daily tasks faster, easier, and with style.
Key Features:
Automatic app sorting: Apps are automatically sorted into categories, you won't have to waste time organizing your icons anymore!
Smart search: The Smart Launcher search bar allows to quickly find contacts and apps or to perform actions like searching on the web, adding a contact, or performing a calculation.
Adaptive icons: The icon format introduced with Android 8.0 Oreo is fully supported and available for any Android device! Adaptive icons mean not only customizable shapes but also beautiful and bigger icons!
Customization: Smart Launcher is completely customizable. You can now modify every single color of the smart launcher theme unlocking infinite possibilities of color combination. Change fonts on the home screen choosing among thousands of fonts from Google Fonts.
Gestures and hotkeys: Both gestures and hotkeys are supported and configurable. You can turn off the screen with a double-tap or show the notification panel with a swipe.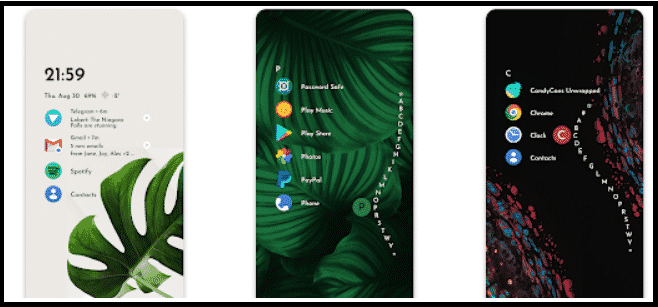 If clean and minimalist is your style statement look no further for Niagara Launcher is designed to keep all the essential information front and centre, whilst keeping all distractions to a minimum. The minimalist Niagara Launcher makes everything accessible with one hand and lets you focus on what matters.
Key Features:
Ergonomic efficiency: Access everything with one hand – no matter how big your phone is.
Adaptive list: In contrast to a rigid grid layout used by other Android launchers, Niagara Launcher's list can adapt to your needs. The media player, incoming messages, or calendar events: everything pops in when it needs to.
Wave alphabet: Efficiently reach every app without even having to open an app drawer. The launcher's wave animation does not only feel satisfying but also helps you navigate your phone with just one hand.
Ad-free: Ads on a minimalist launcher to declutter don't make sense. Even the free version is also completely ad-free.
Embedded notifications: Not just notification dots: Read and respond to notifications right from your home screen.