Do you currently not have a good pc to play games? Do you need a Gaming PC Build under ₹80,000 ($1097)? Do you need a PC that serves entertainment and as well as beast gaming performance? Do you think you need an upgrade to buy a gaming rig and budget is not your concern? Well don't worry, you'll find an interesting beast gaming PC configured in this article.
Parts
The total roughly comes close to 80,000 INR. Offline Prices of these products may vary in prices and you may get the difference of somewhat of 5-10k INR.
CPU Description: AMD Ryzen 5 2600
As the budget is almost 80,000 INR which is a big amount, a good beast CPU is well deserved in this price range. So here, AMD Ryzen 5 2600 which cost around ₹13,231 (on MDComputers). It has 6 cores and 12 threads with Max Boost Speed up to 3.9GHz. It has a Game cache of 19MB. TDP of around 65W so the PSU Cooler Master MWE GOLD 650W will maintain it very well. Its memory is 2993MHz with a base clock of 3.4GHz.
Motherboard Description: ASRock B450M Steel Legend Motherboard
We've selected ASRock B450M Steel Legend Motherboard represents the philosophical state of rock-solid durability and irresistible aesthetics. Built around the most demanding specs and features, the Steel Legend series aims at daily users and mainstream enthusiasts! Providing a strong array of materials/components to ensure stable and reliable performance. A motherboard that fulfills every task – with style!
Features of ASRock B450M Steel Legend
AMD AM4 Socket
Supports DDR4 3533+ (OC)
1 PCIe 3.0 x16, 1 PCIe 2.0 x16, 1 PCIe 2.0 x1
AMD Quad CrossFireX™
Graphics Output: DisplayPort, HDMI
7.1 CH HD Audio (Realtek ALC892 Audio Codec), Nichicon Fine Gold Series Audio Caps
4 SATA3, 1 Ultra M.2 (PCIe Gen3 x4), 1 M.2 (SATA3)
2 USB 3.1 Gen2 (Rear Type-A+C)
6 USB 3.1 Gen1 (2 Front, 4 Rear)
Realtek Gigabit LAN
GPU Description: INNO3D GEFORCE RTX 2060 SUPER TWIN X2 OC Graphic Card
We suggest Inno3D Geforce RTX 2060 Super Twin x2 OC Edition Graphics Card for better performance in gaming with the CPU so that it doesn't get bottleneck. It has a memory clock of 14Gbps, a Standard memory config of 8GB and its memory interface is GDDR6 with a width of 256-bit. It does support Microsoft DirectX 12. It consists of HDMI 2.0b, 3x DisplayPort 1.4.
PSU Description: Cooler Master MWE GOLD 650W
The PSU Cooler Master MWE GOLD 650W fully consumes the overall Watts energy of a whole PC. So in the future, there won't be an issue with power consumption even if you plan to upgrade your PC. Behold the 80 Plus Gold rated, fully modular MWE Gold. This power supply unit delivers consistent 90% efficiency, low temperatures, and quiet operation. High quality, heat resistant components have been used to achieve gold level performance at temperatures up to 45°C. The Silencio fan and exclusive LDB bearings provide nearly silent cooling at no loss to system performance and a longer lifespan. Flat cables improve airflow by reducing cable bulk and a single +12V line ensures all components are fed the same, stable output regardless of which cable you use. Be bold, power with gold.
RAM Description: G.Skill Trident Z RGB 16GB (8GBx2) DDR4 3000MHz
The Perfect RGB Ram dual channels (8GB x 2) of DDR4 with 3000MHz Clock Speed. It has a tested latency of 16-18-18-38-2N and the tested voltage is around 1.35V.
SSD Description: WD Green Internal SSD 1TB
Hard Disk has become Old now, Featuring 1TB SSD with a price range of 5-8K would be a great deal. Run every program on your PC with a very minimal response time. Gaming will be very faster and it'll definitely enhance the user experience.
Benchmarks
Credits: https://www.gpucheck.com/gpu/nvidia-geforce-rtx-2060-super/amd-ryzen-7-3700x/
| | |
| --- | --- |
| Maximum Recorded Temperature | 72C |
| Max Fan Noise | 45.6dB |
| Recommended Power Supply | 500W |
| CPU Impact on FPS | -20.8 FPS |
| Benchmark Quality Settings | Ultra Quality Settings |
| Average 1080p Performance | 95.0 FPS |
| Average 1440p Performance | 68.5 FPS |
| (Ultrawide) Average 1440p Performance | 58.7 FPS |
| Average 4K Performance | 41.2 FPS |
| Memory | 8 GB |
| Overall Combination Score | 79/100 (Very Good) |
Also, PCBuilds.com has provided the bottleneck information about these two components working together and yes there's a green light for it as it doesn't get bottleneck issues.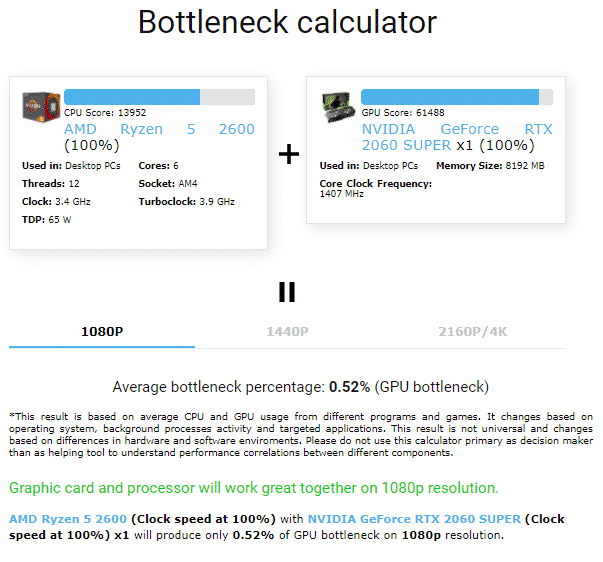 Conclusion:
If you are a gamer who plays CSGO, Rocket League, Fortnite, or Dota 2 then this is the PC that will definitely give you max FPS and you'll be needing a suitable 144Hz or 240Hz Monitor to run it with sync. However, if you want to play some AAA or High-Quality Games, then yes, this PC is the Beast. You'll get good FPS on Max Ultra settings too.
Hope We have given sufficient insight into the PC build. Feel free to comment down below if any changes are there or if you need other suggestions. See you guys in the next one!