A new Stack Overflow report has been published and they have mentioned about the disliked programming languages which most of the developers don't like to use. It will be astonishing to know that Perl, VBA, and Delphi are topping the chart and they are the most disliked programming language.
David Robinson, who is the Stack Overflow Data scientist examined the Developer Stories of the site. He enabled the option for the developers to add tags for the operating system, languages, libraries, and platforms which they like and don't like at all. It is the perfect way to examine the opinion of the hundreds of the developers across worldwide.
Robinson says that there are many others way to find out the disliked programming languages but this is the perfect way to know about the disliked programming languages when they are given an option to speak on the bigger platform.
Also read: Top 5 Easiest In-demand Programming Languages in 2018
So, here are the most disliked programming languages:
Perl
Delphi
VBA
PHP
Objective-C
Coffeescript
Ruby
C#
Java
C++
Perl, Ruby, and Objective-C are the most disliked language and they are fastest shrinking language as per the Stack Overflow. But, at the other end, least disliked languages like TypeScript, Python, Go and R are the fastest growing languages and the less polarizing.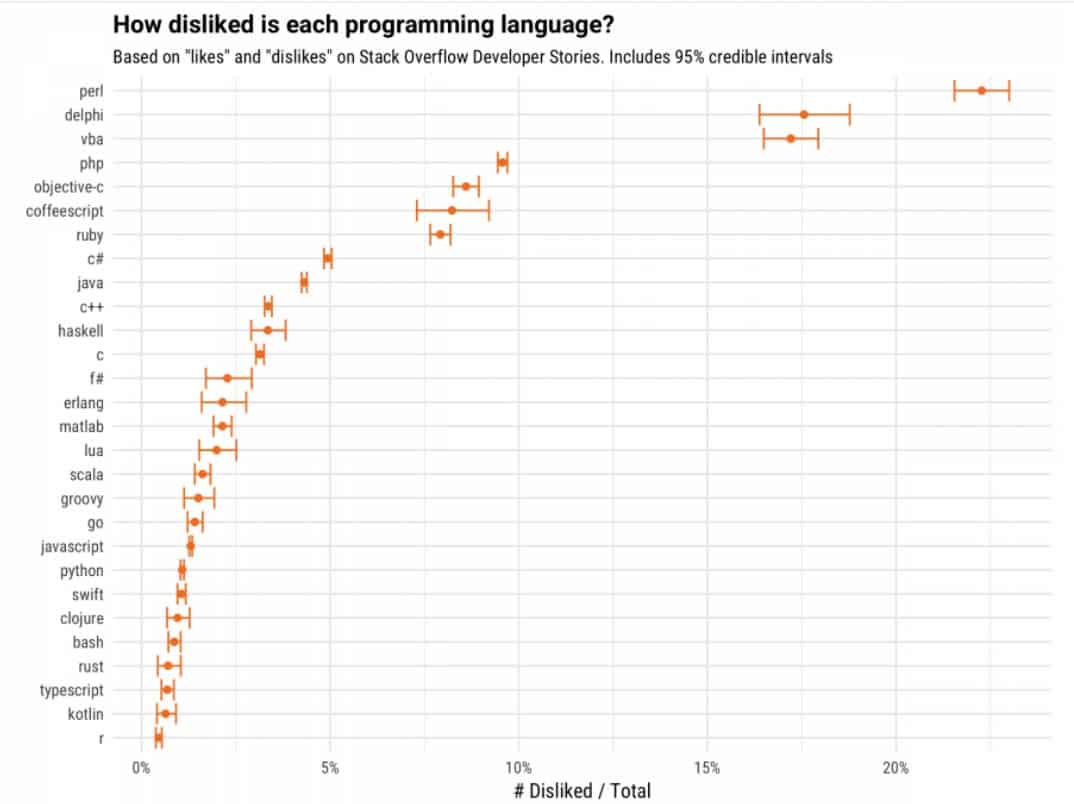 This report doesn't support a causal relationship, where the tags used by the developers to dislike the language means the languages are abandoned. But, they feel comfortable while expressing their dislike publicly that the language is shrinking in the popularity.
Stack Overflow also examined the most disliked technologies with the help of the same survey and they found the top five:
Internet Explorer
Visual Basic
COBOL
Flash
ASP Classic
They found the most liked technologies as well:
Machine Learning
Git
Python-3X
HTML5
CSS3
Also, they have made the statement that Python is the fastest growing language and by 2019 it will surpass all other programming languages as per the developers.
For more programming news and updates, follow @tech9tification on twitter.