If you are looking for something else to try apart from Shopify, why not give these alternatives a try?
Let's begin.
Sellfy
Sellfy is an all-inclusive online storefront designed specifically with creators in mind. It facilitates the sale of print-on-demand items, digital goods, memberships, and physical goods.
The two platforms are comparable, but Sellfy is easier to use. Selling online with Sellfy is simple and requires less than Five minutes to start up. Absolutely, it's as simple as that.
Sellfy's print-on-demand functionality is what distinguishes it different from competing competitors. Sellfy allows you to sell products with personalized printing. And the greatest thing is… You won't even need to go out of your way to track out a middleman to deliver the goods to the consumer. When an order is approved, Sellfy handles the whole client lifecycle, from printing to shipment.
Podia
This cutting-edge e-commerce platform is ideal for presenting your training programs since it provides a simple interface, limitless video storage, and helpful support staff. Podia also provides the option to sell digital items, run webinars, and provide subscriptions to its customers.
Email advertising, upselling, discount codes, affiliate marketing, standard personalization, and more are just some of the capabilities made available by this comprehensive system.
Podia's lack of a processing fee, in contrast to platforms like others, is a significant benefit. However, the exorbitant costs associated with the platform outweigh this undeniable benefit. However, you and your company are in the greatest position to analyze the benefits and drawbacks of the payment method.
Payhip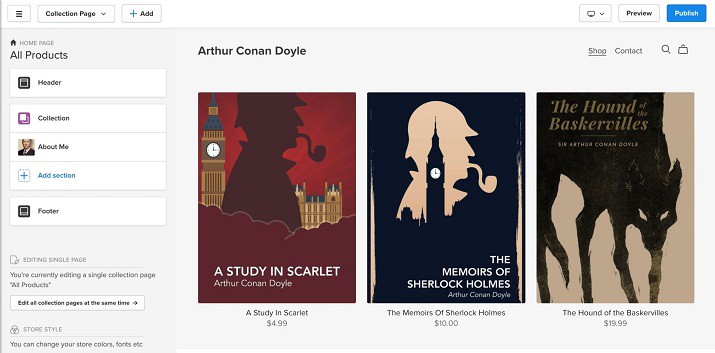 Payhip is an all-in-one platform for musicians, podcasters, and other content producers. It provides a variety of capabilities in its e-commerce services, including a course creator, built-in marketing tools, and extensive personalization options.
Payhip's main selling point is that it's far less expensive than many, making it a good option for newcomers who don't wish to pay a lot of money every month. Not only that, but it also eliminates the need to learn a complicated system from the start.
However, it has flaws, just like any other platform. Payhip's lack of support for any kind of marketing strategy beyond price reductions, affiliate networks, and promotional codes is one of its major drawbacks.
SamCart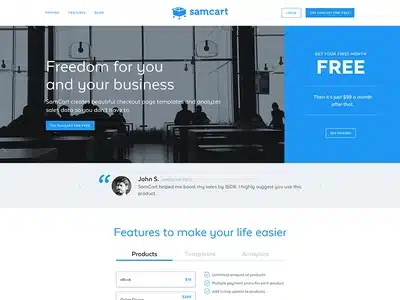 SamCart combines the features of an online store with those of an eCommerce platform. Ebooks, courses, subscriptions, and even order management are just some of the things that may be sold using this system.
You may start receiving visitors as soon as you construct your page. Afterward, place an order and begin selling your stuff. That's how easy it is.
It offers more advanced marketing tools than Gumroad, including A/B testing, affiliate administration, cart desertion, and much more. However, SamCart does not have any complimentary packages, and their premium plans are too pricey for new store owners to justify.