Pegasus Report is getting viral around the world. The exposure of NSO's hacking malware, Pegasus, has reignited the issue of tracking individuals in a number of countries.
It includes journalists, lawyers, and human rights activists, from many countries.
Furthermore, the latest report from the Guardian and other media outlets suggests that this powerful tool may be abused to infect iPhones, which Apple claims is the safest mobile device on the market and Android.
Will Cathcart, WhatsApp's CEO, reacted angrily to the report, saying that "the NSO's deadly malware is being used to perpetrate horrific human rights violations all across the world, and it must be stopped."
Pegasus Report
Pegasus is among the recently discovered highly rated spyware or modular malware, as defined by Kaspersky in 2017. It is a tool that is not restricted to any one device or software program. It is installed by delivering a malicious link to a target device, and it is unnoticed by the person using the targeted device.
Cathcart has made some arguments and defended how WhatsApp fought back against the NSO tool in a series of tweets. "WhatsApp identified and repelled an NSO attack in 2019. They rely on undiscovered vulnerabilities in mobile operating systems, which is why we believed it was critical to spread the word about what we'd discovered "He tweeted about it.
He further said that in 2019, WhatsApp collaborated with CitizenLab, which uncovered over 100 incidents of abusive targeting of human rights advocates and journalists in over 20 countries. "However, new information indicates that the real scope of misuse is considerably bigger, with alarming national security consequences," Cathcart says.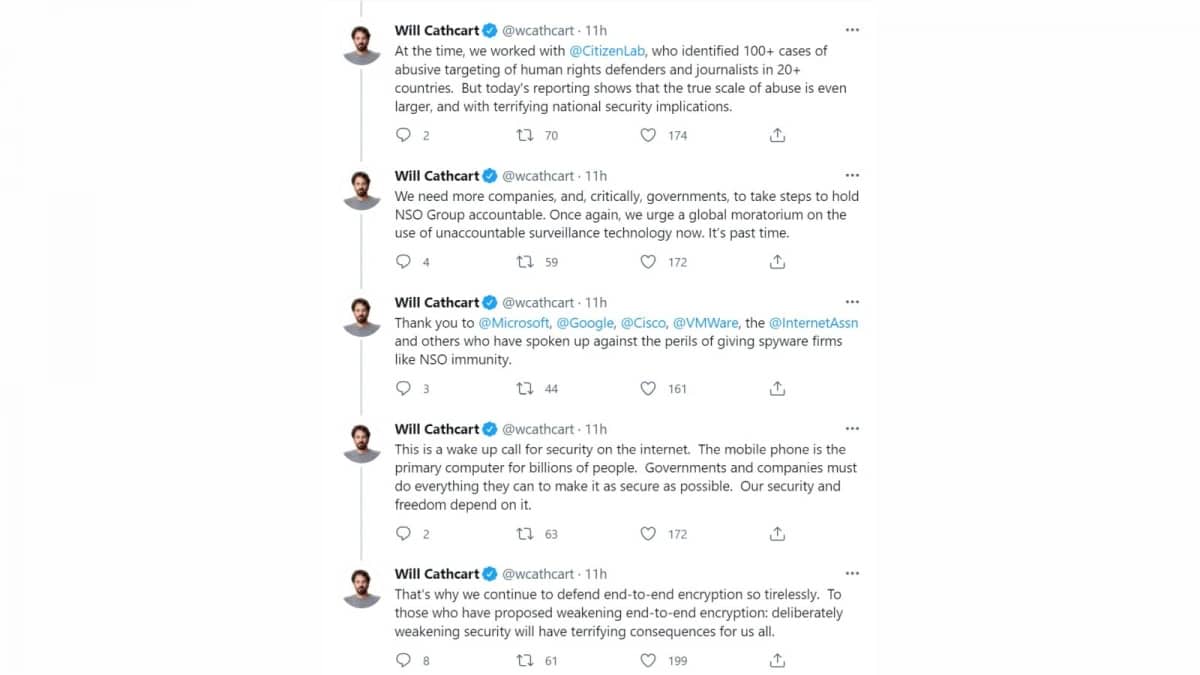 Cathcart Urged government organizations on Pegasus report
He urged that businesses and governments, in particular, hold NSO Group responsible for this intrusive tracking. "We reiterate our call for a global embargo on the deployment of unaccountable surveillance technologies right now. It's well past time, "He continued.
Cathcart stated that this should be viewed as a wake-up call for Internet security because cellphones are the primary device for many people. Governments and businesses should do everything necessary to protect it. "Our security and freedom are at stake," he continued.
"That is why we continue to fight so hard for end-to-end encryption. To those who have advocated reducing end-to-end encryption: purposefully lowering security would have horrifying implications for all of us "Cathcart said.
Praised the work of companies for standing against Pegasus
Cathcart has also praised the work of Microsoft, Google, Cisco, VMWare, and others who have spoken out against the usage of spyware technologies by organizations such as NSO.
A list of over 50,000 phone numbers considered to be of interest to government customers of NSO Groups since 2016 has appeared in the latest episode of Pegasus Report data leak. According to The Guardian, an examination of the stolen data reveals that "at least ten nations," including India, are NSO clients.
The Indian government, on the other hand, has categorically refuted these claims. The government responded to the Guardian by saying, "The dedication to free expression as a basic right is the bedrock of India's democratic system. We have always aimed for an informed public, with an emphasis on an open conversation culture."
The Indian government also says that the story has been manipulated in such a way that the conclusions are biased.
"The questionnaire submitted to the Indian government, on the other hand, reveals that the tale being created is not only devoid of facts but also predicated on pre-conceived assumptions. You appear to be attempting to play the roles of investigator, prosecutor, and jury "In response to the Guardian's inquiry about the latest NSO leak, the government stated.