Qualcomm reclaims the clock speed title with the launch of the Snapdragon 870 5G chipset which has a clock speed of 3.2GHz.
Qualcomm Snapdragon 870 is available for smartphone devices including iQoo, Motorola, OnePlus, Oppo, and Xiaomi. These models are based on the Qualcomm Snapdragon 870 SoC. These devices are expected to debut in the first quarter of 2021.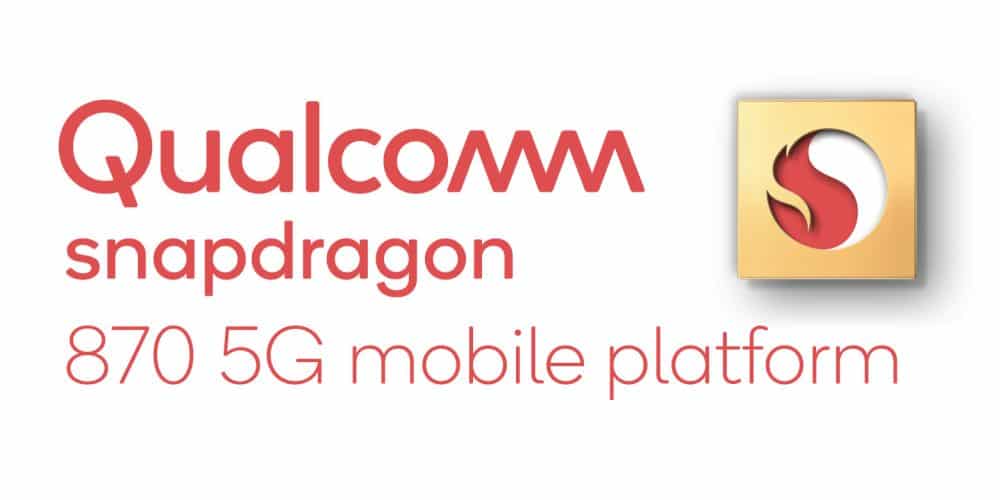 Qualcomm brought the Snapdragon 888 to its latest flagship system-on-chip (SoC) and then launched the Snapdragon 870  for the mobile platform for a month, and the new chipset comes in a slightly tuned version of the Snapdragon 865+, which debuted last year. It is also the first in the series to offer a processing core with clock speeds up to 3.2 GHz. The Snapdragon 870 SoC includes Qualcomm Snapdragon Elite gaming technology that supports mobile gamers hugely. It also uses the fifth generation Qualcomm AI engine to experience on-device artificial intelligence (AI). The Snapdragon 870 is still using the Kryo 585 core, which is based on ARM's Cortex-A77, and the Snapdragon 888 CPU is based on the new Cortex-X1 and A78 instead, so it runs at lower frequencies (2. 84 GHz for X1), there is a lot to do with performance. We will need to wait for the first measurements to see how all these chips are compared, however.
Snapdragon 870 SoC carries Qualcomm Spectra 480 processor signal upscale Support for megapixel photography support 200. The ISP also supports dual 25-megapixel camera settings or up to 64-megapixel camera cameras, which also includes up to 8K video recording support at a frame rate of 30fps.
but it is unclear whether it has received its clock boost and, if not, whether it operates at a frequency of 865 (587 MHz) or 865 + (670 MHz). The Hexagon 698 and Tensor Accelerator deliver the same 15 TOPS as two 865 chips so they don't get power.
The display driver can use 1440p class panels up to 144Hz (or 4K at 60 Hz) and support HDR10 + (Rec. 2020 color gamut). The Spectra 480 ISP is not optimized, with sensor support up to -200 MP, 8K video taken at 30 fps (plus 4K at 120 fps), high-quality videos using HDR10 + and Dolby Vision standards.
Qualcomm delivered the FastConnect 6800 system to the Snapdragon 870, which offers Wi-Fi 6 and Bluetooth v5.2 connectivity with Qualcomm aptX Adaptive audio support, and the chipset also supports an external Snapdragon X55 5G modem-RF system for 5G access. Snapdragon 888 with integrated Snapdragon X60 5G modem.
"Building upon the success of Snapdragon 865 and 865 Plus, the new Snapdragon 870 was designed to address OEM and mobile industry requirements," said Kedar Kondap, Vice President, Product Management, Qualcomm Technologies, in a Media statement.
For security purposes, the Qualcomm Snapdragon 870 supports the Qualcomm 3D Sonic Sensor and Qualcomm 3D Sonic Max, as well as biometric authentication, with a fingerprint sensor, Iris, voice, and face unlock sensor. The chipset supports Qualcomm Charge 4+ and LPDDR5 RAM for Qualcomm LPDDR4x RAM up to 16GB.
Here's a short Comparison of Snapdragon 870 with other beasts Chipsets:
Exynos 1080
Snapdragon 865+

Snapdragon 870

Snapdragon 888
Kirin 9000
Process Name
Samsung 5 nm EUV
TSMC 7 nm
TSMC 7 nm
Samsung 5 nm EUV
TSMC 5 nm EUV
CPU 1
1x Cortex-A78 @ 2.8 GHz
1x Cortex-A77 @ 3.1 GHz
1x Cortex-A77 @ 3.2 GHz
1x Cortex-X1 @ 2.84 GHz
1x Cortex-A77 @ 3.13 GHz
CPU 2
3x Cortex-A78 @ 2.6 GHz
3x Cortex-A77 @ 2.42 GHz
3x Cortex-A77
3x Cortex-A78 @ 2.42 GHz
3x Cortex-A77 @ 2.54 GHz
CPU 3
4x Cortex-A55 @ 2.0 GHz
4x Cortex-A55 @ 1.8 GHz
4x Cortex-A55
4x Cortex-A55 @ 1.8 GHz
4x Cortex-A55 @ 2.05 GHz
GPU
Mali-G78 MP10
Adreno 650 (670 MHz)
Adreno 650
Adreno 660
Mali-G78 MP24
NPU
5.7 TOPS
15 TOPS
15 TOPS
26 TOPS-
–
5G modem
3.67 Gbps (mmWave), 5.1 Gbps (sub-6)
7.5 Gbps (mmWave)sub-6
7.5 Gbps (mmWave), sub-6)
7.5 Gbps (mmWave), sub-6
6.5 Gbps (mmWave), 4.6 Gbps (sub-6)
Wi-Fi Compatibility
Wi-Fi 6
Wi-Fi 6E (6GHz)
Wi-Fi 6
Wi-Fi 6E (6 GHz)
Wi-Fi 6