Online casinos frequently offer 'free spins'. In fact, they are one of the most popular offers of new online casinos and a great way to encourage new players to try a variety of exciting games. But how can online casinos give away these free offers and bonuses? Are they really free? And are they really fair?
What are the free spins?
Free spins vary between casinos, and in order to best take advantage of them, there is a bit of complexity and jargon to get around. Put simply, free spins are used on real-money slot games and win you various rewards. Typically, a good spin offer would look something like 'registration bonus', a reward of a number of bonuses or extra spins for registering, or a 'deposit bonus', matching the money you deposit onto the site up to a certain limit.
New online casinos tend to be more generous with the spins they give out, and there are guides online from which you can learn about free spins for registration with new casinos. These guides often compile and offer you some of the best bonus deals out there, too.
Are they really free?
It is rare to find free spin offers without making a deposit on the online casino first. While these 'deposit free spins' is the most popular, they are offers to be wary of as they may come with high wagering requirements. In this situation, you may not be able to cash out a significant amount because you have to re-bet your free spin winnings until you meet the wagering requirement, instead of cashing out when you want to.
The most common free spin offers are in-game, which act as a free turn while playing a game. These make the games more exciting as they fit into the theme of the game and enhance the world. In this case, free turns act the same as a regular turn, so it is free in itself, with the requirement of course that you are already playing the game anyway.
Are they fair?
Free spins operate off a concept called random number generators, or RNGs. Computerized numbers follow a set pattern, so they need a command to randomize the pattern. This is called the seed, which enables a number of outcomes to be left to chance.
RNGs are everywhere in gaming, usually used when anything needs to be randomized, such as item placement in a battle royale game. One of the most common uses of RNGs is in slot gaming. They ensure fairness because the casino has no control over them, and at the other end, players cannot predict a consistent pattern. Instead, they ensure random results through the use of algorithms and seed values to get around a computer's necessary determinism. Seed values define sequences of random numbers and widen the pool of potential number sequences.
RNGs are often so reliable that they are used in computerized security measures, not just in gaming. However, a computer can never create a truly random number (RNG numbers are called pseudo-random numbers), so there is a debate to have over their true fairness and reliability. RNGs give the illusion of randomness, but they operate from seeds chosen by the programmer. If the programming is simple, for example, if it runs off the time on the clock when you play the game, then users could change the clock time to use that seed again and cheat in the game. Because of instances like this, RNGs are not always completely fair outside of regulated and secure environments, such as those used in online casinos.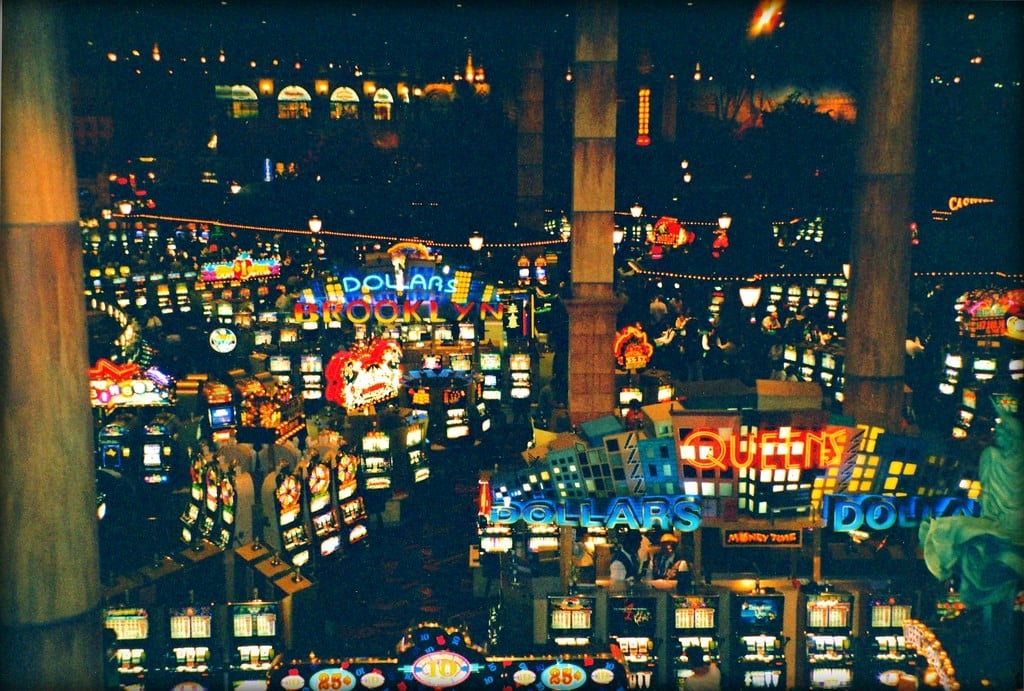 "New York New York slot exchange – Las Veg" (CC BY-ND 2.0) by steviep187
Our advice
The best casino to choose for freebies "should be registered, have favorable wagering requirements and offer a variety of free spin bonuses both to its new and regular players". Always read the wager requirements to make sure you are not going to lose your winnings because you are not allowed to cash out until you bet a certain amount. If you can, also ensure the games have been approved for fairness by looking for a third-party auditor's certification on the casino homepage. Be smart, understand the offers you're using, and most importantly, enjoy gaming.