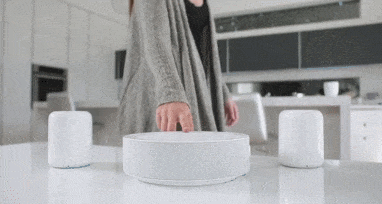 It's always good to know about amusing things which is very rarely created. The new speaker system HiddenHUB has an adaptation of sounds, "smart" features and elegant design.
HiddenHub promises to constantly adapt to its environment, which should help it deliver the best acoustic profile every single time. Whether the speaker is placed in a small bathroom or awkwardly shaped bedroom, the Hidden Hub will analyze the room layout and dynamically adjust its audio profile to fit that space.
The company says that it wants to 'bring the concert hall' to users living rooms.
By distributing the frequencies and individually regulating each driver's power, the HiddenHub can evenly fill every corner of the room with rich sound. This should mean no more dead spots, no matter where the listener in the room is. While that is the key feature behind the Hidden Hub.
If you've got a multi-room setup, with a HiddenHub speaker in every single room; when the user moves from the living room to the kitchen, the music can move with them.There should be no gaps in playback, as the music will begin from where the user left it.
Unlike some other multi-room systems, the HiddenHub can also work without a bridge or a central App.
Working:
It works natively with wireless audio protocols instead, like AirPlay, Bluetooth and DLNA; as well as WiFi Audio, which promises to deliver 100% lossless CD-quality music to the speakers.
One touch will stop / play a song, while a double tap will switch to the next track. Adjust the volume by holding your finger on the edge of the speaker in a clockwise / counter-clockwise. HiddenHUB also has built-in AutoPlay, which helps the device to determine when the user is away from home, and then the speaker is automatically disabled. When the user returns, speaker resumes the music from the last place.
Design-conscious users will also enjoy the accent lighting around the speaker, which will deliver the right color for every mood of music.
A video can help to know more about this smarty.
Those who wanting to purchase the HiddenHub can do so on Kickstarter, with an estimated shipping date of March 2016.