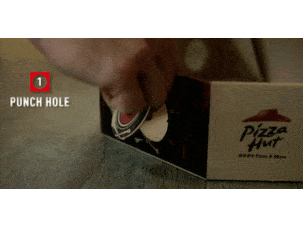 Believe it or not the Pizza hut in Hong Kong created a new cardboard box which can project any movie or TV show you want using your smartphone.
According to The Verge, it is called as Blockbuster Box, and it was designed by Ogilvy Hong Kong for a Pizza Hut marketing stunt, Yum Brands' Pizza Hut chains are running a promotion that allows pizza-loving cine-Philes to combine their passions in a new way.
How does it work?
In Hong Kong, the chain's customers can order the special Blockbuster Box, which has a new feature which has a cut-out hole in the side of the box. Of course, you'll need a very dark room to be able to make out anything from the "projector," and insert the lens into the side of the pizza box; then you'll need a smartphone to power the experience. After you place your smartphone in the center of the Blockbuster Box, the lens will magnify your smartphone's display and project it onto the wall.
Yes you need to have Netflix, or else Pizza Hut has cleverly printed a QR code on each box that can be scanned to download a free movie from your smartphone. And also you'll probably want to have some Bluetooth speakers or a spare audio cable handy if you want to actually hear the movie, as your smartphone will be inside the box when the projector is in use.
There are four different styles of Blockbuster Box, with each corresponding to the genre of the free movie that comes with it: There's the Fully Loaded box for action movies, Slice Night for scary movies, Hot & Ready for your romance, and Anchovy Armageddon for the sci-fi fans.
Summary:
Pizza Hut has limited to Hong Kong stores as of now, so unfortunately we'll have to wait and see whether Pizza Hut decides to offer its special boxes in other countries and also it might consider me eating a pizza hut pizza.