Exceptional Summer Watch Sale on Discount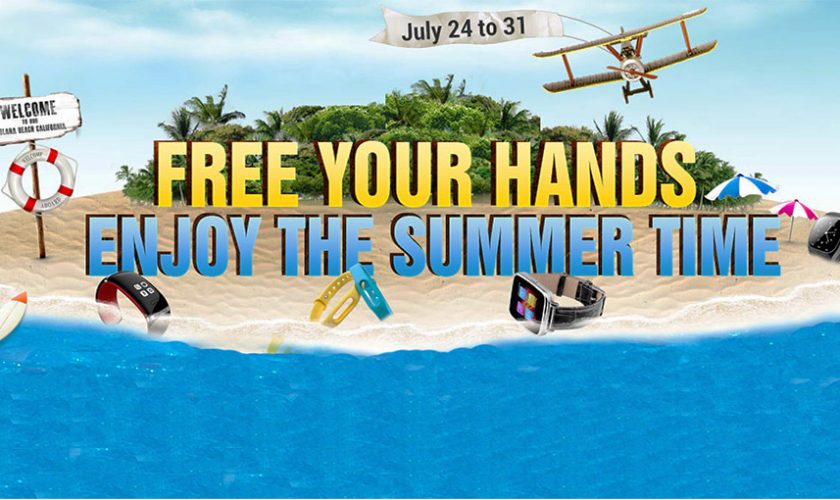 Summer time comes with a lot of fun activities such as going to the beach, having a picnic, hiking and it is even the perfect time to make a barbecue. Most people carry their smart-phones around when there is not much to do but not so much during the summer. Nobody is going to swim, surf or climb a mountain with a smart-phone. A wrist watch is more appropriate while having fun during summer, plus there are smart watches that function almost similar to smart phones.
Fortunately, there is a summer watch sale on Gearbest.com where you can buy smartwatches at special discount suitable for any man, woman or child. Those watches are categorized under following:
Kid's watch
Men and Women's watch
Smart Wristband
Sports Watch
Smart Watch Phone
Those categories can make it easy to find your most suitable watch. We are listing here some of interesting watches we found:
HUAWEI TalkBand B2 Smart Watch: Huawei's TalkBand B2 is a powerful next-generation wearable device that gives you everything you need for smart living, including automatic activity tracking, sleep monitoring, and crystal-clear hands-free calling. Smart audio routing, Route audio to the mobile phone or headset based on where you wear.
iMacwear M7: It is one of the most advanced smart watch currently in the market. The watch comes with Android 4.4 Operating System, 4GB internal memory, 1.0 GHz dual core processor and 512 MB RAM. The display screen is 1.54 inches and it can be synced with a smart phone.
Skmei 1058 Multifunctional LED Wristwatch:  The watch features include 50M water proof, alarm and date display. Additionally, it has Heart rate monitoring system so you can monitor your heart rate. The time can be checked in both analog and digital formats plus the buckle is tight to prevent it from falling off while engaging in summer activities.
Vidonn X6 Smart Watch Bracelet : Such an exceptional watch, the Vidonn X6 can display incoming call, SMS, and Twitter . Not only does the watch have an alarm but it is also capable of monitoring a person's sleeping pattern and even alert the user when to exercise.
Cute Minions Children LED watch: An excellent gift for a child, it comes in 4 different colors which include green, blue, red and yellow. The rubber band adjusted makes it easy to fit on any child's wrist without a buckle.
There are hundreds of watches and huge discount on each smart watch. You should not miss this opportunity if you are going to buy a new smart watch and having low budget.
Click here for Gearbest summer watch sale.