Almost many people in this world love coffee including me, so for all coffee lovers here is a very creative and innovative technology called The Ripple Maker created by a company called Ripples.
The Ripple Maker can customize coffee with high-quality images in just a few seconds," Ripples are made of tiny coffee bean drops that keep the natural quality and flavor of your coffee."
This new system technology lets consumers make their own customizable Coffee art called Ripples using an app or a website, which then gets transmitted to a WI-Fi-enabled device that prints their creation right onto a coffee.
Usage Technique: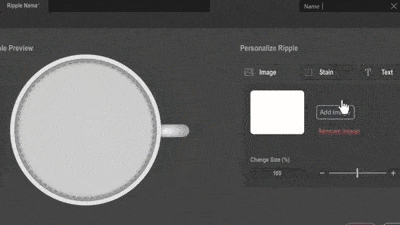 The Ripple maker can also be used through website and mobile app that allows the users to choose from either a library of stock images and text greetings or their own content. The app is also connected to Facebook to make it easier for the user to create personalized ripples.
Ripples offers a cheerful personalized message to remember birthdays and anniversaries, this is a product that not only has the vast marketing potential–it's a cheerful bonus and a visual upper to go with the liquid one. This can also be used in corner coffee shop, the neighborhood cafe, and everywhere.
Website:       www.ripples.cc
Mobile App: Ripples
Cost Estimation:
Buy one for yourself to impress your friends at dinner parties, but with a price tag of $999 (£634) and a monthly fee subscription fee of $75 (£47), that might seem a little expensive
Lufthansa has purchased a number of machines to be used in the German airliner's business lounges later in the year.
"We are excited to unveil the Ripple Maker and proud to announce Lufthansa as our first global brand," said Yossi Meshulam, CEO of Steam CC, parent of Ripples.
This truly amazing and innovative new machine is about to hit the gourmet coffee industry will be unveiled at New York City's largest annual technology conference, CE Week 2015.
This Ripple Maker product is sold by Ripples, a subsidiary of Steam CC, headquartered in Tel Aviv, Israel.
"When you put something beautiful in someone's hands, they want to share it. That's how we're making a ripple on the world." added Meshulam
Check out the video which shows how exactly this Ripple maker looks like.