DM08 : A Best Multi-functional Bluetooth 4.0 Smartwatch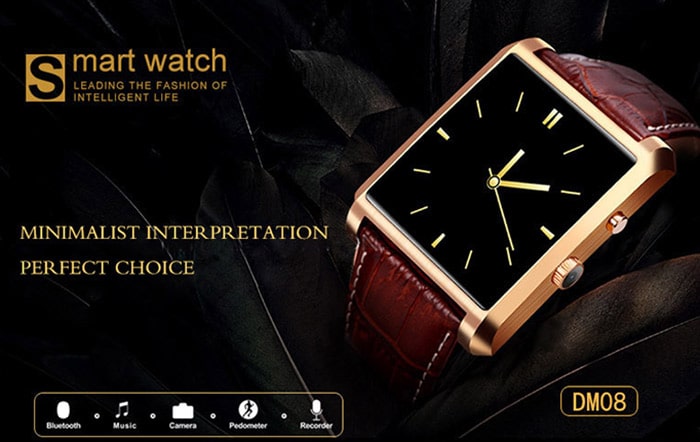 The DM08 multifunctional Bluetooth 4.0 smart watch is regarded among the Best Blutooth smart-watches because of its outstanding features. This wrist watch has the features of an ordinary watch but in addition it also has features that enable it to also function as a phone. It can be synchronized with a phone to allow users dial and make calls. It also keeps call records where one just need to select and click any number so as to make a Bluetooth call. One can also view all the contact number on the connected phone through clicking on the address book on the watch.
Another outstanding feature of this smart watch is that when the phone connected to the watch receives a message, the phone also receives this message with all the details displaying normally. It also has a social sharing feature where users can easily push text messages, emails and social media updates. This gives users the opportunity to share with friends and be informed all the time. This watch can also receive QQ / Wechat messages which get into the phone by just turning on the QQ / Wechat message reminder.
For the people who are health enthusiast, this DM08 smart watch has a pedometer which by swinging the hand while walking it counts the steps and the calories burned depending on the steps walked. It also has sleep-monitoring ability which checks the user's sleep quality based on the sleep time elapsed and the vibration degree therefore helping to enhance health further. This wrist watch also has a sedentary reminder which reminds users to stand and walk. By just raising ones hand this smart watch can also record accurate global weather forecast which just requires the user to download the weather software and install it.
People using this watch can also enjoy music from the connected phone through the Bluetooth music player. This smart wrist watch is compatible with Bluetooth 4.0 which makes it convenient to use. Users can readily download and install Bluetooth notification application by scanning the QR code build in the watch through the QR scan function or Android market. It also has a remote video and remote camera recording ability where it can record high-definition videos and also supports cell phone cameras. Furthermore, it has a HD recording feature which allows it to remotely record sounds without background noises. For comfort purposes the band of this watch is made of leather while the case is made of metal. The leather on the band also makes this smart watch durable since leather is a strong material. Its battery capacity is 360mAh which gives it enough power to keep working for a long time. Therefore, the various features confirm that this DM08 wrist watch is the Best Blutooth smartwatch.
BUY IT ON GEARBEST.COM at Just $79.57
Use Coupan GBDM08  to Get it in just $59.99!